Enterprising fans have managed to decipher the table of contents from the upcoming starter set, Dragons of Stormwreck Isle.
The ToC was posted Reddit by a user named bobbness. The boxed set comes out in July (if you're in America) or October (if you're not).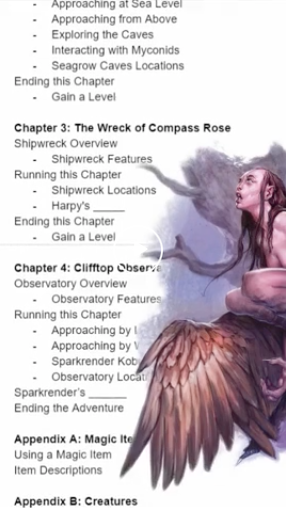 ​
Here is is in full!
Running the Adventure
Overview
Role of the Dungeon Master
Adventure Maps
The Forgotten Realms
Adventure Background
- Adventure Outline
Getting Started
- Number of Players

Chapter 1: Dragon's Rest
Welcome to Dragon's Rest
Drowned Sailors
Meeting the Inhabitants
Dragon's Rest Locations
Character Quests
Exploring the Island
Hot Springs House
There, There, Owlbear
Kobold Renegades
What Lies Beneath

Chapter 2: Seagrow Caves
Caves Overview
- Seagrow Caves Features
Running This Chapter
Approaching at Sea Level
Approaching from Above
Exploring the Caves
Interacting with Myconids
-Seagrow Caves Locations
Ending this Chapter
- Gain a Level

Chapter 3: The Wreck of Compass Rose
Shipwreck Overview
- Shipwreck Features
Running this Chapter
Shipwreck Locations
Harpy's _____
Ending this Chapter
- Gain a Level

Chapter 4: Clifftop Observatory
Observatory Overview
- Observatory Features
Running this Chapter
Approaching by Land
Approaching by Water
Sparkrender Kobold ______
Observatory Locations
Sparkrender's ______
Ending the Adventure

Appendix A: Magic Items
Using a Magic Item
Item Descriptions

Appendix B: Creatures
Creature Stat Blocks
Creature Descriptions
Credits

The adventure references a location called Dragon's Rest — which is also the name of an
old Dragonlance module
set in the continent of Taladas.