Last week
I took a poll
to determine which D&D monsters were the most loved, and which languished unliked in the back of the cupboard. The poll was limited to the D&D 5E
Monster Manual
, specifically the main monsters section (so not the NPCs or animals).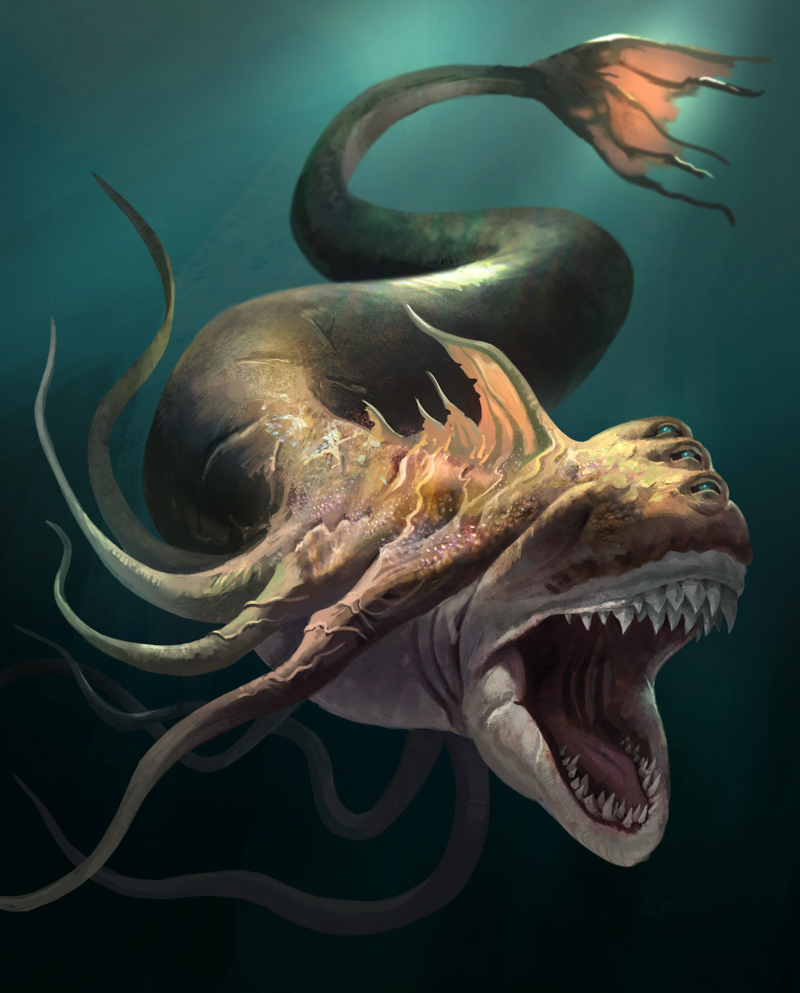 Aboleth from Level Up: Advanced 5th Edition, by Kim Van Deun
​
Let's start with the monsters that nobody liked. Well, to be accurate, there were none that scored 0 votes, but the poor
empyrean
only squeezed in with a single vote. If there's any monster in need of some love, the
empyrean
is it. It's the least-liked monster in the
Monster Manual
.
Joining it at the bottom, though, are some other unpopular critters -- the
magmin
(spellchecker PLEASE let me type that word - even my OS doesn't like the magma .. err.. magma ... umm .. magmin!),
darkmantle
,
sprite
,
satyr
,
quaggoth
, and
merrow
.
The top of the chart was a little more predictable. The iconic
mind flayer
led the pack, followed closely by
dragons
and
beholders
. A little way behind those three, we had some other D&D staples in the form of
skeletons
, the
lich
,
goblins
, and the
troll
.
Demons
are more popular than
devils
.
Liches
are loved more than
vampires
.
Death knights
are in the middle of the pack, neither loved nor disliked. The 'iconic' D&D monsters (i.e. the
mind flayers
and
beholders
, which D&D created) are very well loved.
Anyway, I should stop talking about it and just show you it. Here's the full list, in descending order.
Mind Flayer
Dragons
Beholders
Skeletons
Lich
Goblins
Troll
Demons
Ghouls
Giants
Owlbear
Ogres
Zombies
Vampires
Devils
Displacer Beast
Kobolds
Wraith
Rust Monster
Gnolls
Orcs
Elementals
Hags
Umber Hulk
Carrion Crawler
Golems
Wight
Death Knight
Hobgoblins
Lycanthropes
Mummies
Minotaur
Lizardfolk
Rakshasa
Bugbears
Bulette
Manticore
Wyvern
Shambling Mound
Yuan-Ti
Elves (Inc. Drow)
Gargoyle
Shadow
Hydra
Mimic
Oozes
Dracolich
Griffon
Modrons
Aboleth
Chimera
Flameskull
Hell Hound
Purple Worm
Medusa
Oni
Roper
Basilisk
Otyugh
Stirge
Intellect Devourer
Ankheg
Dinosaurs
Ghost
Hook Horror
Doppelganger
Genies
Harpy
Pseudodragon
Demilich
Drider
Gibbering Mouther
Animated Objects
Grell
Nightmare
Thri-Kreen
Banshee
Behir
Bullywug
Nagas
Revenant
Will-O'-Wisp
Dragon Turtle
Faerie Dragon
Flumph
Gith
Mephits
Sahuagin
Slaadi
Tarrasque
Treant
Cockatrice
Kuo-Toa
Myconids
Scarecrow
Specter
Sphinxes
Ettin
Nothic
Remorhazes
Succubus/Incubus
Water Weird
Gorgon
Roc
Troglodyte
Unicorn
Angels
Couatl
Kraken
Peryton
Crawling Claw
Helmed Horror
Salamanders
Yugoloths
Centaur
Dryad
Duergar
Grick
Kenku
Lamia
Shield Guardian
Xorn
Cambion
Cloaker
Cyclops
Fomorian
Gnome (Inc Svirfneblin)
Hippogriff
Invisible Stalker
Yetis
Ettercap
Fungi
Jackalwere
Grimlock
Half-Dragon
Homunculus
Azer
Chuul
Merfolk
Pegasus
Pixie
Aarakocra
Blights
Galeb Duhr
Piercer
Merrow
Quaggoth
Satyr
Sprite
Darkmantle
Magmin
Empyrean