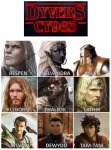 Presenting...
TELLERIAN HAWKE'S
GREYHAWK: THE GOLDEN ERA CAMPAIGN: CY 963
THE HEROES OF DYVERS CHAPTER FIVE
​
The party has rested again, gaining a full night's sleep, and has re-gained all of their spells.
There was a single encounter during the night; a pack of 5 regular Wolves found the campsite, but kept their distance, because of the number of people in camp. They moved on rather quickly, in search of easier prey.
Current Time:
Patchwall 23, CY 963
9:00 AM
The party is in the staging area at the end of the tunnel. Dewydd has just finished casting his preparatory spells.
EVERYONE: What do you do?