Introduction:
This is an informal look at how I set up my OneNote to create adventure modules and campaigns. It is not a complete tutorial on how to use OneNote or any other programs that I use to set things up for my personal use. But it should give readers ideas if they want to do something similar for themselves, or maybe learn some new tricks and methods that I've picked up on my own. If anyone has additional advice, knows a better way to do things, or just wants to share some different ideas about their own personal setups, please feel free to share them in this thread.
Note: Even though I use it primarily for 4th Edition, the use and setup of OneNote can be useful for any edition. The purpose of this post is to illustrate some of the ways one can use OneNote (or a similar program) for their personal games with any game they like.
Setup:
For this tutorial, I am using a 4e published module from
Dungeon Magazine (issue 198)
, "
The Warrens of the Stone Giant Thane
". This was only available in pdf format when the magazines were exclusively online. Of course, I saved all of the files that I had access to while I had a subscription. But I believe most of the issues are available on DriveThruRPG.
So this is what my setup looks like across two monitors:

I use the download version of OneNote. It has greater functionality and gives me more control over the formatting than the online version.
Next is Excel 2021, which is included with the personal version of Office 2021 (one-time purchase) or Office 365 (subscription). I use it to create a template for statblocks, which I shared in another post.
And finally, Adobe Acrobat Reader DC, which is free and does everything I need to do with pdf; copy text or image, and past them. (And I guess read pdfs but that's a given.)
Fonts: The fonts I use here are Trojan Pro (for titles and some of the headers) and Source Serif Pro for all the body text outside of the statblocks. Statblocks use Asul and Game Icons, which was created by a Mad Irishman (you can get that from his site).
Before I started getting into the details, I created a template page so that most of the formatting is already in set up. Then I went through the module and created copies of the template page with the appropriate titles for each section. So when I begin actually putting in the details, it was easy for me to just copy and paste, or type whatever I want without worrying about losing consistency in the formatting.
Now let's take a look at some of the techniques involved with one of the areas I'm currently working on.

As you can see, the page is set up with a title for the area (8. Elemental Cavern) and the generic template in place. The format follows closely to how it is presented in this particular module, making it easy for me to copy and paste those sections in order. I begin by highlighting the section I want to copy from the pdf using Ctrl+C, then highlighting the appropriate space where I want to paste it in OneNote. However, I don't want to use Ctrl+V because it will reformat any bold, italics, or anything else to the default settings. It's not a big deal if I do, but it kinda defeats the purpose of having a template in the first place if I need to make the changes manually.
Instead, I'll right-click on the highlighted area of my OneNote so the window menu pops up (see screenshot above), and I'm going to select the paste option that allows me to merge the text with whatever format I have already in place.

The next section of text is a paragraph. Nothing fancy about it, except that when you copy from the narrow columns of the pdf and paste it into OneNote, it doesn't automatically recognize it as one paragraph. Instead, it sees it as separate lines. I'll explain how to fix that, and then I'll explain why its kinda important.
The method I use is to go to the end of each line and hit the DELETE key. This will remove the line break and bring the next line up to become part of the current line to make it a paragraph. If you prefer, there are online tools that can do this for you. I prefer to do it manually.
Once you have the full paragraph set, you'll want to format the spacing of the paragraph itself by selecting the Paragraph Spacing Options at the bottom of the paragraph alignment menu (see screenshot above). This will bring up a small window with three options for Paragraph Spacing. I put a value of 6 in After (see thumbnails below). This will leave a space of 6 pixels between the bottom of your paragraph and the next one. Its not necessary, but it helps create a very clean, and easy to read format. This is extremely helpful if you're running games from notes and/or published materials. (Seriously, try finding that one particular paragraph or detail on the pdf, which could be on multiple pages or broken by statblocks, versus a single page in OneNote in the middle of a combat encounter while trying to keep your players focused.)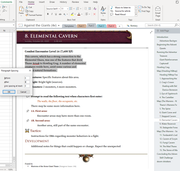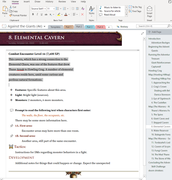 Now aside from the aesthetics and functionality of a well-spaced document, here's the other important thing you should know about OneNote. When you tab one section underneath another section, it becomes a sub-section that can a) be selected altogether with a single click, and b) collapsed like a folder, so that it is hidden from view (see thumbnails below).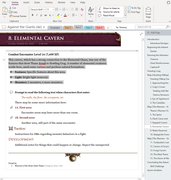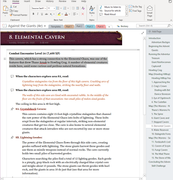 This is about half of what I do when I create an adventure document. The other half is creating statblocks with Excel, then copying and pasting them into their own pages and providing links throughout the document. But there's a couple more points of interest before I move on to that. First, is using tabs.
Tabs can be used to categorize a particular section and place a little icon on to the left. This helps me to quickly identify what kind of information is in a paragraph, such as the read aloud text (see thumbnails below). It also creates a directory that can be opened up and configured to find something quickly. This may not be useful for everything, but like quests which are scattered all over. Certain types of tabs, like checkboxes, can be ticked on and off, which can be useful if you're tracking progress for your group over several sessions or a campaign.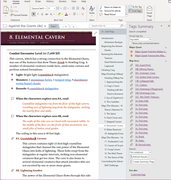 Bonus Trick (Windows):
Press Windows key + . to open the Emoji options for Windows. You'll find a number of interesting and colorful emojis you can use instead of tabs to make your document more attractive and eye-catching. For example, I found crossed-swords to place with my Tactics header (see thumbnails below).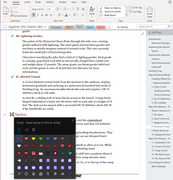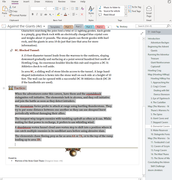 This is just one half of the tutorial. The other half, which I will post below, will focus on creating statblocks using the template I created in Excel, and creating links within the document itself.