A random
Facebook
ad for
Ice Dice
caught my eye. The concept of dice made of ice spoke to me enough to seek out Jon Lunn, co-founder of
Spidermind Games
, to talk about his
Kickstarter
and his upcoming projects.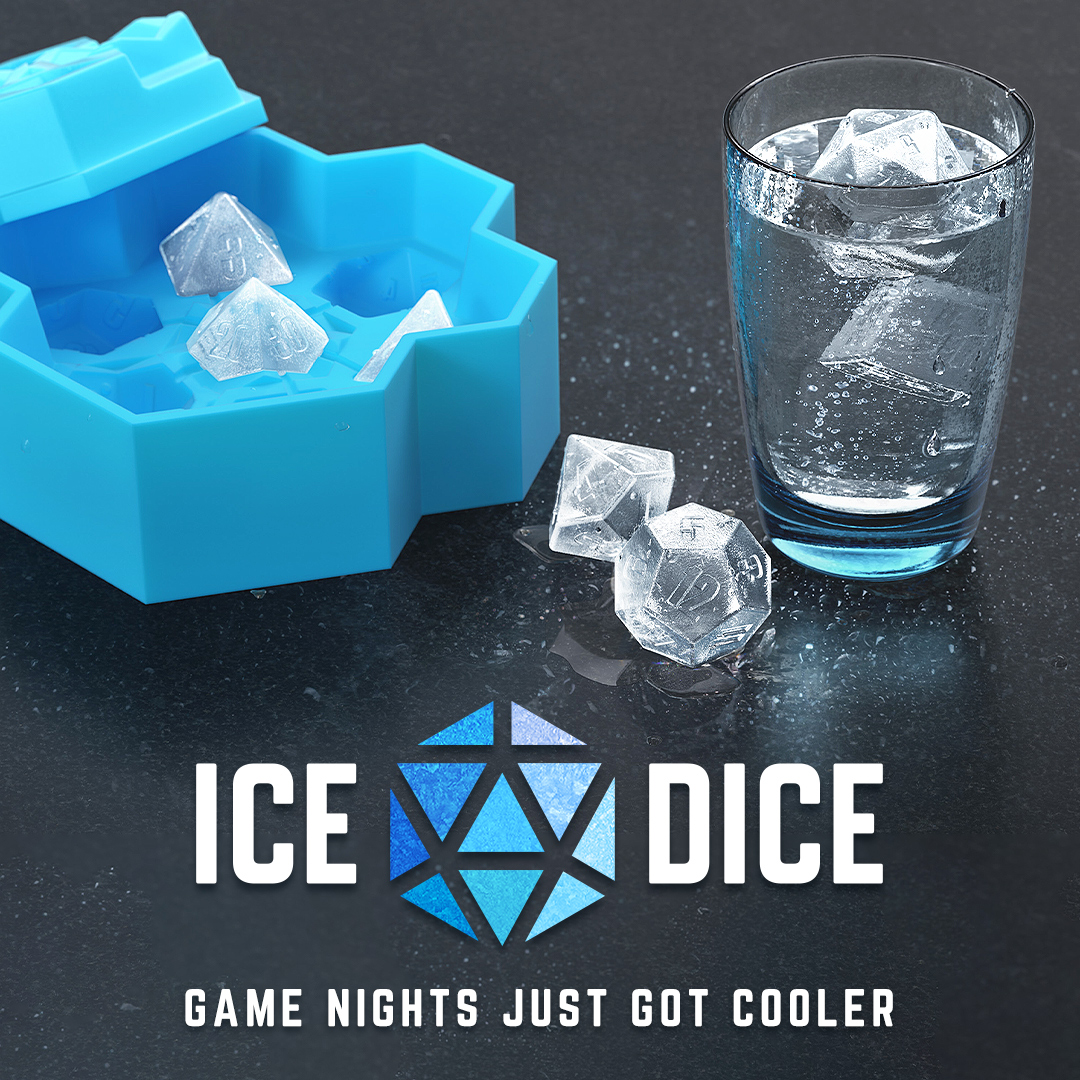 EGG EMBRY (EGG): Thank you for talking to me about your newest Kickstarter; what are
Ice Dice
?
JON LUNN (JON)
: You are very welcome and it is nice talking to you, Egg.
Ice Dice
is the idea of making the seven very recognizable dice shapes, that every RPG fan knows and loves, into ice cubes for your drinks.
EGG: The pictures of the dice look crisp like you could game with them. What's the process for the end user to get ice dice to form all of the sides?
JON
: The tray comes with a top and a bottom piece that clip together before you fill the tray. You then pour the water in through a funnel built in to the top part of the tray. The water fills each mould by flowing through small channels created by the two pieces being clipped together.
EGG: I'm from Georgia so the ice is likely to last about 13 seconds in a tall glass of tea, but I feel I need them all the same, they speak to me. What inspired this idea?
JON
: We had hot climates in mind when we set the size of each at about 1 ½ inches, so hopefully they will last a little longer than normal ice cubes. The idea came about whilst thinking up stretch goals and add-ons for a dice campaign we are launching next year. We were looking at what other dice shapes we could create and out of what… then I thought wouldn't it be fantastic if we could have dice cubes. A quick search on google found no trays making all seven shapes and so there it was. When we tested the idea with some of our playtesters and
D&D
groups we realized we might have a stand-alone product.
EGG: You've tested these out the dice, correct? How do they roll?
JON
: Great for the first roll! But much better clinking around in your glass.
EGG: What will a Ice Dice tray run?
JON
: We are offering a first day discount at £13 (which is around $18) for one tray, a pair will be £24 (around $33) and a party pack of four will be £44 (around $60) Each tray makes seven shaped dice, 1d4, 1d6, 1d8, 1d10, 1d%, 1d12 & 1d20
EGG: Beyond the trays, what are you offering?
JON
: Because we are keen to get these trays out for the Christmas season we are not offering up anything else other than the trays in packs of 1, 2 & 4.
EGG: What are the chances of a glass/dice tower to complement the ice? Any stretch goals planned for this campaign?
JON
: Not for this project. Stretch goals are great to encourage forward momentum for some projects but with our aim to get people their trays for the Christmas holidays we do not want to risk that with complicating the manufacturing requirements. Hopefully the wish to get this for the holidays will be suitable encouragement.
EGG: This is not Spidermind Games first project. Let's talk about
The Level Up
. For those that don't know, what is it?
JON
:
The Level Up
is a modular, raised tabletop platform. It raises the main playing surface allowing space underneath for all the other game night goodies.
EGG: The response to The Level Up was amazing. Did you think that concept would gain the traction that it did?
JON
: We have been blown away by the support we received from backers during the
Kickstarter
and to an almost equal number of preorder sales we have had since the end of the campaign in February of this year. We are now looking forward to beginning shipping at the end of September.
EGG: Are you planning a follow up to The Level Up?
JON
: We have two follow on designs being worked on but we have nothing to announce just yet.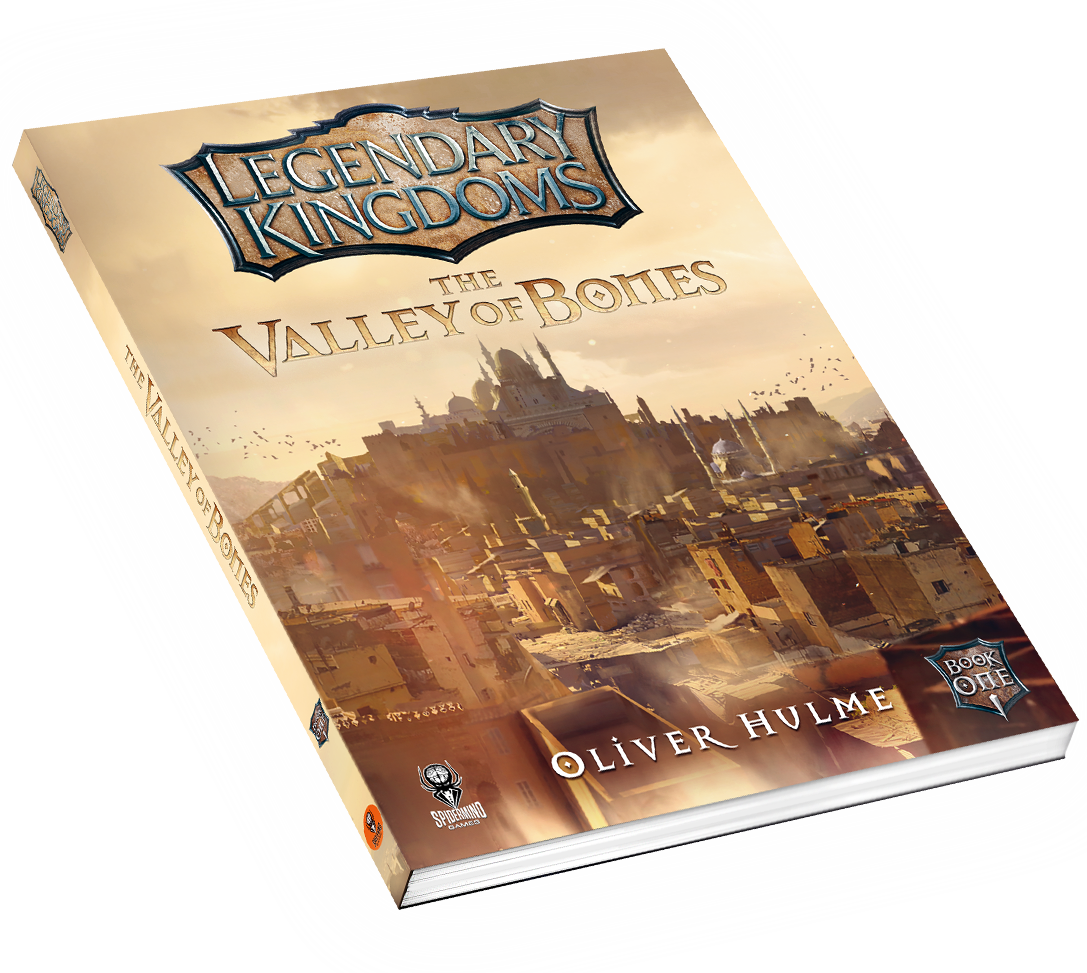 EGG: Beyond
Ice Dice
and The Level Up, what else are you working on?
JON
: Next year we are planning three crowdfunding projects. We are releasing the chose your own adventure game book,
Crown & Tower
, which is book two in the
Legendary Kingdoms
series. [
Click here
] for anyone interested in seeing what that is about, here is a free 40 page sample adventure from book one in the series,
The Valley of Bones
, which you can download from our website or from
DriveThruRPG
. We are also working on an unusual and very iconic dice series campaign, which is where the
Ice Dice
idea came from. As well as a tabletop board game with an inventive new dungeon layout system which we hope will appeal to all RPG fans.
EGG: For fans interested in learning more, where can they follow you?
JON
: For anyone who wishes to be kept up to speed on the
Ice Dice
campaign can register through our
website
and click on the
Ice Dice
banner, or follow us on
Facebook
where we will update our fans on all new releases and share sneak peaks of upcoming projects.
EGG: Is there a direct link to the Kickstarter and for updates?
JON
: The best link to reach the Kickstarter campaign is [
this
]. Or to register for updates, then go
here
and click on the
Ice Dice
banner.
Ice Dice
from
Spidermind Games
"Game Night Just Got Cooler! Roll for refreshment with Ice Dice, get yours for $18 when we go live on Kickstarter! Ice Dice are the coolest addition to your RPG night! The Ice Dice Tray allows you to create 1 of every traditional RPG dice you would have in your collection...because who doesn't want ice that are dice?! A fun spin on cooling off your drinks on game night! Tray Includes 4,6,8,10,12 & 20 sided dice. Cost-effective & fun for everyone and every role playing game. Rubber Mold that's easy to fill and pop out the ice."
Egg Embry participates in the OneBookShelf Affiliate Program and is an Amazon Associate. These programs provide advertising fees by linking to DriveThruRPG and Amazon.