Howdy, y'all. I've been working on a new project lately that I really love. The idea is to kinda make a google maps, but for my campaign world. Obviously, it's not going to be able to zoom down into street view or anything, but it will allow you to explore the world on several different scales.
Okay, so eventually, it's going to start with a world map. On the world map, you can mouse over the different kingdoms and get the short and skinny about them. Click on a kingdom and you go to an enlarged map of just that kingdom with more indepth information.
The kingdom will have different regions. Again, mouse over those regions, you get a birds eye view on them. Click on them and you get an enlarged map of the region with indepth info, random encounter tables, and all the news fit to print.
From the regions, you can go into individual cities and other points of interest (read: dungeons, lairs, etc.) These, I think, will be the bread and butter of the project. Cities will let you go into buildings and get maps, quests, hooks, NPCs, and all kinds of stuff. The goal is to make a world wide sandbox full of world building info, modules, etc, etc, etc.
So we started with the Sylvan Kingdom, ancestral home of the elves. From there, you can zoom into the Isle of Caelen.
I'd love feedback with what you think, especially about the navigation. I've wrestled a lot with how I wanted that to work and I'd like it to be as intuitive as possible.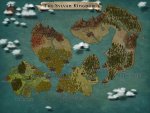 ​
The interactive version is
here.
Last edited: