I caught up with Andrew Cawood, author of
Monsters of the City,
a Best Silver Seller at DriveThruRPG, to discuss what it brings to urban adventures in Fifth Edition
Dungeons & Dragons
.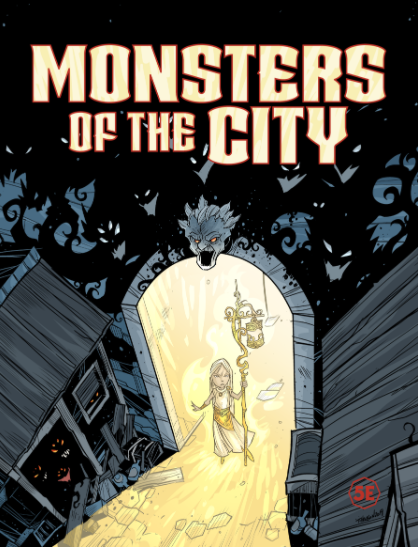 Charlie Dunwoody (CD): Monsters of the City is a Best Silver Seller at DriveThruRPG. In addition to all the new monsters, what does this supplement bring to an urban D&D 5E game?
Andrew Cawood (AC): Monsters of the City: Sins and Virtues
will help any Game Master run adventures or campaigns in a city, town, or village. The book is divided into 7 distinct City Districts. Each district has an information page filled with encounters, landmarks, themes, etc. to help with world-building. In addition, each district has two legendary monsters representing a sin and a virtue. Most of the monsters in each district are connected to either the sin or the virtue. There are also adventure hooks, event tables, a map, a location table, and 2 PC subclasses.
CD: What is your RPG design background and what is your favorite RPG work you've created?
AC:
I started playing
D&D
over 40 years ago and I've always been a storyteller in one form or another. In the last 5 years, I have written over 30 5E bestsellers, including
Monsters of the City
,
Monsters of Feyland
,
Monsters of the Underworld
, the
World of Myrr
, and many others. I've also been a part of many collaborations, including
Artifacts of the Guild
,
Monsters of the Guild
, and
Feats Don't Fail Me Now
. My favorite product would be
Monsters of the City
. The new graphic designer, Gordon McAlpin, really improved the layout and the artist and I learned a lot creating the first two books.
CD: What is the history behind your company and what part do you play in it?
AC:
Cawood Publishing was founded just over 5 years ago. My roles include Creative Director, Head Designer, and Editor. A team is hired for each project. For several years we've worked a great deal with the artist Travis Hanson. Graphic Designer/Art Director Gordon McAlpin has joined us recently for three projects, and we've just welcomed Sarah Bagshaw as a second editor. Most of the playtesting is done with our weekly group, West of the Wood.
CD: When you work on an RPG what matters the most to you? What do you want to make sure is included? Story, solid mechanics, art, layout etc.?
AC:
Our goal is to make practical, inspiring products. There are lots of great ideas, but not all are practical. Since I've been a Game Master for so long, I wanted to create products that will actually be used at the table. We also want to inspire GMs and players. We want to create fun, unusual monsters and characters and introduce new story ideas. Having beautiful art to bring these elements to life is also key. The last area we've focused on is improving the layout of our products, which takes more money and resources.
CD: What RPGs do you play and what are some of your favorites?
AC:
I started playing
D&D
around 1979 and it's my favorite RPG hands down. I also played
Star Frontiers
back in the 80s. It would be nice to have time to play more RPGs, but there's only so much time in the day. For instance, I've always wanted to play
Traveller
.
CD: Did your latest release of an RPG go well and are you currently working on any other RPGs?
AC:
The release of
Monsters of the City
has gone well, it's a bestseller on DriveThruRPG. We've had really good reviews so far from all over the world. We feel it's our best product we've made.
[
EDITOR'S NOTE: Beth will review Monsters of the City: Sins and Virtues in a later article this week.
]
Later in 2021 we'll also announce a new World of Myrr book that will complete all nine continents.
CD: What innovations do you see as being important for future RPG development? Social media? Kickstarter? Self-publishing? Something else?
AC:
I can see more multimedia elements coming into play with RPGs. Video, music, and other elements will help create a more immersive storytelling experience. I think social media will continue to be important, but probably in a new form. Kickstarter has really helped many small creators and as long as the bigger creators don't take over the platform, it could continue to be beneficial.
CD: Any final comments you'd like to share with the readers of EN World?
AC:
I should say most of our products are easy to convert to other fantasy RPG systems. Our OGL products are available at our website worldofmyrr.com or DriveThruRPG and we have more books on the DMs Guild.
Cawood Publishing is running a Kickstarter for Monsters of the Wilderness that ends March 4
.
Last edited by a moderator: