There are only a few days left to back the
A TOUCH MORE CLASS Kickstarter
! Join nearly
2,000 backers
with these nine new classes for your 5th Edition games. Remember, we delivery Kickstarters immediately they end, so there won't be any opportunity for pledge managers or late pledges! Here's a look at all the stuff you can get in this epic-sized Kickstarter!
[FONT=&quot]

Play as the brilliant savant, the black-powder gunfighter, or travel with exotic animal companions as the monster tamer! Harness the power of your environment as the geomancer, or create wondrous inventions as the tinkerer![/FONT]
A TOUCH MORE CLASS. This new book contains the bloodweaver, fatebender, gemini, geomancer, gunfighter, lodestar, monster tamer, savant, and tinkerer.
A TOUCH OF CLASS. The original book has been revised and updated, and includes the alchemist, cardcaster, diabolist, feywalker, morph, noble, and occultist.
Plus, in addition to those two softcover books, you can also grab:
THE MASTERCLASS CODEX. Instead of two softcover books, you can choose to pledge for THE MASTERCLASS CODEX! This is a gorgeous full-color hardcover which compiles both A TOUCH OF CLASS and A TOUCH MORE CLASS in one volume. It costs a little more than the two softcovers, but it's well worth it!
Cardcaster Tarot Deck.

[FONT=&quot]The cardcaster is an exciting magical class by Josh Gentry from A TOUCH OF CLASS, and this accessory makes the class even more fun to play! Here, you'll find a set of poker-sized tarot cards with one side of artwork and the other listing the spells available to your mage of fate. [/FONT]

[FONT=&quot][/FONT]

[FONT=&quot]War of the Burning Sky Starter Set. [/FONT][FONT=&quot]War of the Burning Sky[/FONT]

[FONT=&quot] is a high fantasy campaign saga that thrusts the player characters into a war of mythic proportions. Ever-escalating conflicts, powered by mighty magic and fervent faith, threaten the heroes' freedom and lives, and even the world itself.[/FONT]

[FONT=&quot]ZEITGEIST: The Gears of Revolution Starter Set. [/FONT]

[FONT=&quot]In the [/FONT]

[FONT=&quot]ZEITGEIST: The Gears of Revolution [/FONT]

[FONT=&quot]campaign saga, your characters serve in the Homeland Constabulary of the nation of Risur, protecting the country and its citizens from foreign threats lurking within Risur's borders. During missions of espionage and assassination, your duty will be to root out hostile spies and pursue international conspiracies. As you learn more of your homeland's own secrets, however, your loyalties may be tested, may even be turned.[/FONT]

[FONT=&quot][/FONT]

[FONT=&quot]Plus over 30 bonus PDFs containing dozens of subclasses which are FREE to every backer![/FONT]
[FONT=&quot]
[/FONT]
The Kickstarter ends on Friday,
so back it before it's too late
! Remember, we fulfill Kickstarters immediately - here is a photo of the finished books. The full print run gets ordered as soon as Kickstarter funds clear, and the PDFs go out within minutes of the campaign ending! There's no waiting around for us to finish the book!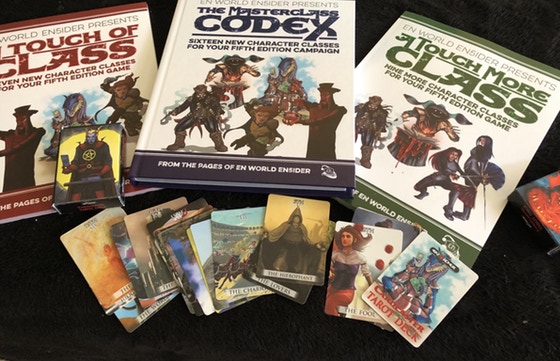 ​