I love this so much.

In my head I always imagined him as the Wesley Willis of RPGs ( in only a good way).

Please know that this made my year.

If I could I would gift you all the Moonstone Bazooka Cannons.
Nice.
Now that I remember it, the author portrait photo from the 2nd edition rulebook is pretty much him exactly as I remember him, though I can't remember seeing him wearing armor.
Actually... that just jogged a memory. He was friends with a couple of comic book artists- specifically Mike Grell (of Green Arrow fame) and Dameon Willich, and got them both to do a little bit of art for Synnibarr, as I recall. He ALSO served as an artist's model at least once or twice. In fact, that armor and sword were the ones used for the cover modeling for issue 1 of the Avatar/Time of Troubles three issue comic book limited series from DC! I believe that piece was by Willich.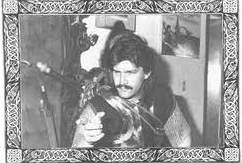 Last edited: