TLDR; all on schedule. Fulfilment is now officially starting! Come chat all things Level Up at our live stream today (Thursday 17th).
Fulfilment on Schedule
We're excited to share that 43 pallets of
Level Up: Advanced 5th Edition
books have safely arrived at our UK warehouse today, and fulfilment has officially begun - exactly on schedule!
This week we are packing the books for North American backers, and then will put them on a ship to our US fulfilment centre. In the UK and Europe keep an eye out for emails from ShipQuest for your shipping confirmation and tracking details!
UK and EU backers will start to receive their orders over the next couple of weeks. Backers in North America, Asia, Australia and rest of the world will take a little longer, as you're a little further away -- we'll keep you updated every step of the way on where your orders are and how fulfilment is going.
If you are in North America our fulfilment partner will email you an address confirmation before sending it out to you (this will likely be in April). At this point you can reply to them to change your address if needed. If you are a backer outside of North America we are no longer able to change your address, as our warehouse has begun dispatching packages.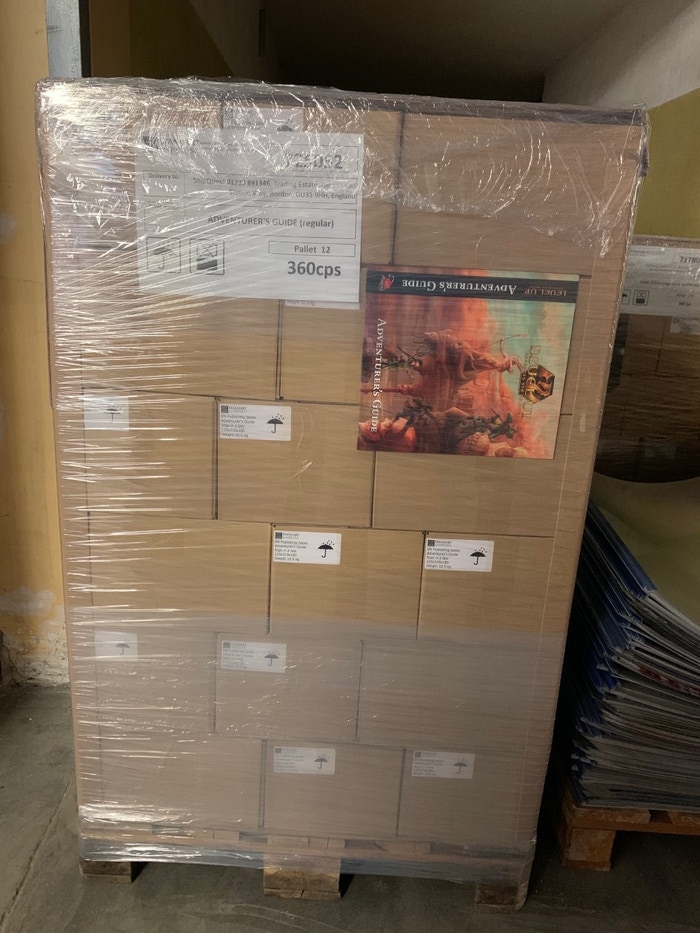 Here's one of the 43(!) pallets of books which cleared UK customs yesterday and arrived in our warehouse today!
​
Come to our Live Stream!
Join us today at 8pm GMT for our livestream!
Twitch.tv/enpublishing
Morrus, Jessica Hancock and Savannah Broadway from the EN Publishing team will be there to introduce ourselves and talk about
Level Up
! On Thursday 17th March.
Going forward, on the third Thursday of each month we'll live stream a monthly update from EN Publishing. A chance to hang out with the EN Publishing team and ask any questions you may have about our games! See the full schedule at
enliverpg.com
Adventures in ZEITGEIST
Please note that 'Adventures in ZEITGEIST' book has just gone to the printers and so will be sent to you separately. Please do not panic if you have ordered it and it is not in your first parcel! It will be following a few weeks later, and we will do a separate update with more details once printing is complete.
The Dungeon Delver's Guide and Voidrunner's Codex
Here's a sneak peek at two of our upcoming book covers! Beautiful art by Alba Palacio and Erik Davis-Heim.
The Dungeon Delver's Guide includes everything you need to adventure underground! From new player options, equipment, and magic to new Regions and locales for the Narrator, including several pre-made dungeons!
Or take your Level Up game into outer space with the Voidrunner's Codex, a full sourcebook for space opera science fiction. Within you'll find new heritages and classes, equipment, psionics, starships, and more!
We're planning on bringing these to Kickstarter in the Autumn/Fall of 2022 - stay tuned for more details!
Charity Campaign for Ukraine
We've compiled a collection of healing spells, rewards, magical ceremonies, and monk archetypes that can be used in your 5E DnD game from a selection of EN5ider articles.
100% of the proceeds from this campaign will be donated to the Ukraine Humanitarian Appeal. You can find the campaign here on indiegogo
Blessings, Healing, and Peace for Ukraine
(as kickstarter does not allow charity campaigns).
Hopefully see some of you later today at the Live Stream!
Jessica, Morrus & the EN Publishing Team