2. why do we get stats for the underdark elf (drow) but not the underdark dwarf (duergar) or the underdark gnome (svirfneblin)?
The drow are featured in the PHB while the others are not probably beacuse it's more popular. You can find those options for free in the elemental evil player companion, along with genasi and goliath player races.
3. why isn't there a skill for constitution? it could be called stamina.
The way 5e works RAW is that there are no skill checks, only ability checks that can (but don't need to) benefit from skills. So you still can roll "stamina" ability checks with CON, and there are character abilities that can even let you add your proficiency bonus to it, even without an associated skill. You might prefer the variant rule that decouples skills from particular ability scores, allowing you to roll a Constitution (athletics) check.
4. i see there's different damage rolled when using a versatile weapon two-handed. does this mean the 1.5 strength bonus is no longer added to damage? as i recall, in 4e the damage bonus was a flat +1.
Yes, using a weapon with both hands doesn't change your ability modifier to damage.
5. what happened to the paladin's divine grace?
Not sure what that ability was, or what edition you're talking about, but if you don't find it in the base class it might have become a spell or subclass feature.
6. why do characters get an ability score improvement at level 19 rather than 20? is this an attempt to avoid dead levels?
Hard to tell what exactly the intent was, but your guess seems perfectly reasonable.
7. why do fighters get 2 extra ability score improvements (at levels 6 and 14) and rogues get 1 extra (at level 10)?
Presumably this was regarded as a simple way to boost those classes without adding too many abilities to classes that are often expected be noob friendly.
8. why are the sections on preparing and casting spells so complex? suddenly, i'm longing for the good old days of simple, vancian casting.
I think you'd need to be more specific on your problem with those. In my experience they are not regarded as more complex than previous editions spellcasting rules.
9. why are there so many different ability-use systems (at will, regain after short rest, regain after short rest or long rest, point pool use, superiority dice, etc.)?
I assume because a big complaint with 4e was how classes felt the same with the at will, encounter and daily Powers the designers went the other direction and introduced a bigger varienty in player ability recharge.
10. can finesse weapons be used two-handed? would there be any benefit?
There are no two-handed finesse weapons in the PHB, but no rule prevents that from happening as more equipment gets published. If I recall correctly there's a two-handed weapon that becomes finesse with a feat for Eberron. There's no benefit from using two hands with a one handed weapon though.
11. i'm a little confused about short rest healing. let's say bob the 8th level fighter takes a short rest. he can roll 8d10 healing during this rest, and these dice are replenished after a long rest. is that correct?
Almost. He can roll all 8 dice during a short rest, but he can only regain up to half his total, which means only 4, during a long rest.
12. what's the math behind advantage/disadvantage? does it correspond to a simple +2/-2? or is it way more complicated than that?
It's way more complicated than that. Basically, it's most effective whenever you need between an 8 to a 14 on the D20 and less effective otherwise. Here's a table that shows the approximate equivalent modifier for advantage and disadvantage depending on your target number: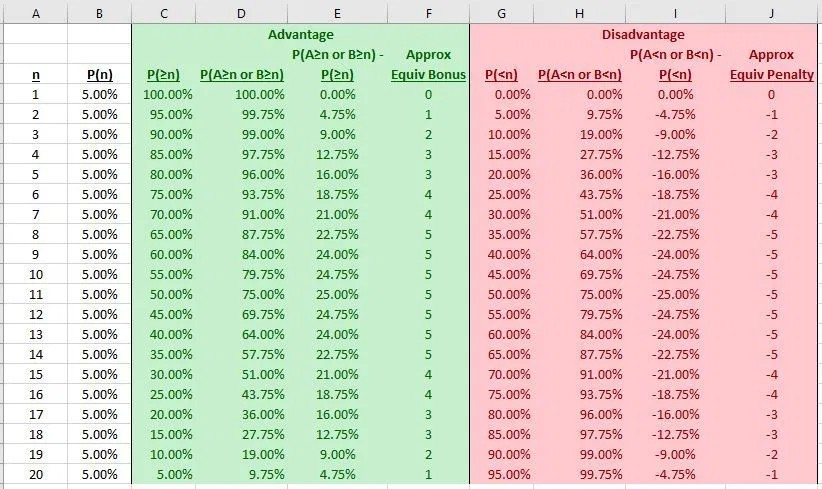 13. why don't fear effects target charisma saves? one aspect of charisma is confidence, after all.
The game was designed so that Dex, Con and Wis were the most important saves. That way each character was expected to be proficient in one common and uncommon save. Fear effects are quite common, so it makes sense to group then with the most common save for mental effects.
14. do critical hits need to be confirmed? i see no mention of this, so i really hope it was dropped...
No need for confirming critical hits. Enjoy your 20s lol
15. what's with all the omitted spells? no prismatic sphere?
Look for them in D&D Beyond, some might be published in other books.
16. i've heard there is a pdf of revised classes available for download somewhere. where can this be found?
There are many homebrew versions of all classes floating in the internet, so it's hard to tell what you're refering to. No official revised classes, although Tasha's Cauldron of Everything has variants for core class features.
many thanks for all replies!
Hope I could help.