Miniature Giant Space Hamster Press is proud to announce

Midnight in the City of Brass

https
://www.dmsguild.com/product/264496/Midnight-in-the-City-of-Brass-AlQadim-and-Forgotten-Realms-Digital-Sourcebox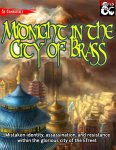 Genies! Lovers! Monsters! Assassins! Fire! It's all here!


Join us in the City of Brass, where wonder lies around every corner and even the lowliest beggar could be a demigod in disguise! This fully illustrated and bookmarked PDF contains a Tier 2 adventure module and a comprehensive sourcebook to the efreet capitol. Within it you will find:

A lavishly illustrated 32-page adventure module that begins when the PCs are summoned by an efreeti sorceress who is promptly assassinated - and must find a cure for the poison before time runs out!
9 monster entries, featuring a total of 18 monster stat blocks!
New player options and subclasses including character "kits" that can be added as a PC's adventuring career develops!
Three new subclasses tied to the power and mystery of genies!
A whirlwind tour of the City of Brass, including plot hooks and developments for more than 20 wards and districts!
A new City of Brass poster map (downloaded separately from the adventure/sourcebook) featuring almost 100 keyed locations!
Here are some exampled of what people have told us:
"The best adventure I've played in years!"

"The egg chamber was my favorite encounter I've run in 5e"

Players and Game Masters agree - Midnight in the City of Brass is "a top-notch adventure, with everything you need for when a group goes off the rails."

Pick up your copy today at https://www.dmsguild.com/product/26...lQadim-and-Forgotten-Realms-Digital-Sourcebox