I'm currently running a 5e game set in the World of Greyhawk so I thought I would share my various campaign info (that includes location, maps, NPCs, monsters, and miscellaneous write-ups).
The campaign is currently centred on the free town of Parthaldi that is on the banks of the Artonsamay River between the County of Urnst to the south and the Bandit Kingdoms to the north. Below is a screen cap from the wonderful Darlene Greyhawk map with a few new locations and road added by me.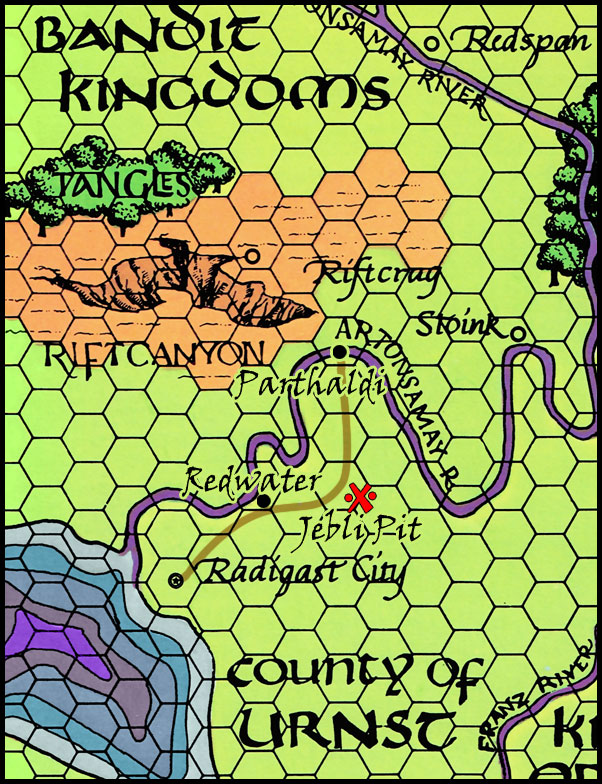 I'm running this game for only a handful of players (immediate family) so far we have an half-orc eldritch knight and a half elf bard (college of lore). I round out the party with two NPCs, a cleric of Pelor and a rogue (assassin). I sometimes switch out the NPCs depending on what is going on with their back stories.
For example, recently the rogue had prior engagements so had to remain in town (the PCs don't know that she was asked by her guild to assassinate a troublesome merchant) so they had a kensei join them for a few adventures but he has moved.
The campaign started when the PCs were travelling to Parthaldi and they came across a merchant caravan that had been ambushed by goblins. They found a dying bodyguard who asked the PCs to rescue his charges who had been abducted by the goblins along with the caravan's riches. The party was able to track down the goblins and learnt that the goblins had a base nearby known as the Jebli Pit (Jebli is gnomish for goblin).
The party encountered yellow skinned goblins from the Twistedspine tribe who originated from the Raker Mountains. These goblins, under the command of the Warblabe Hobgoblin legion, are trying to expand their area of influence. These goblins are proficient beast masters and in addition to giant rats and worgs, they had two 'great beasts' (actually dimetrodons) painted with clay ointments in the tribes colours of red and orange.
That's a good place to end this post. More to come soon.
Cheers,
Tim