Hello everyone, Darryl here with this week's gaming news! EN Live is coming soon, Critical Role coming to theaters, Roll20 quarterly user statistics released, new releases for
Dune
and
Star Trek Adventures
, multiple charity offers from RPG companies, and more!
Don't forget, you can keep up with all the week's gaming news with
Morrus' Unofficial Tabletop RPG Talk
! This week, Morrus and Peter are joined by TrooperSJP to talk about the statistics of RPG streaming on Twitch.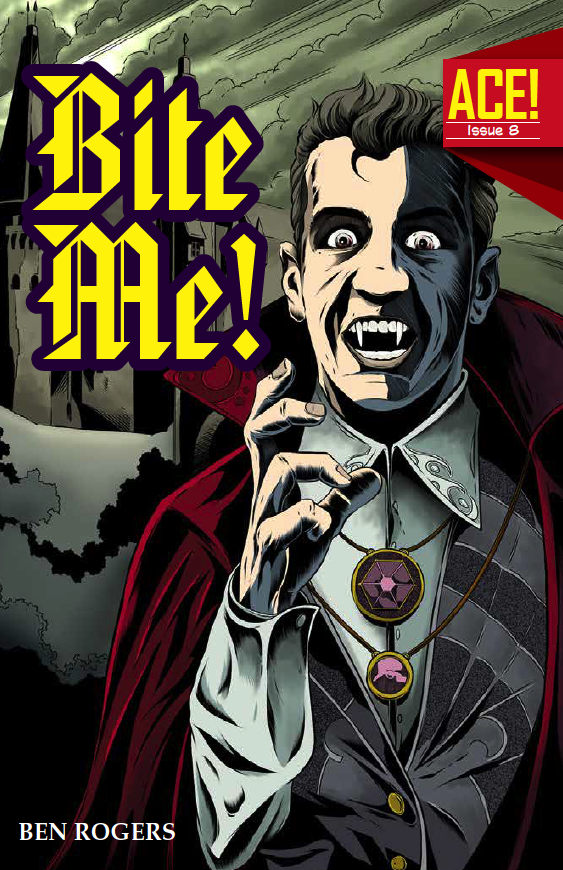 In case you missed it elsewhere on EN World this week: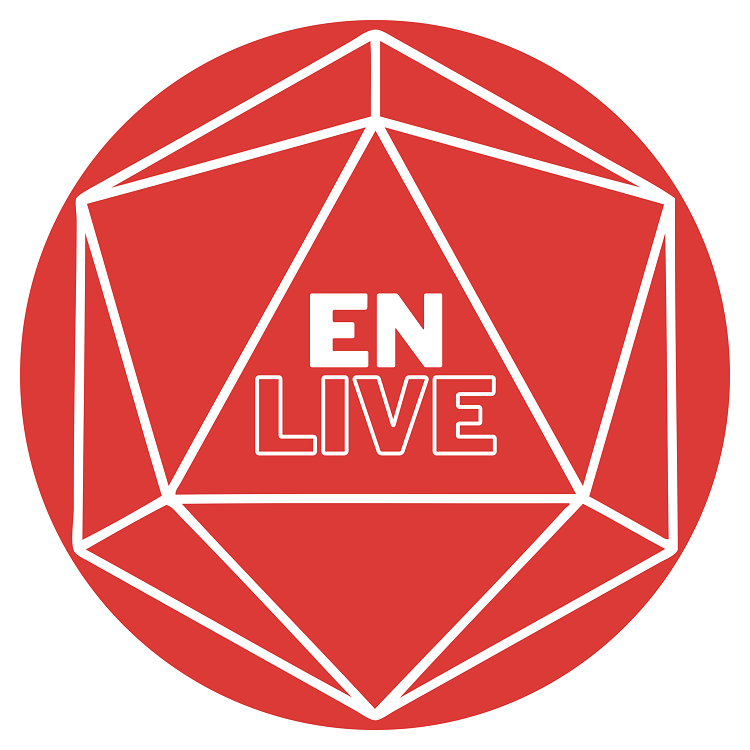 EN World is expending with EN Live, a collection of media projects focused on tabletop roleplaying games
. Starting Monday, March 7, Morrus and Jessica Hancock present
The Show Where We Talk About Tabletop RPGs That Are Not DnD
, a live stream on Twitch at 10 PM GMT (5 PM Eastern, 2 PM Pacific) talking about tabletop roleplaying games that aren't
Dungeons & Dragons
with a live Q&A with chat. On Friday, March 11, Jessica Hancock will be on
TikTok with This Week in TTRPGs
, giving you a fast update on the week's RPG news. Of course every Saturday, there's
Morrus' Unofficial Tabletop RPG Talk podcast
going into more detail on the week's news stories and everything else you've come to expect as we approach 200 episodes. Starting March 17 and on every third Thursday of the month, the
EN Publishing Update
will catch you up on everything coming from EN Publishing. There are three more shows coming in April as well with more details to come soon: an ongoing actual play campaign on Twitch every Tuesday,
Bite Size
with short instructional videos on RPGs starting with
Level Up: Advanced 5e
on TikTok, and a new one-shot live streamed game the first Thursday of every month on Twitch. To keep up with the new shows, make sure to follow EN Publishing on
Twitch
,
TikTok
,
YouTube
, and
Instagram
.
EN Publishing's Level Up: Advanced 5e is now available on Fantasy Grounds
. The
Level Up Adventurer's Guide
, the core rulebook for
Level Up
, is available on
both the Fantasy Grounds website
and on
the Steam store
for $27.99. The book features full rules for combat and adventuring, character creation system featuring the new heritage and culture system, hundreds of spells, and more. You can also get the
Monstrous Menagerie
featuring detailed stats for almost 600 monsters plus templates to modify existing monsters and create new ones. You can pick this up on
the Fantasy Grounds website
or on
the Steam store
for $27.99. Note that an active subscription or a one-time license purchase for Fantasy Grounds Unity is required. For other virtual tabletops, you can pick up
the introductory adventure Memories of Holdenshire from the Roll20 store
and
a package is available for Foundry in open beta
.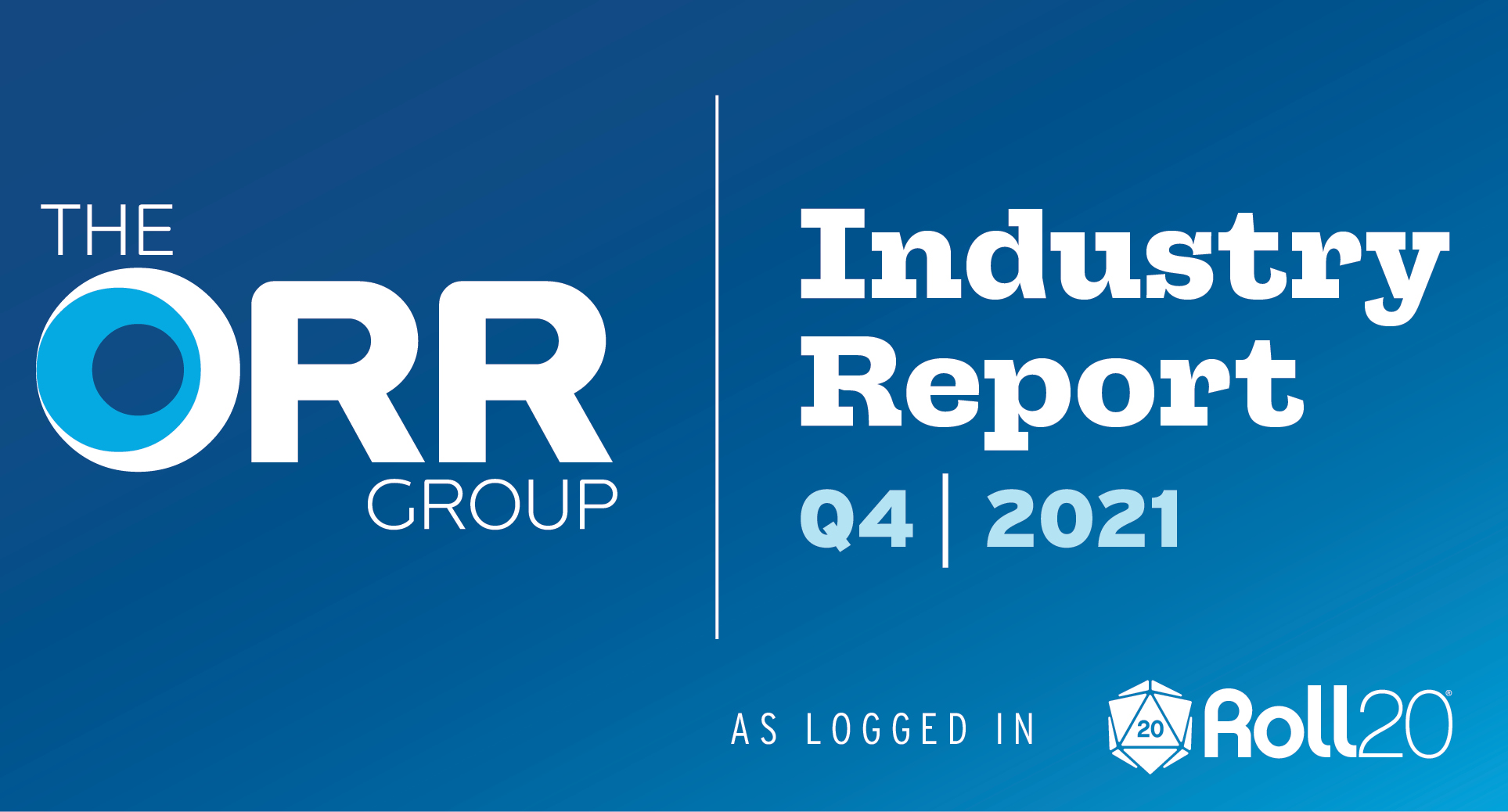 The ORR Group released their Roll20 user report for Q4 2021
.
Dungeons & Dragons 5th Edition
is at 55% of campaigns played with
Call of Cthulhu
at 9.3%,
Pathfinder
at 3.3%,
Pathfinder 2nd Edition
at 1.14%,
Warhammer
(including
WFRP, 40K, Wrath & Glory, Age of Sigmar: Soulbound
, and all others grouped together) at 0.9%, all
World of Darkness
games at 0.9%,
Dungeons & Dragons 3.5e
at 0.8%,
Tormenta
at 0.6%,
Starfinder
at 0.56%, and all others together making up 11.9%. Uncategorized games without a specific system declared by the users were 15.3% of campaigns.
The full report listing all games played on Roll20
by percentage of campaigns and percentage of accounts is also available. Other statistics reported is that nearly 1 million lights were placed using the new lighting tool, over 40,000 redemptions were made for free assets (maps, tokens, games, etc.) through Roll20 Reserve, 3.3% of games used Dexterity modifiers as initiative tiebreakers, 4% of GMs used the "Advantage Toggle" feature for roll flexibility, and less than 1% of all GMs configured their games so that player rolls were always sent only to the GM.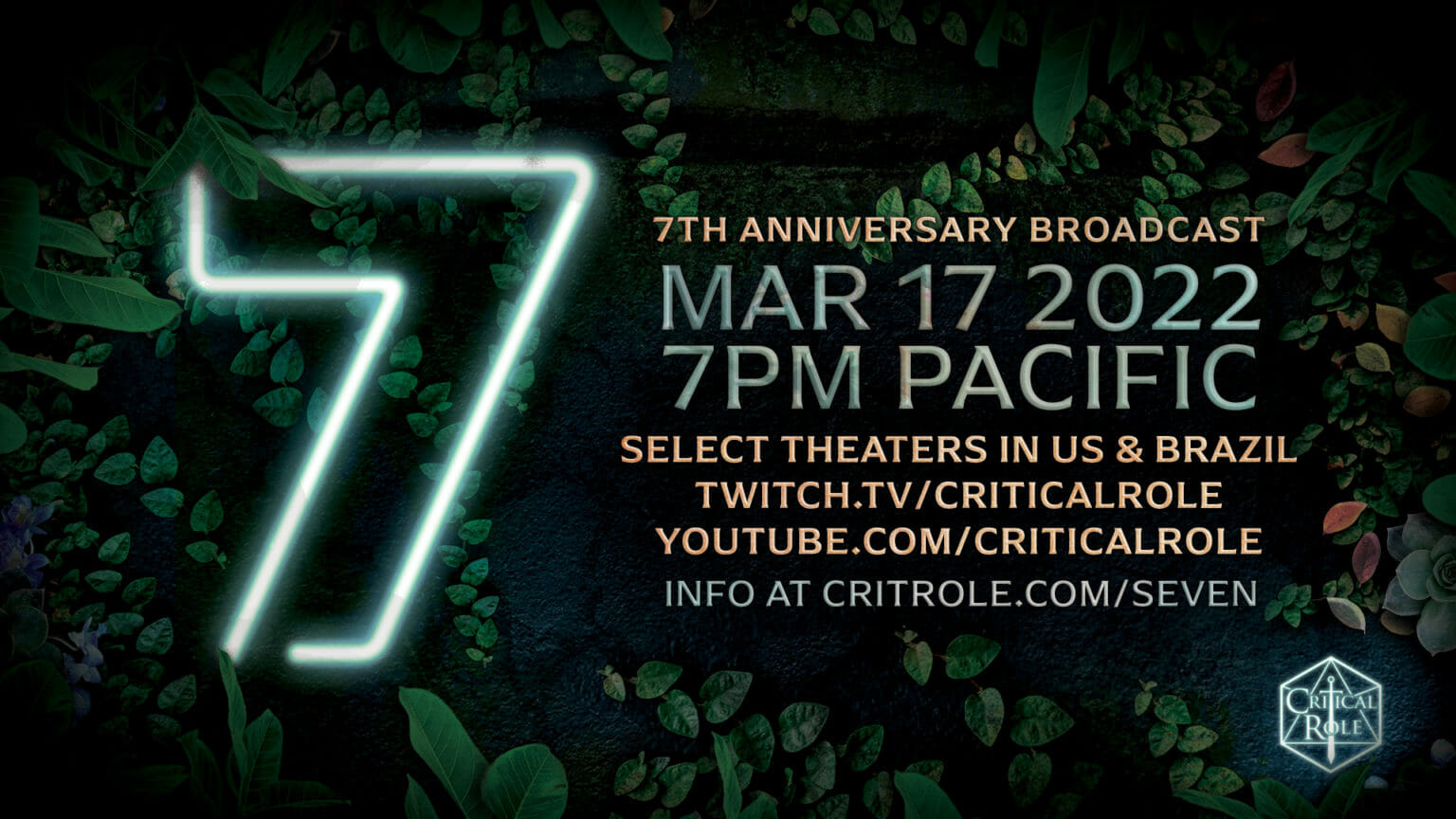 Critical Role is approaching its seventh anniversary and to celebrate, they're having another theatrical event
. On Thursday, March 17 at 7 PM Pacific, the normal Twitch stream of Critical Role will also be available in select theaters. Tickets are available for Cinemark theaters across the United States, Landmark theaters in Atlanta, and Cinépolis in New York City as well as a rebroadcast the following day in Cinemark theaters in São Paulo and Rio de Janeiro, Brazil. Tickets for American venues are $25, while the Brazilian screenings range from R$32.50 to $57.50. Critical Role has also promised a week of celebration starting off with a special
State of the Role
on YouTube on Monday, March 14. The first Critical Role previously held a similar event for the premiere of the third campaign on October 21, 2021.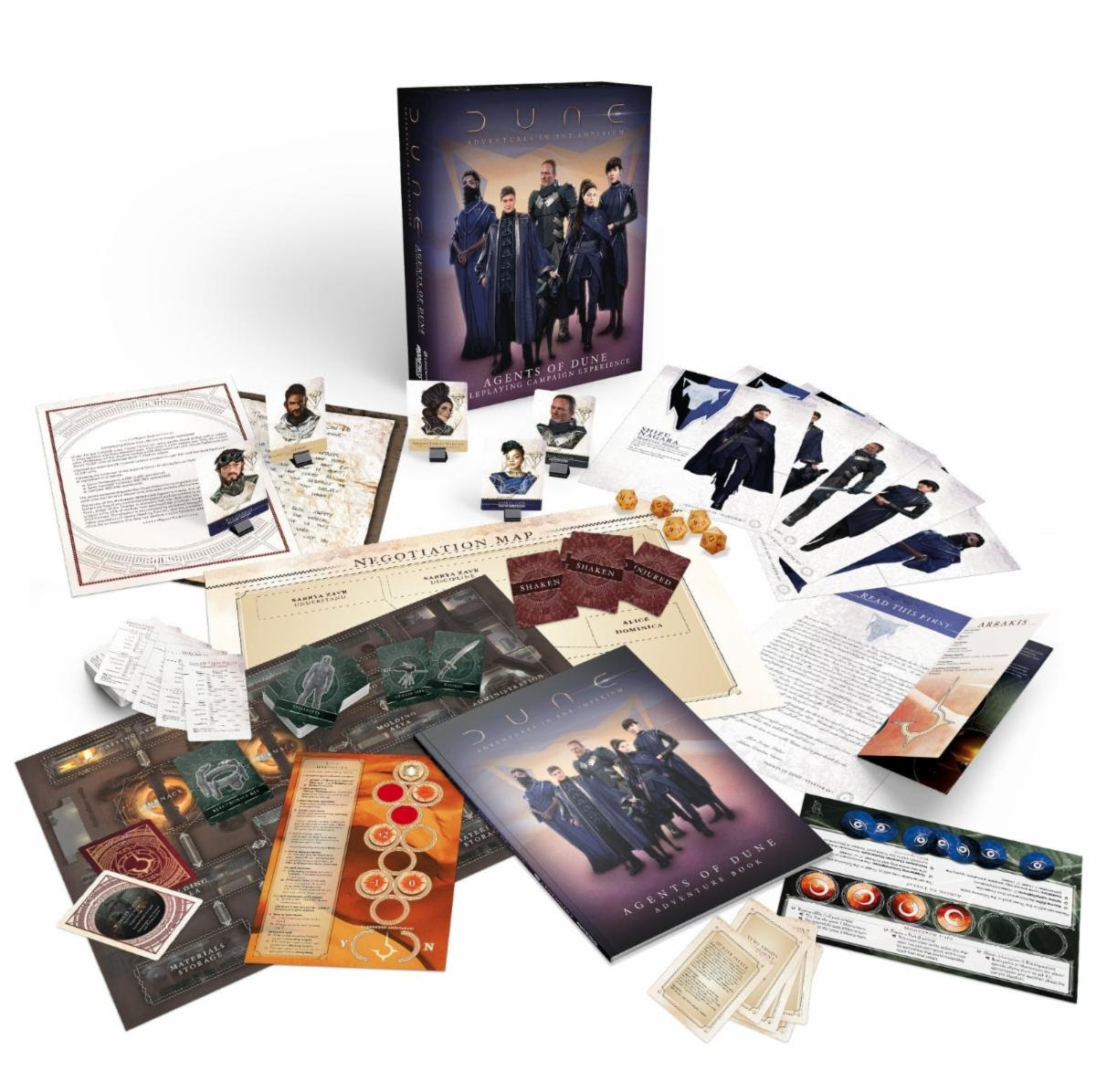 Modiphius announced pre-orders for the new introductory boxed set for Dune: Adventures in the Imperium titled Agents of Dune Box Set
. The box set will include a 116-page adventure with step-by-step guidance, five character folios for members of House Nagara, two 50-card decks with NPCs, Assets, and Traits for use during the game, a spice harvesting system to track success (or failure) in running Arrakis, five custom d20s with the symbol of the great sandworms of Arrakis, plus handouts, maps, tokens, and trackers. The boxed set also comes with a code for a free digital copy of the
Dune: Adventures in the Imperium Core Rulebook
. The boxed set is expected for release in June and can be pre-ordered for £59.99 from the Modiphius store at the link above and
for $82.00 from the Modiphius US store
.
Modiphius also released Upsetting the Balance, a new adventure for Star Trek Adventures
.
This adventure takes place in the Next Generation era and places the players in the role of the crew of a Klingon ship. The 17-page PDF is available from DriveThruRPG for $4.99. From the product description:
"From the Record of Battle: It has been two weeks since we set out from Outpost Victory 357 at the edge of the Triangle for our patrol. Aside from the occasional nebula and other stellar phenomena – which we have cataloged dutifully – there has been little to stimulate the crew. They are keeping themselves as sharp as they can, but when a d'k tahg sits unused for too long, it becomes dull. I am hoping our fortunes change soon."
The past month, Modiphius has also given us a peek behind the curtain with a series of blog posts from designers discussing the writing of
Star Trek Adventures
. Michael Dismuke
talked about the Player's Guide
,
Aaron M. Pollyea
wrote on the Gamemaster's Guide
, and Troy Mepyans talks about
writing for Klingons in Upsetting the Balance
.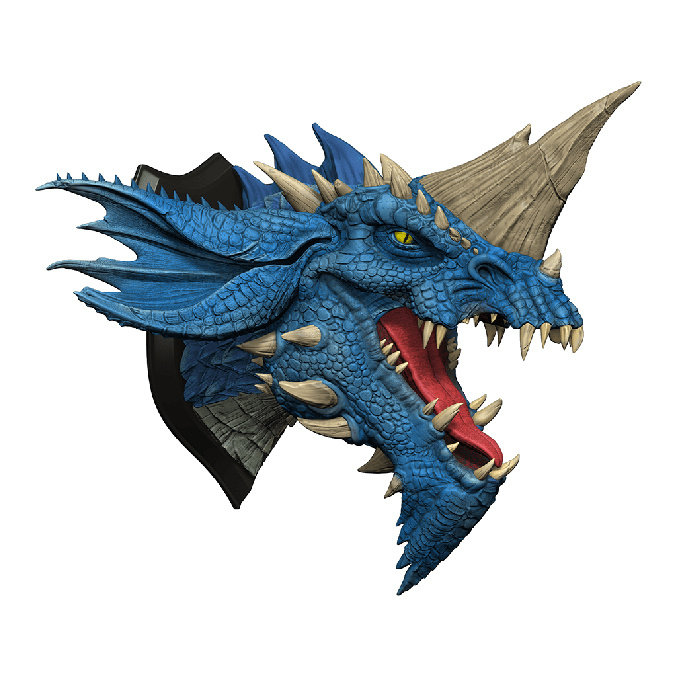 WizKids announced the latest entry in their home décor trophy line, the Dungeons & Dragons Blue Dragon Trophy
. The bust plaque is made of polyfoam latex and hand-painted weighing between 14 andd 16 pounds. While there are no measurements for the bust itself, the box it comes in is 33 inches by 20 inches by 25.5 inches and comes with all necessary hardware to mount on your wall. This joins the
previous décor trophies from WizKids of a red dragon, black dragon, mind flayer, bearowl, and beholder
and
the mantlepiece replica of the Eye and Hand of Vecna
. The blue dragon trophy will be available in May and while a retail price has not been announced, retailers accepting pre-orders range from $500-525.
Several RPG publishers and indie developers have launched charity efforts in the wake of the horrific news coming from around the world. Modiphius posted that all proceeds from
PDF sales on the Modiphius webstore will be donated to front-line humanitarian aid efforts in Ukraine through March 6
.
Monte Cook Games posted a similar pledge on social media, stating
all proceeds from the MCG store will go to the International Rescue Committee to support Ukrainian refugees
.
Dork Tower and Munchkin artist John Kovalic is selling a print titled Ukraine: A Very Hard Stare pictured above
with proceeds going to World Central Kitchen in their efforts to feed refugees on the Ukrainian border. For those unaware of the joke, Ukrainian President Volodymyr Zelensky was an actor before becoming president of Ukraine and provided the Ukrainian language dub voice of the title character in the live-action
Paddington
films.
Chaosium released
the adventure Does Love Forgive? for Call of Cthulhu as pay-what-you-want with a suggested price of $0
(regular price $5.99) with the request that a donation be made to one or more of four charities working with Ukrainian refugees: International Committee of the Red Cross, United Nations Refugee Committee, Save the Children, and Doctors Without Borders.
Black Monk Games, who originally published
Does Love Forgive?
,
also has a selection of auctions with proceeds going to Polish humanitarian groups assisting with refugees
(Black Monk Games is based out of Poland).
Itch.io released a TTRPG bundle
in support of Transgender Education Network of Texas and Organización Latina de Trans en Texas
featuring (at time of writing) 493 digital TTRPG products worth over $2800 for just $5, running through the month of March.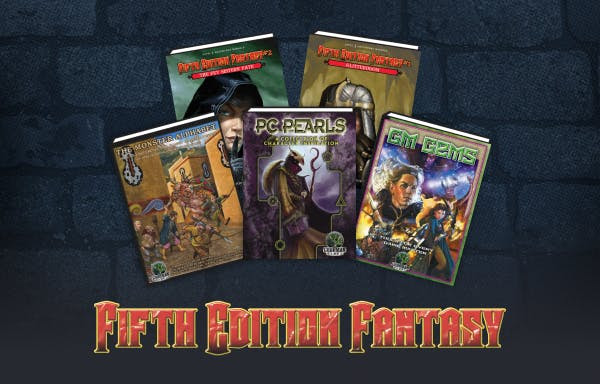 Humble has partnered with Goodman Games to offer the Fifth Edition Fantasy bundle
. At the base $1 level, you receive the first two adventures under the
Fifth Edition Fantasy
series,
Fey Sisters' Fate
and
Glitterdoom
plus a voucher for 20% off the Goodman Games store. The $10 level adds on
Fifth Edition Fantasy
#3-10, and the top tier of $18 completes the series with #11-18 plus the
PC Pearls
book of character inspiration,
Monster Alphabet
compilation of monster design elements, and the
GM Gems
book full of system-neutral advice for running a game. This bundle benefits The Global Food Banking Network and runs until Thursday, March 24.
That's all from me for this week! Don't forget
to support our Patreon
to bring you more gaming news content. If you have any news to submit, email us at
news@enpublishingrpg.com
, and you can get
more discussion of the week's news on Morrus' Unofficial Tabletop RPG Talk
every week. You can
follow me on Twitch to get notifications when I go live,
subscribe to Gamer's Tavern on YouTube for videos on gaming history, RPG reviews, and gaming Let's Plays
, or you can listen to
the archives of the Gamer's Tavern podcast
. Until next time, may all your hits be crits!
Note: Links to Amazon, Humble Store, Humble Bundle, and/or DriveThru may contain affiliate links with the proceeds going to the author of this column.