Now available in PDF (softcover coming soon) is the
8th adventure in the War of the Burning Sky adventure path
!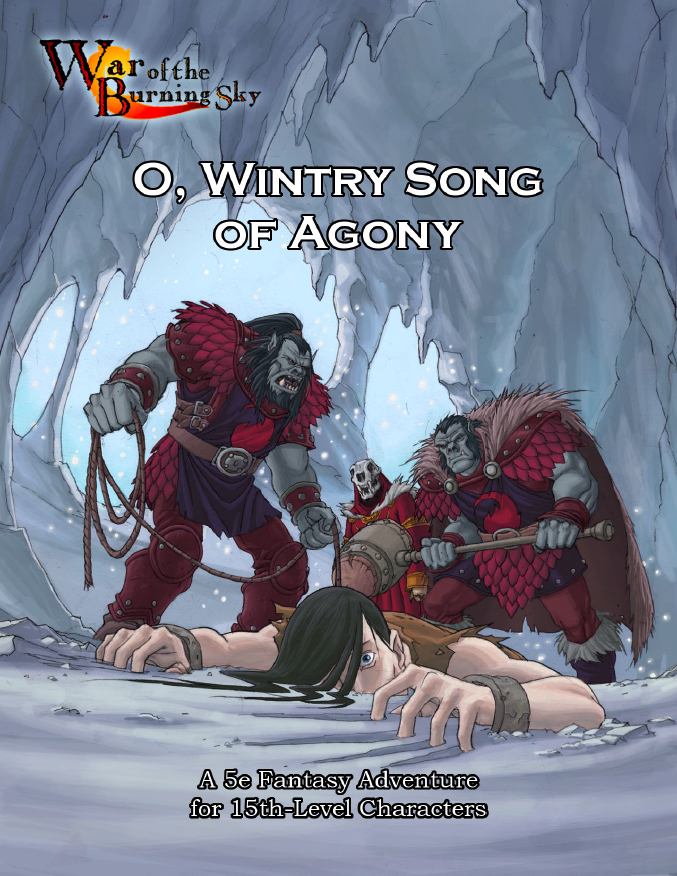 Witness the mighty and terrible face of war in a world of magic!
A critically acclaimed high fantasy adventure path for
5th Edition
from veteran authors such as Ari Marmell (
Heroes of Horror, Tome of Magic
), Wolfgang Baur (Editor DUNGEON® Magazine 1992-1995), Wil Upchurch
(Midnight®, Champions of Ruin
) and Darrin Drader (
Book of Exalted Deeds, Serpent Kingdoms
).
Stop the Scourge
As war rages on multiple fronts, the heroes call together their allies for a strike against a secret, frozen fortress that defends the Scourge.
Deep in the icy heart of northern Ragesia, the Scourge is Supreme Inquisitor Leska's greatest weapon: a device powered by the suffering of thousands of prisoners which, if completed, could annihilate a city from across the world.
The heroes must assault this fortress deep in enemy territory, but can they destroy the doomsday weapon before they fall victim to a wintry song of agony?
A 5E fantasy adventure for 15th-level characters.
Find the
War of the Burning Sky Player's Guide, with background material and character options for players, here.
Find the
War of the Burning Sky Campaign Guide, for GMs only, here
Find
more War of the Burning Sky here
.