Pathfinder Gallowspire launches into Steam Early Access today, Pathfinder and Starfinder Society on Foundry VTT, and September Organized Play updates.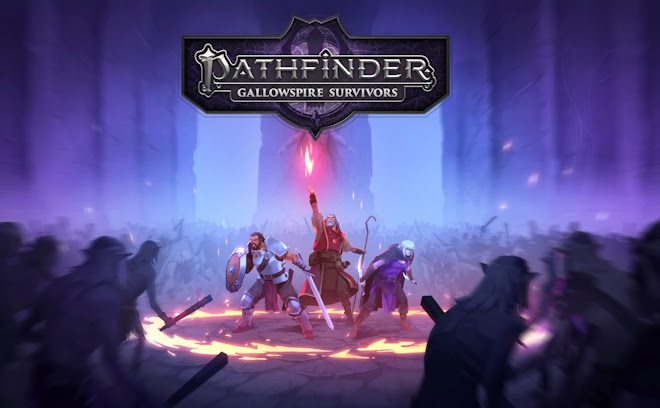 Pathfinder Gallowspire Survivors​
Within the depths of Gallowspire lies one of Pathfinder's most powerful villains, Tar-Baphon. It's up to you to take on the role of the fighter, wizard, or rogue to defeat him and repair the wards that seal him away.
For those who have been waiting patiently for the release of this roguelite bullet hell survivor game, today is the day to get your hands on it.
Pathfinder: Gallowspire Survivors
is now available on
Steam Early Access
for $6.99.
Pathfinder and Starfinder Society on Foundry VTT​
One of the things Paizo has been working on is full support for both Pathfinder Society's Year of Unfettered Exploration
and
the Starfinder Society's Year of Fortune's Fall on Foundry Virtual Tabletop. Included with every module, there will be high-resolution maps that come pre-rigged with walls, lighting, and ambient sound effects, as well as custom battle tokens for every monster and NPC in the scenario. Each Organized Play module include macros to automatically place tokens on the battlefield and adjust the encounters to fit the size and level of your party. There is also full support for Society boons and printable Chronicle Sheets.
Organized Play modules can be purchased as either a single purchase for the full season or for half the season if you don't want to commit to the entire year. If you don't want to play the module but want all the tokens, maps, and other goodies, they will still be offering those as
asset packs
. If you want everything you need to run the adventures,
deluxe editions
are the way to go. On the fence about it? Paizo will be having two upcoming live-streams that will showcase them (dates TBD).
September Organized Play Update​
Releasing on September 27:
Pathfinder Society Scenario #5-03: Heidmarch Heist
,
Pathfinder Society Scenario #5-04: Equal Exchanges – Necessary Introductions
, and
Starfinder Society Scenario #6-07: Race for the Dustwarren Cup
.
There is one update for Starfinder Society Character Options: the
blessing of youth
spell is now available for all precogs. This may only be cast from spell slots, not purchased with spell gems or other consumables. Precog characters may swap in this spell the next time they level up.
Don't forget, the election for the Starfinder Society's next First Seeker is still going on. Ballots close on October 31, so be sure to play
Starfinder Society #6-06: Tomorrow's Seekers
to meet the candidates.
Last edited by a moderator: