Hey everyone, looks like D&D books on Amazon US are on sale again, for about $14.
Guildmasters' Guide to Ravnica, the PHB, Volo's, Xanathar's, the DMG, Waterdeep Dragon Heist, and Mordenkainen's are all on sale, but to get that sweet, sweet price you'll also need to use that GIFTBOOK18 promo code; most also have a 10% off coupon as well that can be combined with the promo code.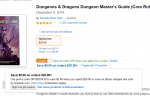 Merry Christmas in advance!