The
Call of Cthulhu
RPG offers rules and a 1920s setting of cosmic mind-bending horror together in one package. In a similar way, the
Call of Cthulhu Slipcase Set
combines a book of comprehensive rules and monsters with a tome of detailed history and rounds it all out with a Keeper screen, maps, adventures, a reference booklet, and blank character sheets. A whole world of horror is described supported by all the rules needed to play.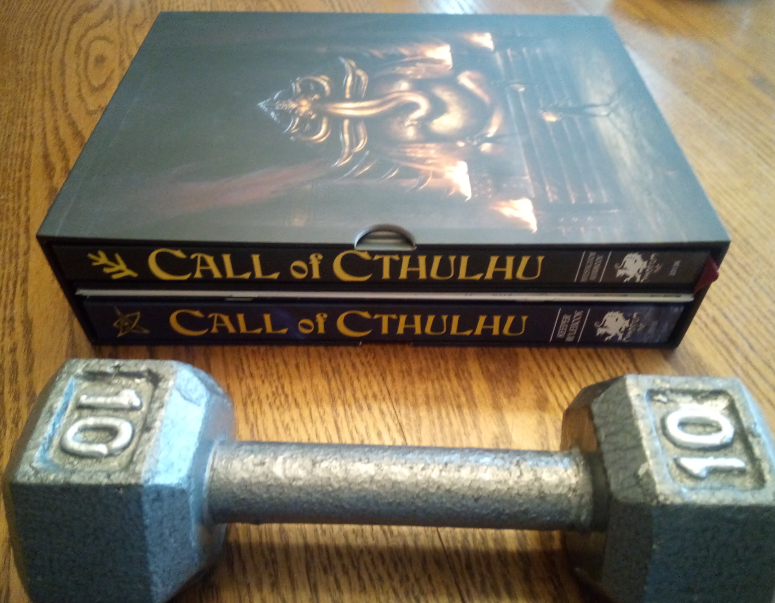 I'm going to admit I came to the RPG late. I've read Lovecraft for decades but most of my game groups like action more than investigation so I never gave
CoC
a go. With the switch to virtual gaming last year though I launched a campaign and started a short campaign.
CoC
is now one of those RPGs I simply want to have and want to play. You have 1920s, 1930s,
Western
,
Dark Ages
, and more all combined in one system of dangerous horror and realistic PCs.
Call of Cthulhu
is roll under d100 with low hit points and dangerous combat. The Cthulhu monsters have to be dealt with through PC investigation and not a shoot out. However, I'm not going to delve much more into the rules as the
Quickstart
is free. I want to talk about value and setting completeness instead.
So why the slipcase? I know you can play with just the
Keeper Rulebook
, so why not save some dough and go cheap? Do you really need ten pounds of RPG?
Short answer is yes, of course ten pounds of RPG is exactly what I need. Long answer, well, I did go cheap, at first. I actually bought the softcover
Keeper Rulebook
to start and ran my short campaign with that.
And yet, that shiny slipcase called. I like a full campaign for an RPG with adventures and maps and all the rules and setting in one big bundle. That is how Free League gets me with their kickstarters. And the slipcase does have it all. Sometimes though, I just want the core rulebook to start and nothing else. Good news with
CoC
is you can go either way (or both in my case). Or mix and match.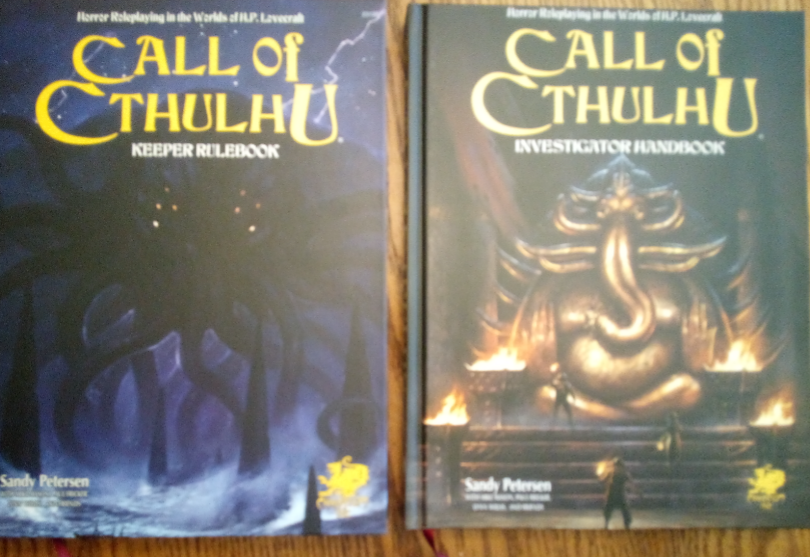 The
Keeper Rulebook
has all of the core rules for both PCs and Keepers. The
Investigator Handbook
has a small handful of optional rules and all the lore. So much lore. Everything you might want to know about the 1920s. Yes you can look this stuff up on the internet but I find having it all in one spot works much better for me.
You also get a screen and maps along with two adventures in a booklet, reference sheets, and blank character sheets. On the art side of the Keeper screen all the investigators are small and set against a large dark menacing background of nature. I like the tone it sets. The maps include the world with Mythos locations marked, Lovecraft country, and Arkham itself. I really like the breakdown from the large world view down to the settlement view.
And really, this is the slipcase in a nutshell. Sure you can have just the rules and you're all set. But the slipcase fills out the world in a big way and it brings some focus through the maps. It grounds everything and ties it together.
Call of Cthulhu
becomes not just an RPG of cosmic horror but also a near Earth setting before the computers and cell phones and easy (if not exactly comfortable) travel of our modern world.
If you have never played
Call of Cthulhu
you might want to start with just the
Keeper Rulebook
(or maybe the
Starter Set
). My group had a ball roaming through haunted woods and going in the cabin they knew contained nothing but horror but we just can't stop ourselves. But if you know the
Basic Roleplaying
rules you could jump in and just get the ten pound monster and have it all.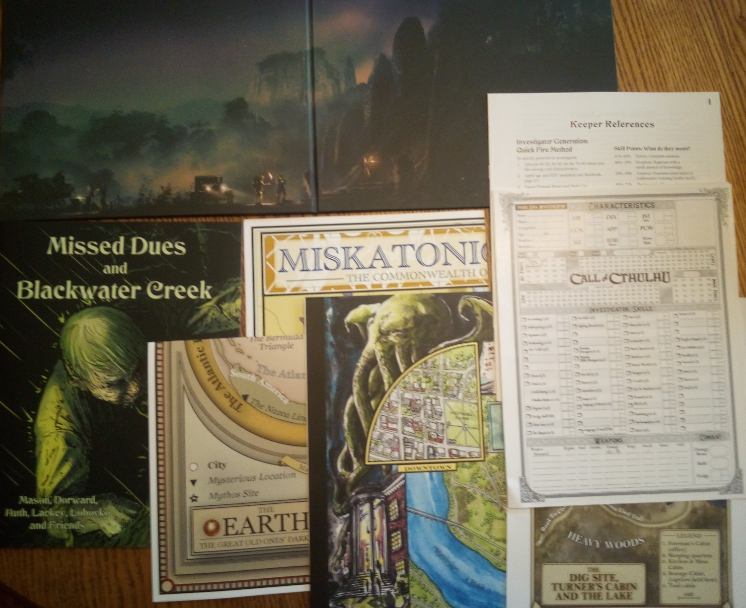 One option with the
Investigator Handbook
is a limited information campaign. The players can only use the
Handbook
(and
Quickstart
if they really want the combat rules). No access to the
Keeper Rulebook
during the game. The monsters, tomes, spells, and other secrets stay firmly in the Keeper's eldritch tentacles. The unknown tome the Keeper wields will add to the unknown and the horror.
The one drawback to the
Slipcase Set
for the Keeper is that investigator generation is duplicated in both books. While this makes a limited information campaign possible it also means the Keeper is paying for a few pages of duplicated rules. I don't mind this and the page count is not high enough for me to count this as a negative.
I admit I started
Call of Cthulhu
slowly. But I see no reason not to jump into buying the
Slipcase Set
if you like d100 games and want the full package. All the rules, lore, maps, reference sheets, and adventures you need. I know my group had a great time even those that died horrible deaths and went stark raving mad. And at 12.99 a pound, the
Call of Cthulhu Slipcase Set
is cheaper by weight than t-bone steaks and it lasts a lot longer. Embrace the horror today.