This week, Morrus, Peter, and Jessica talk about different GMing styles. In the news, Wizards of the Coast moving offices, Pathfinder 2e: Kingmaker Adventure Path coming soon, more new Dragonlance minis from WizKids, a TSR News Update, and more! Plus a brand new sketch about the hero's followers looking for more recognition for their hard work.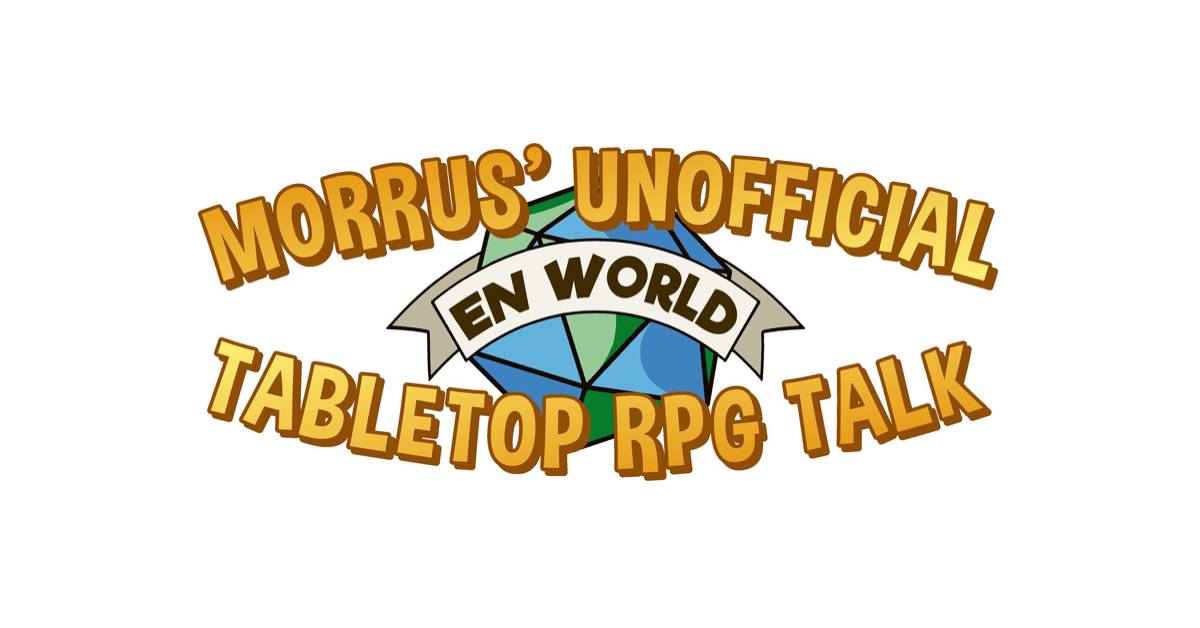 Subscribe on iTunes | Google Play | YouTube | TuneIn | Stitcher | Blubrry | Podbean | Spotify | Android


​
News
Wizards of the Coast Moving
WotC - Wizards of the Coast Is Moving -- But Not Far!
Wizards of the Coast Files Motion for Injunction Against NuTSR
TSR - Wizards of the Coast Requests Injunction Against NuTSR
News Digest for the Week of September 16 (Pathfinder Kingmaker 2e Releasing Soon, One Ring Ruins of the Lost Realm, WizKids Dragonlance Minis, Origins Award Changes)
News Digest for the Week of September 16
Dave Arneson's letter to TSR requesting to run D&D for Wizards of the Coast
D&D General - Dave Arneson's Pitch for the future of TSR and D&D in '97 to Peter Adkison
Cubicle 7's Vault 5e: Uncharted Journeys on Kickstarter
https://www.kickstarter.com/projects/cubicle-7-games/vault-5e-uncharted-journeys
Bullets & Bleedthroughs: A 5e Roleplaying Game on Kickstarter
https://www.kickstarter.com/project...leedthroughs-books-of-before-and-now-a-5e-rpg
Book of Riddles Complete Edition for Role-Playing Games
https://www.kickstarter.com/project...ddles-complete-edition-for-role-playing-games
DesiQuest: A high-quality actual play Dungeons & Dragons show featuring an all South Asian cast
https://www.kickstarter.com/projects/sandeepisbrown/desiquest
EN Live Sponsored Actual Play Schedule for Winter
Sponsored Level Up Advanced 5th Edition Actual Plays — Level Up: Advanced 5th Edition (A5E)
Cast Party: Memories of Holdenshire audio podcast
Cast Party
Tales of Initiative: The Dawn of Vengalia
Table Quests: Wish You Were Here
TableQuests - Twitch
Star-Crossed Seaway
EN Publishing Actual Play Campaign - The Star Crossed Seaway — EN Live
Trailer for the finale of Star-Crossed Seaway
--------------------
GM Styles
Your GM Style & Why It Matters on Great Gamemaster
Your GM Style & Why it Matters | The 5 Common GM Styles - How to be a Great Game Master - How to DM
--------------------
Please support us on Patreon at
http://patreon.com/morrus
Don't forget to join the Morrus' Unofficial Tabletop RPG Talk Facebook group at
https://www.facebook.com/groups/1033145023517295/
and join us on Discord at
https://discord.gg/VAuxX8M
Ask your Awfully Cheerful Question on Twitter using the hashtag #AwfullyCheerfulQuestion, email morruspodcast@gmail.com, or contact us on TikTok at TikTok
--------------------
Hosts: Russ "Morrus" Morrissey, Peter Coffey, and Jessica Hancock
Editing and post-production: Darryl Mott
Theme Song: Steve Arnott
Malach the Maleficent played by Darren Morrissey
Check out all the media content from EN World at
http://enliverpg.com