This week, Morrus and Peter are joined by Chris Spivey to talk about his new weird west game on Kickstarter now, Haunted West
. In the news, a new Dungeons & Dragons race available for charity, Robotech RPG available for pre-order, Eberron: Rising from the Last War preview, and more! Plus Our Favorite Game in All the World and a brand new sketch!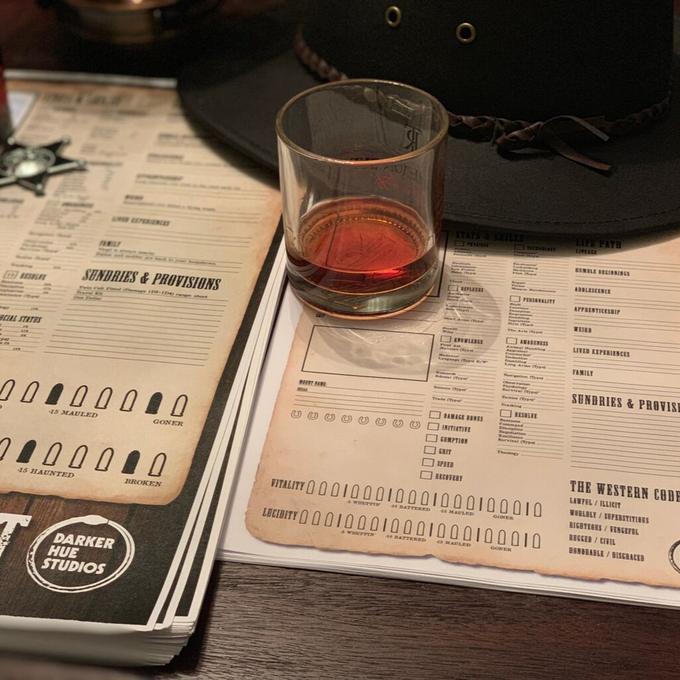 Subscribe on iTunes | Google Play | YouTube | TuneIn | Stitcher | Blubrry | Podbean | Spotify | Android
​
Our Guest
Chris Spivey
http://www.darkerhuestudios.com/
Haunted West on Kickstarter
Haunted West, a Historical Weird West RPG Corebook
-------------------
News
Locathah Rising for D&D 5e Adventure and Playable Race for Charity
5E - Official Locathah Playable Race Released
Five and Infinity to be Modern AGE Flagship Title
Green Ronin announces "Five and Infinity" for flagship Threefold
Charity RPG Bundle for Hurricane Dorian (The bundle ended on Sept. 30)
PRESS RELEASE: Hurricane Dorian Charity Bundle Live on DrivethruRPG
Scarred Lands Creature Collection Live on Kickstarter
[PR] The Scarred Lands Creature Collection for 5e is live on Kickstarter!
Scheherazade 1001 Nights RPG Released
[PR] Scheherazade, the One Thousand and One Nights Role Playing Game Released
Robotech: The Macross Saga RPG Available for Pre-Order
[PR] Robotech: The Macross Saga Roleplaying Game Now Available for Pre-Order
Eberron: Rising from the Last War Preview
5E - Eberron: Rising from the Last War Previews
WizKids Eberron Miniatures Preview
New Eberron Minis: Skycoach, Lord of Blades, Dinos
Monte Cook Games Release Cypher System Core Rulebook
Monte Cook Games release new Cypher System core rules
Lone Wolf (Makers of Hero Lab) Lays Off Staff, Cancels RealmWorks
Lone Wolf (Hero Lab) Lays Off Staff
EN Publishing 1 Page Adventure "Cult of the Rat God"
5E - 1-Page Adventure: Cult of the Rat God
Root: The Tabletop Roleplaying Game Kickstarter
Root: The Tabletop Roleplaying Game
-------------------
Kickstarters
Wave Man
Wave Man: Samurai RPG
Rod, Reel, and Fist
https://www.kickstarter.com/projects/rodreel/rod-reel-and-fist
PunkApocalyptic
https://www.kickstarter.com/projects/432417423/punkapocalyptic-the-rpg
Historia
https://www.kickstarter.com/projects/manaprojectstudio/historia-dark-fantasy-renaissance-setting-for-5e
Find more Kickstarters in EN World's Weekly Crowdfunding News
https://www.enworld.org/threads/crowdfunding-news-–-sla-industries-punkapocalyptic-harper's-tale-and-more.667577/
-------------------
Haunted West
Darker Hue Studios
http://www.darkerhuestudios.com/hauntedwest
Haunted West on Kickstarter
Haunted West, a Historical Weird West RPG Corebook
-------------------
Hosts: Russ "Morrus" Morrissey and Peter Coffey
Editing and post-production: Darryl Mott
Kickstarter News Column used for the Kickstarter Game: Egg Embry
Theme Song: Steve Arnott
Kickstarter Game Theme: Lyrics by Russ Morrissey, Vocals by "drwilko", Guitar by Darryl Mott
Malach the Maleficent played by Darren Morrissey