Prof. Emeritus-Supernatural Events/Countermeasure
I am getting a privet message inbox information that seems . . . . . different.
it says I have the possibility of having a max of 65,535 allowed. That seems off just a bit. Yes?
I am reaching out to [MENTION=1]Morrus[/MENTION] and [MENTION=52905]darjr[/MENTION].
here is a screen shot: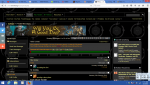 I hope this is enough to help.