This review was written by Rachel - games reviewer at
Casino.org
.
A first look at this chunky book, with its sleek hardcover and strong binding are just what we have come to expect from Wizards of the Coast. It has that high quality feel that somewhat justifies parting with our hard-earned money – all $29.95 of it to be exact.
But can we judge this book by its cover? Do the contents measure up? It promises us Elemental Chaos, but will we just get a breath of wind and spatter of rain instead?
Opening the cover, the layout is nice and crisp. It's easy to read, with good, original artwork. So far so good.
Players Option: Heroes of the Elemental Chaos
Designer: Richard Baker

Illustrator: Robert J Schwalb

Publisher: Wizards of the Coast

Year: 2012

Media: Hardcover

Price: $29.95 (though its available at various prices in different online stores)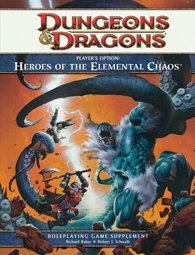 Players Option: Heroes of the Elemental Chaos has 160 pages that offer new information on setting, themes, classes and options to add a little elemental zing to your characters. Everything is elemental themed and there is also a detailed explanation of the Primordials and their connection to elemental magic.
Production Quality
Great artwork, solid quality and a nice sharp layout are things we've come to expect from Wizards of the Coast. And Players Option: Heroes of the Elemental Chaos does not disappoint in that respect.
The table of contents is well laid out and the material is well divided amongst the four chapters, with nice easy-to-read fonts and Elemental Viewpoint sidebars to make for easier reading. The fact that there are no maps here is a little disappointing.
Players Option: Heroes of the Elemental Chaos
The first chapter of this book provides you with a wealth of background material. Being penned by New York Times bestselling author Richard Baker, you would expect some great stories and adventure ideas here – and Players Option: Heroes of the Elemental Chaos does not disappoint.
There is a description of elemental magic and descriptions of location in the Chaos. We get to examine the elemental-touched races and a brief discussion on how the elements might affect non-standard races. There is also a detailed discussion on the Primordials, as well as a really handy table that lists all 74 known Primordials from a variety of campaign settings, such as Forgotten Realms and Dark Sun, for easy reference.
The second chapter turns to character themes. Of all the chapters in the book, we felt this was the one that really stood out. There are 10 themes here that tie into the elements and allow you to add a really special flavor to your characters. Become an Elemental Initiate, struggle against being Demon Spawn, or find yourself serving genies with the Janissary theme. All of them add great dimension to your character and are very well written and conceptualized.
Classes come next and here Players Option: Heroes of the Elemental Chaos adds some new options to existing classes. It would have been nice to see a unique class or two here. Understandably, the magic wielders get the lion's share of the attention. What is disconcerting is that the classes presented here require you to reference other books. It would have been nice to have seen some self contained items that didn't require you to own a reference library of 4th edition books simply to use.
Finally, we reach the "Elemental Options" chapter. This chapter is rather like a bag of holding for everything that wouldn't fit in the previous three. Paragon paths rub shoulders with magic items, and feats have also been invited to the party. You can try out the Born of the Elements feat, don some Demonskin Armour, or even take on the Prince of Genies paragon path – and they are all as interesting as they sound.
The options contained in this chapter can apply to a wealth of settings and will be useful for anyone that wants to add a dash of elemental spice to their current game.
Overall Score: 3.75 out of 5.0 Conclusions At $29.95 there are a lot cheaper source books out there. I've easily spent (and lost) more than that playing two hands of
cards at poker sites.com
so it's funny that I would nitpick here about an extra 30 dollars. Players Option: Heroes of the Elemental Chaos is not a bad book by any standard, but we would have liked to see a little more crunch to its content, but it's still a good bet, so I would gamble on this purchase.
For those players who the idea of adding an elemental twist to their campaign, this is a must-have. Also, purists who like to own every book in the series will find this a welcome addition. For the rest of us mere gaming mortals, there are probably books higher up on our shopping lists.
Grade Card (Ratings 1 to 5)
Presentation: 3.75

Design: 4.0 (Excellently written and beautifully presented.)

Illustrations: 3.5 (Some nice illustrations that match and enhance the theme. No maps.)

Content: 3.75

Crunch: 3.5 (There is good material here, but classes are incomplete and there could have been more unique material)

Fluff: 4.0 (The story and backdrop are very well written)

Value: 3.75 (There is material here, but it's just not a must-have book)
Last edited by a moderator: