This is a thread for running old modules and sharing about the experience. These can be old favorites, classics you've never tried before, or modules you are running purely to explore the history of the hobby.
I recently started running the Book of Crypts anthology adventure for Ravenloft using 2E AD&D. We just finished the first adventure last week, Bride of Mordenheim. This week is Blood in Moondale. We will be running an adventure from it each week, in order. I used to run adventures from this book all the time in the 90s. Bride of Mordenheim was my go to intro to ravenloft adventure (it's not designed for level 1 characters but it isn't particularly combat focused so you can easily do so, and it gives you much of what Ravenloft is about in a single evening). There were a few other adventures in the book I liked to run when I had new players. But it has been so long since I ran it. Here are some of my thoughts on Bride of Mordenheim and revisiting the book:
1) It is loaded with atmosphere. I tend to put less of a premium on atmosphere these days (just my style of gaming has changed). But it was nice going back and feeling immersed in the mood as a GM. It also opens with a nice, somewhat dreamlike quality.
2) Bride of Mordenheim is the perfect tone. It basically invokes the name of one of the most interesting and campy horror films (I love Bride of Frankenstein), and I think that is a good thing. But the camp actually adds to the horror. Mordenheim is a character who you immediately get as a GM and is so much fun to play.
3) Very different time in terms of how adventures were written. Its the period where I first started GMing (I started running games when the Ravenloft black boxed set came out, and Ravenloft was my first campaign as a GM).
4) The adventure is very structured around expected beats. I.e. The players go to the mansion, go through the front door, go up the stairs, and meet Mordenheim, then stay for the night, etc. It is easy to adapt as the players do different things, but I also think this would throw off some GMs. For this particular adventure, I don't mind the linear structure as I see it as an introduction to both the setting and the anthology. When it does present deviations from this expectation it is normally in the form of a binary: if A, if B. So there are forks in the adventure that can hinge on player choice or on the dice.
5) This was normal for the time, but there are moments that would be very heavy handed for players and GMs today. For example there is a point in the adventure when something must happen no matter what the players do to prevent it (the whole thing isn't like this, but there are moments like it):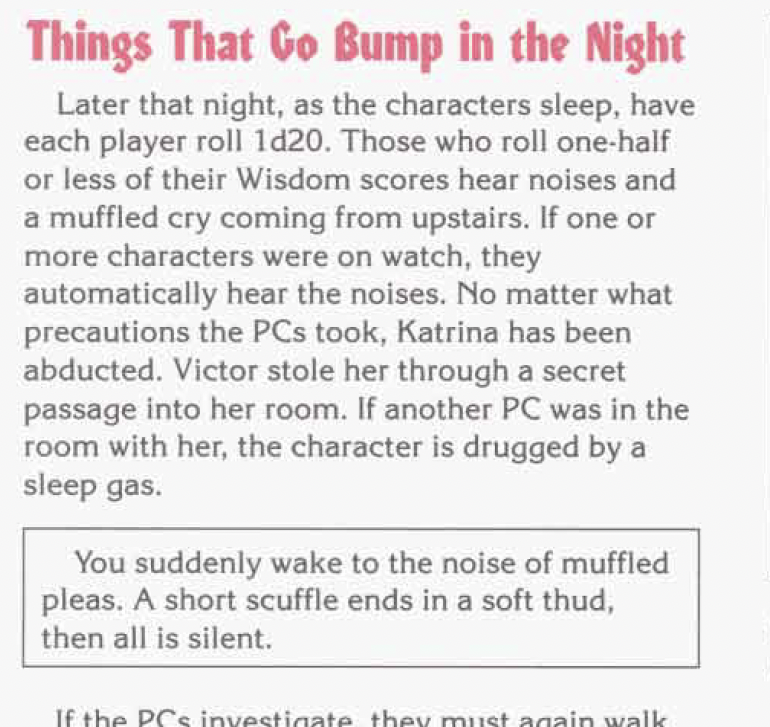 7) I forgot how much I loved the anthology concept for adventure models. They can be bad if you buy a whole book and only like 1 or 2 of the adventures, but when done well they can be a nice presentation of the system or setting.
8) Book of Crypts has a couple of setting oddities that were pretty common in the early 90s. There was always a question of how much of the games gaminess exists in the setting for the characters (the Dark Elf trilogy for instance has a scene where a person tells Drizzt 'You know what you are, you're a range' (paraphrasing) and it is meant as a deep moment of insight for his character, because Drizzt didn't know that about himself, but by the logic of the game and setting, it was something true about his nature or skillset. And I recall that coming off very weird (and personally I enjoyed the Dark Elf trilogy, it was just something you saw in D&D books and modules at that time on occasion). This module has that when a character says she is aligned with herself 'and all that is lawful' while asking the players, essentially, what their alignments are (this is done to highlight that you can't detect evil in Ravenloft, so it made sense from a design standpoint, but it feels weird having an NPC talk that way). There is another moment later in the book where a character says "Welcome to Ravenloft". Which doesn't make sense because that isn't the name the inhabitants use for the place (this I don't think was pinned down exactly by the time book of crypts came out: there is a period of Ravenloft finding its footing with that stuff (similar to how the Van Richten books eventually clearly separated text written in Van Richten's voice from text discussing game mechanics, but in the first one, the guide to vampires, Van Richten talks about mechanics----at least in the original printings as I recall).
9) It has been a bit since I ran 2E (did it again a while back for another Ravenloft campaign). I forgot how involved some of the mechanics get. Definitely needs a thorough re-read before running. I'm also going off the mid-90s revised books which is throwing me off (I always used to run it with the PHB and DMG from 1989).
Overall I am enjoying going back to this stuff. I'm running everything as written right now so my players can get a sense of the history of the material (I'm doing this both as a lead up to halloween but also to give them a window into what the hobby was like at the time Ravenloft first came out). In the future if I run it again, I will adapt it more and rework some of the stuff.