This week's RPG crowdfunding projects end by October 22nd. I look at a number of RPGs as well as a new prose novel by
Dragonlance
alum, Richard A. Knaak, and an ice tray that makes dice out of ice. Last week, I moved up the date I use to determine if these RPG projects should appear in this article. This was prompted, as
Morrus mentioned
, because he and Peter Coffey are creating a new podcast,
Our Favourite Game In All The World
, launching on Tuesdays. "This lets us cover the
Kickstarters
more fully, and the scores will make more sense, as half the
Kickstarters
won't be moved behind the paywall of the
Patreon
episode! We could only do this because Egg Embry, whose column we use to generate the
Kickstarter
entries, adjusted the timing of his column so that the
Kickstarters
wouldn't be ending just as you heard about them!"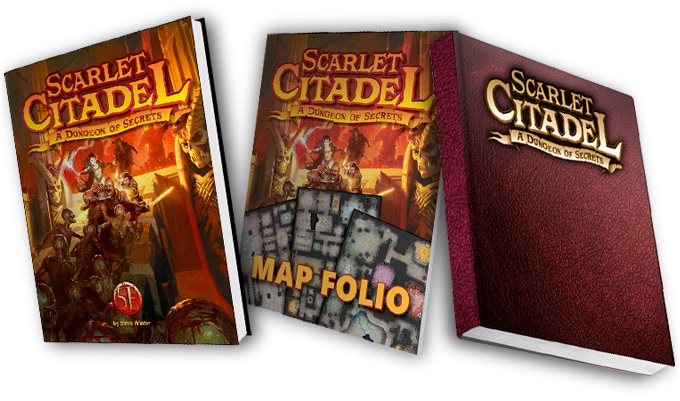 The Scarlet Citadel: A 5th Edition Dungeon of Secrets
from
Kobold Press

END DATE: Fri, October 16 2020 2:00 PM EDT.
SYSTEM(S): Dungeons & Dragons Fifth Edition
PROJECT TYPE: Sourcebook
MOST POPULAR PLEDGE: $75 + S/H for the PDF and hardcover of the book plus a folio of maps
"A classic multi-level dungeon for 5th Edition gaming, a place of dungeon crawling, treasure looting, and morphing battle maps! This is the first dungeon-centric adventure design that Kobold Press has tackled for 5th Edition, and the design effort is led by TSR and Wizards of the Coast veteran Steve Winter, working with notes and characters from Kobold Press publisher Wolfgang Baur's home game. The result is a classic, old-school dungeon crawl that goes from a surface setting to a deep set of caverns far from the light of the sun, where alien things skitter and guttural chants murmur down chill and damp passageways lit only by magical spheres and phosphorescent fungi. The Scarlet Citadel includes at least 6 levels of dungeon exploration with lavish maps, plus a town base, appendixes of additional monsters and characters, and a full suite of PDF and virtual tabletop options from Roll20 and Fantasy Grounds."
Brinkwood: The Blood of Tyrants
from
Crone RPG
END DATE: Sat, October 17 2020 2:00 AM EDT.
SYSTEM(S): Forged in the Dark
PROJECT TYPE: Core rulebook
MOST POPULAR PLEDGE: $15 for the PDF version
TRY BEFORE YOU BUY: PWYW for Brinkwood - (Forged in the Dark) - Demo
"A castlepunk Forged in the Dark roleplaying game. Mask up. Spill Blood. Drink the Rich. Brinkwood: The Blood of Tyrants is a Forged in the Dark tabletop roleplaying game about building a rebellion that will overthrow the blood-soaked vampires that oppress and dominate your world. You are a brigand, a commoner radicalized by tragedy who has decided to forsake their old life and flee into the woods to plot a rebellion. Cardenfell is your home, a kingdom on the brink of open revolt against the vampiric nobles and factory lords who rule over it. All it will take is a single spark. Your spark."
Esper's Emporium of Esoterica
from Esper

END DATE: Thu, October 22 2020 2:00 PM EDT.
SYSTEM(S): Dungeons & Dragons Fifth Edition
PROJECT TYPE: Sourcebook
MOST POPULAR PLEDGE: $60 for the PDF and hardcover plus the map pack
"A 5E book for DMs and players—monsters, new class and subclasses, spells, magic items, cursed items, and more (hardcover or pdf). Since 2009, I've been been making YouTube videos about D&D, tabletop roleplaying, and fantasy stories, and many consider me to be the original D&D YouTube creator. To say this book is long overdue is an understatement! Esper's Emporium of Esoterica represents many things I've learned over the years. The best content fills your mind with wondrous inspiration from the moment you look at it, and that is my aim here. Have you ever read a monster entry and immediately wanted to craft an adventure or story around it? That is the feeling I'm going for. And it's not only monsters, but a wealth of different options for players and DMs alike."
Good Strong Hands RPG
from
NerdBurger Games
END DATE: Thu, October 22 2020 9:00 PM EDT.
SYSTEM(S): An original system
PROJECT TYPE: Core rulebook
MOST POPULAR PLEDGE: $40 + S/H for the PDF and hardcover of the book
"A darkly whimsical game about saving your fantastical world. Good Strong Hands is a fantasy tabletop roleplaying game where you portray fantastic creatures and their newly arrived human allies working to save your home of Reverie from destruction by the faceless, malevolent force known only as the Void. The game draws inspiration from movies like The Neverending Story, Legend, The Dark Crystal, Labyrinth, and Willow. While Reverie is a land of the fantastical, filled with whimsy, it is also beset by this sinister, destructive force. Characters will be constantly tempted by the Void's corruption, even as they seek to end it. The stories you tell will be those of friendship, teamwork, self-empowerment, overcoming harmful forces, and dealing with a world in crisis. You'll do all of this...with your good, strong hands."
Over the Next Hill: 5 Plug-In Settlements for your 5E Game
from
EN Publishing

END DATE: Tue, October 6 2020 6:00 PM EDT.
SYSTEM(S): Dungeons & Dragons Fifth Edition
PROJECT TYPE: Sourcebooks
MOST POPULAR PLEDGE: £7 for the 5 PDFs
NOTE: This project is published by EN Publishing, parent company behind EN World
"Five plug-in locations for your 5E game with maps, descriptions, plot hooks, rumors, and NPCs in a short softcover booklet! Originally published in PDF in EN5ider Magazine, we're bringing this you collection of five settlements for the 5th edition of the world's oldest roleplaying game for the first time in a brand new softcover booklet format! Over The Next Hill is a booklet containing five small towns that can be dropped into a campaign with minimal preparation. Each settlement is 4-5 pages long, and presents several NPCs, points of interest, and loose plot hooks that can be developed during play. And the best bit? It's just £7 (under $10) for the lot as five individual PDFs, or just £20 for the all-new softcover booklet compilation!"
Ice Dice
from
Spidermind Games
END DATE: Thu, October 22 2020 11:57 AM EDT.
PROJECT TYPE: Novelty ice tray
MOST POPULAR PLEDGE: £31 for 2 Ice Dice trays
NOTE: My interview with Jon Lunn of Spidermind Games about Ice Dice is coming to EN World tomorrow
"A silicone based ice mould that creates the perfect dice shaped ice cubes, to cool your drinks on games night. Wouldn't it be really cool if there were ice versions of the RPG dice set that could clink around our glasses of whiskey or soda on game nights?! Because who doesn't want ice that are dice!! Our polypropylene/silicone based four-piece ice tray comes with a built-in water funnel for easy filling. This is a simple solution to the age-old question of 'How do I make my ice cubes look like dice?'"
ROGUES GALLERY
by
Richard A. Knaak
END DATE: Thu, October 22 2020 3:14 PM EDT.
PROJECT TYPE: Prose novel
MOST POPULAR PLEDGE: $40 + S/H for the hardcover of the novel
TRY BEFORE YOU BUY: Try out the first three chapters of ROGUES GALLERY at Patreon for free
NOTE: I've written about Richard A. Knaak (Dragonlance: The Legend of Huma, Dragonlance: Kaz the Minotaur, Dragonrealm, WoW: Wolfheart, and more) and his Dragonlance homage novel series, Rex Draconis, at the Tessera Guild, I interviewed Richard as well as Phil Beckwith and Micah Watt about their 5e adaptation of Rex Draconis at the Open Gaming Network, and did a mixed review/interview with them about the RPG at d20 Radio.
"ROGUES GALLERY by Richard A. Knaak [is] a new pulp-style adventure novel. A Chicago not unlike our own, yet not quite, in a time midway between two world wars. Here, there are the costumed adventurers and villains seeking gain, power, and fear. They might very well overwhelm the police and other forces for justice --- including briefly-known heroes such as the Dial --- but ever standing in their way is one man who they cannot defeat. The Legionary has protected the city for over ten years and in that time many a criminal has fallen or been incarcerated. Some have returned again and again, but always to be foiled. Until now. Until the Legionary's vanishing. More than a month has passed since his last sighting, since his last foe defeated. At first, a lull hovered over Chicago. Certain that it was a trick, villains held back as they awaited the Legionary's miraculous return at any moment. After all, he had vanished once before for more than two weeks. But finally, the first daring rogues committed their audacious crimes --- and still the city's hero did not this time return to stop them. And so, anarchy arose. Unfettered from their fear of defeat and capture, villains swarmed over the city, looting, murdering, and destroying. The police sought to stem the tide, but they were washed away by it instead. And then, the unthinkable happened…"
​
RPG Quick Hits
Kingdom (2nd Edition)
from
Lame Mage Productions
END DATE: Tue, October 13 2020 10:30 PM EDT.
"Build your community together. Fight for what you believe in… or watch it burn. A game about communities by the author of Microscope."
Broken Compass - Adventure Role Playing Game
from Riccardo Sirignano
END DATE: Tue, October 13 2020 2:01 AM EDT.
"Broken Compass is an Adventure RPG inspired by the great classics of the genre, from the Mummy to Uncharted and Indiana Jones!"
The Cosmic Dragon Breviary: A Draconic Compendium for 5e
from Spectre Creations

END DATE: Wed, October 21 2020 8:00 AM EDT.
"A small but mighty book filled with unique monsters, rich lore, and player options for D&D/DnD based on a novel line of neutral dragons."
Write Comprehensible Rulebooks
from David Niecikowski, PhD
END DATE: Sat, October 17 2020 9:00 PM EDT.
"Writing Tools: Performance List of Features (PDF), Research Supplement (PDF), & Dissertation (PDF)"
Hero Too: Super Edition
from Maria Fanning
END DATE: Wed, October 14 2020 10:00 AM EDT.
"A single player journaling RPG about being a teen superhero and messy trans narratives."
Alchemy
from Cold Hearth Collective
END DATE: Thu, October 15 2020 10:00 PM EDT.
"A hardbound collection of alchemically-themed incursions for Trophy Dark."
Dead End
from
Atomic Ninja Studios

END DATE: Sat, October 17 2020 2:59 AM EDT.
"A zombie apocalypse themed survival horror setting for Savage Worlds."
Egg Embry participates in the OneBookShelf Affiliate Program and is an Amazon Associate. These programs provide advertising fees by linking to DriveThruRPG and Amazon.