This week's roundup of RPG
Kickstarters
and
IndieGoGo
end by September 3rd. It's a strong list featuring six
D&D 5e
options, three
OSR
products, two games using the
Year Zero Engine
, and many more. Everything from WWIII to " an unapologetically dainty world" can be found for your gaming table.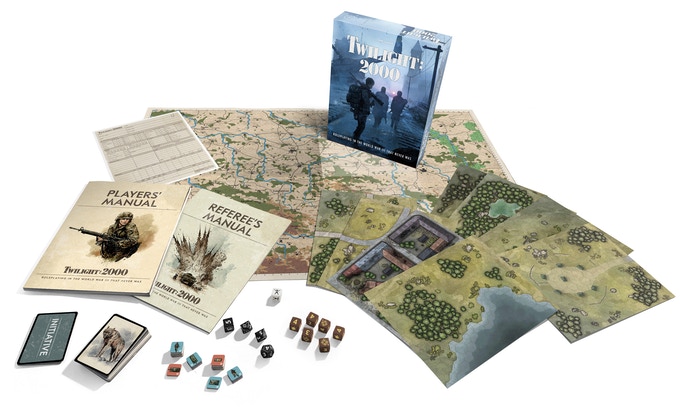 Twilight: 2000 – Roleplaying in the WWIII That Never Was
from
Free League Publishing
END DATE: Thu, September 3 2020 3:00 PM EDT.
SYSTEM(S): Year Zero Engine
PROJECT TYPE: Core rulebook
MOST POPULAR PLEDGE: SEK 498 plus S/H for the PDF and print versions of the boxed set
NOTE: I have an interview about this campaign is coming soon
NOTE TWO: Angus Abranson, who originated this column before I took over, is editing this project
"A classic tabletop RPG returns in a new retro-apocalyptic edition, from the makers of the ALIEN RPG and Forbidden Lands. The new retro-apocalypotic edition of Twilight: 2000, published in partnership with Game Designers' Workshop, goes back to the roots of the franchise with a boxed set for sandbox roleplaying in the devastation of World War III. The new edition will be the fourth in the series, the first being released by GDW in 1984. Just like the original version, the new edition is set in a year 2000 devastated by war – now in an alternate timeline where the Moscow Coup of 1991 succeeded and the Soviet Union never collapsed. [T]he boxed set will at the very least include two beautifully illustrated full color books – a Players' Manual and a Referee's Manual, each of about 100 pages detailing rules, setting, gear and scenarios – as well as several empty character sheets and a huge, full color travel map (format 864x558mm) of central Poland on one side and southern Sweden on the other. [W]e will add more content to the boxed set ... These include combat maps and tokens, cards for initiative and encounters, custom dice, additional content in the books, and more."
Wanderhome
from Jay Dragon
END DATE: Thu, September 3 2020 8:25 AM EDT.
SYSTEM(S): No Dice, No Masters engine
PROJECT TYPE: Core rulebook
MOST POPULAR PLEDGE: $45 + S/H for the PDF and softcover
"Wanderhome is a pastoral fantasy Role-Playing Game about traveling animal-folk, the world they inhabit, and the way the seasons change. It is a game filled with grassy fields, mossy shrines, herds of chubby bumblebees, opossums in sundresses, salamanders with suspenders, starry night skies, and the most beautiful sunsets you can imagine. You might be a tamarin who dances with small and forgotten gods, a leporine mail carrier who relies on moths to get packages where they belong, a little lizard with a big heart and a mysterious past, or a near-endless number of other thrilling possibilities. No matter what, we're always travelers—animal-folk who go from village to village and get to see the length and breadth of all the world of Hæth. The seasons will change as we play, and we will change with them. But I can't tell you all that will happen on our journey together, along the winding dirt road and amid the grassy fields. We're just going to have to find that out together. Will you join me? Wanderhome makes use of a unique game system inspired by the No Dice, No Masters engine, developed by Avery Alder and Benjamin Rosenbaum for Dream Askew and Dream Apart. Each player will make a character with the help of one of fifteen possible playbooks, making choices about their personality, animal-form, look, and passions. Each of these playbooks give you a radically different approach both to navigating the setting and growing over time. From the carefree Ragamuffin to the introverted Poet, from the Guardian and their young ward to the lonely Exile, from the cheerful Dancer to the moody Veteran, there is plenty of space in Wanderhome to imagine every possible world that lives in your heart."
Trilemma Adventures: The Servants of Memory
from
Trilemma Adventures
END DATE: Tue, September 1 2020 3:00 PM EDT.
SYSTEM(S): Year Zero Engine
PROJECT TYPE: Sourcebook
MOST POPULAR PLEDGE: CA$79 + CA$9 US S/H for the PDFs and hardcovers of both books
NOTE: I have an interview about this campaign is coming soon
"A bestiary of fantasy monsters for the Year Zero Engine. This illustrated Bestiary presents over 110 unique and interesting fantasy monsters, creatures, and kin to challenge and confound adventurers. Inside are beasts of the wood, alien aberrations, people of the underworld, celestial horrors, demonic incursions, and ghostly remnants of ages past—all with stats for immediate use in your favourite Year Zero Engine-based fantasy game. The small project team has painstakingly built over 110 bestiary entries, developing over 75 sets of unique monster attacks. The aim is to increase your options running adventures in Year Zero Engine official fantasy settings, or settings of your own design. The monsters in the bestiary have been pulled from the pages of the Trilemma Adventures Compendium, a trove of system neutral short-form adventure sites, world-building and lore. This was initially kickstarted and delivered to rave reviews in 2019, and is now a platinum-selling hardcover with ENnie awards for Best Adventure and Best Cartography!"
Supers & Sorcery
from
Adam Hancock

END DATE: Thu, September 3 2020 12:00 PM EDT.
SYSTEM(S): Dungeons & Dragons Fifth Edition
PROJECT TYPE: Sourcebook
MOST POPULAR PLEDGE: $25 for the PDF and POD versions fo the book
"A superhero-themed 5e campaign setting. Supers & Sorcery is an all-new 5e campaign setting that features superheroes, sidekicks, supervillains, kaiju-like monsters, intrigue, and nonstop action. It's all set against a sprawling metropolis in a medieval world and delivered to you as a single-volume hardcover book or PDF. You'll find everything you need to make your next campaign super. Inside there are thematic subclasses, superhero origins, sidekick options, an epic setting, an adventure or two, supervillain and monster stat blocks, lairs and strongholds, and optional rules to elevate your campaign to heroic levels."
The Great American Witch
from
Christopher Grey
END DATE: Thu, August 27 2020 9:30 PM EDT.
SYSTEM(S): An original system
PROJECT TYPE: Core rulebook
MOST POPULAR PLEDGE: $15 for the PDF, POD, and MOBI versions of the book
"A modern gothic tabletop RPG where you play a powerful coven of witches in conflict with the supernatural and secret societies. The Great American Witch is a modern gothic tabletop roleplaying game about the secret world of witches in America and the supernatural threats working to destroy them. Built on Christopher Grey's award-nominated RPG framework The Great American Novel, the game focuses on powerful witches who use ancient magic drawn from the feminine forces of creation. They struggle to balance their everyday lives, the supernatural, secret societies, and personal conflicts within their covens. The Great American Witch uses a framework similar to Powered by the Apocalypse games, FATE, and indy storytelling games like Ten Candles. It is, however, designed for extended campaign play in the tradition of World of Darkness or other urban fantasy traditional games."
Tales of Pride: An RPG Anthology For Pretty Fairy Princesses
from
Jack Rosetree
END DATE: Fri, August 28 2020 8:00 PM EDT.
SYSTEM(S): An original system
PROJECT TYPE: Adventure anthology
MOST POPULAR PLEDGE: $20 for the PDF
NOTE: At d20 Radio, I interview Jack Rosetree about this RPG (here)
"Tabletop adventures by pretty people for pretty people set in an unapologetically dainty world. Tales of Pride is a digital anthology RPG product collecting adventures from contributors across the queer community. This will hopefully be the first of many. This year, the core system is the Pretty Fairy Princesses RPG. Welcome to a world of love, kindness, and friendship. Help your fellow forest folk, fight gloom and negativity, and maintain polite composure whenever possible. Pretty Fairy Princesses is an original rules-light role-playing game where your three core traits are pretty, fairy, and princess. Pretty represents your self-confidence, charisma, and energy. Fairy represents the strength of your supernatural heritage and chaotic nature. Princess represents your education and emotional thoughtfulness. All you need to play is a deck of cards. All you need to succeed is a little luck and some friendly players."
​
RPG Quick Hits
Zzarchov's Adventure Omnibus Volume 2
from Josh Rottman
END DATE: Tue, September 1 2020 12:00 PM EDT.
"A collection of adventures for the Neoclassical Geek Revival Role Playing Game."
Arcana Notebook
from Arcane Goods

END DATE: Fri, August 28 2020 12:00 AM EDT.
"A 5E adventuring journal to chronicle every aspect of your campaign and world."
Memorable Monsters: A 5th Edition Guide to Monsters and NPCs
from Justin Handlin

END DATE: Thu, September 3 2020 7:55 PM EDT.
"Memorable Monsters will bring unique Monsters & NPC's with backgrounds, complex motives and a variety ways to use them in your stories."
Limitless Woodland Bundle
from
Limitless Adventures

END DATE: Fri, August 28 2020 1:00 PM EDT.
"A bundle of our forest-themed 5e encounters and adventures."
The Phylactery 2
from Levi Combs

END DATE: Wed, September 2 2020 11:00 PM EDT.
"A RPG zine full of OSR flavored adventure hooks and resources for use in your heroic fantasy games."
Chewer of Fingers
from
MonkeyBlood Design & Publishing

END DATE: Sat, August 22 2020 6:59 AM EDT.
"A grim old-school adventure for The Midderlands setting intended as a low-level one-shot. Generally usable for all old-school games."
XII: Inner Demons
from
Witch & Craft Games
END DATE: Mon, August 31 2020 11:59 AM EDT.
TRY BEFORE YOU BUY: XII: INNER DEMONS Playtest Demo is PWYW at DriveThruRPG
"A tabletop role playing game about facing your inner demons, both figurative and literal."
The Dreamers: Stone Age (5e compatible TTRPG)
from Dreamatorium RPG

END DATE: Fri, August 28 2020 10:56 AM EDT.
"A new setting and full adventure, inspired by ancient civilizations that offers a diverse and dynamic playing experience."
RPG Tabletop Adventures
from Désirée Nordlund
END DATE: Sun, August 30 2020 11:18 AM EDT.
"Three generic adventures for RPG Game Masters."
Hall of the Rainbow Mage
from Necromancer Games


END DATE: Sat, August 29 2020
NOTE: For those concerned about covering this IndieGoGo campaign from a subsidiary of Frog God Games, I'm linking the Joint Statement of BJ Hensley and Frog God Games
"A mid-level adventure for 5e, Pathfinder, and Swords & Wizardry. Some rainbows have shadows..."
Egg Embry participates in the OneBookShelf Affiliate Program and is an Amazon Associate. These programs provide advertising fees by linking to DriveThruRPG and Amazon.
Last edited by a moderator: