This week, I look at RPG crowdfunding projects that end between August 4th and 19th. Why such a tight timeframe? Because I'm headed to
Gen Con
and deadlines loom. This is a sampling of what's available, but does not delve into
Kickstarters's
2022 RPG Zine Quest
event. Moving from its February timeframe for one year, this event is going head-to-head with
Gen Con
for coverage, which limits some of what I have room to share. Still, you can find the campaigns in the link above or you can check out this
Zine Quest 4 Stats Google Sheet
showing all this year's projects.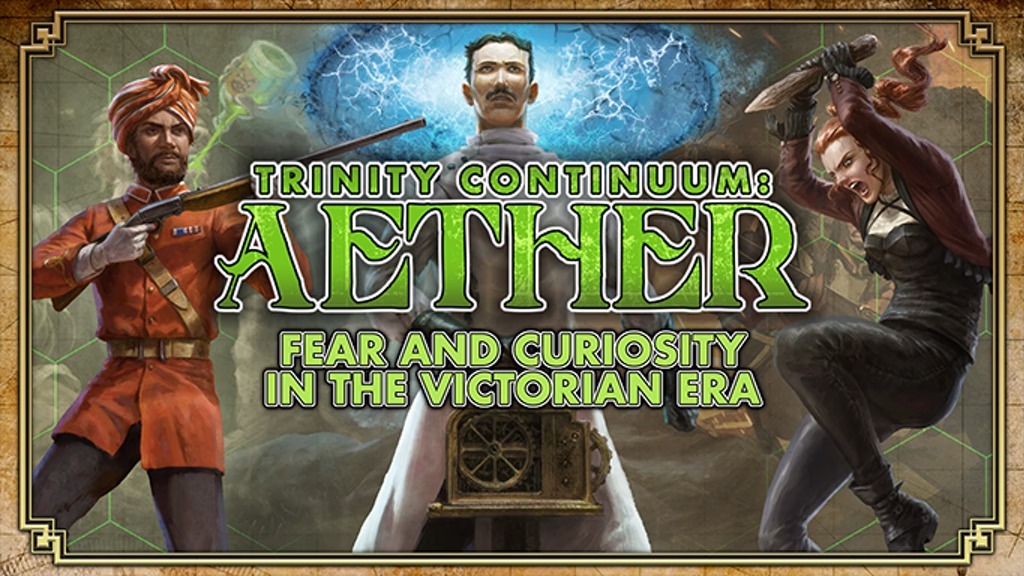 Trinity Continuum: Aether Tabletop Roleplaying Game
from
Onyx Path Publishing
END DATE: Thu, August 18 2022 2:00 PM EDT.
SYSTEM(S): Storypath system
PROJECT TYPE: Sourcebook
MOST POPULAR PLEDGE: $55 + S/H for the PDF, POD, and hardcover versions of the book
WHY SPOTLIGHT THIS CAMPAIGN? This book expands Trinity Continuum into the aether with a Victorian era steampunk setting and mystery. Steampunk, Martians, and superpowers, 1895 represents a defining year in this RPG as the secret of aether and its users comes to the surface when the Martians invade. If you're a fan of Trinity Continuum, this book offers 250 to 300 pages of new content to let you explore their alternate history.
Blood Red Mars 5e
from
Why Not Games
END DATE: Wed, August 10 2022
SYSTEM(S): Dungeons & Dragons Fifth Edition
PROJECT TYPE: Sourcebook
MOST POPULAR PLEDGE: $35 for the PDF and POD versions of the book
WHY SPOTLIGHT THIS CAMPAIGN? The Red Planet meets the Rocket Age 5e RPG. If you love retro futurism like Flash Gordon, Buck Rogers, and John Carter combined with 5e mechanics, then this project may speak to you. This sourcebook explores Mars, creating original cultures there, discussing the fauna and societies you'll adventure through. If rocketships and Martians with swords and rayguns sounds like your jam, check out this project on IndieGoGo.
BADLANDER: A Fury of Thorns — RPG Handbook
from
Lostlorn Games
END DATE: Fri, August 19 2022 11:00 PM EDT.
SYSTEM(S): TaleSpinner
PROJECT TYPE: Core rulebook
MOST POPULAR PLEDGE: $65 + S/H for the PDF and hardcover of the main book plus other PDFs and maps
WHY SPOTLIGHT THIS CAMPAIGN? Mark Rein-Hagen of Vampire: The Masquerade, Werewolf: The Apocalypse, Mage: The Ascension, and Ars Magica fame, among others, brings a new take on fantasy using an original d20 system. Featuring birthrights instead of ancestries and guilds instead of classes, this RPG is a low magic, grimdark horror setting that brushes up against medieval and renaissance cultures. You are exploring the ways between the urbanized lands of Lostlorn, risking your life for crown and glory to keep the world connected. This is an RPG of mystery, one that offers new depths to explore. If you need a fresh fantasy using a redefined d20 system from one of the legends of RPG, this is worth reading over.
The Game Master Screen
from Wyrmwood Gaming
END DATE: Mon, August 15 2022 12:01 AM EDT.
PROJECT TYPE: RPG accessory
MOST POPULAR PLEDGE: $65 + S/H for the screen
WHY SPOTLIGHT THIS CAMPAIGN? If you need a GM screen that has its own presence, that brings a sense of sophistication to your role, then this screen is worth reviewing. A static image does not do this project justice, it's wooden with attachable options galore such as trays, towers, and magnetic pads. The Kickstarter page has a number of gifs and a video to give you an idea of what they're offering. If you want an inspiring screen, this may be the one for you.
Into The Cess And Citadel
from
Wet Ink Games
END DATE: Saturday, August 13, 2022, 10:00:00 PM
SYSTEM(S): System neutral
PROJECT TYPE: Sourcebook
MOST POPULAR PLEDGE: $35 + S/H for the PDF and print versions of the book
CROWDFUNDING ON: GameFound
WHY SPOTLIGHT THIS CAMPAIGN? Need to turn your fantasy city into something new? Make it an urban horror mega dungeon with city elements. If the concept of 248 pages of GM guidance, rules, and tables to elevate your city from hamlet to harmful sounds appealing, this may be the right fit. It brings in the horrors of a supernatural dwelling and offers the players plenty to do while they're in-town. While this book is system neutral, it contains bare bones d20 stats fit for an OSR or a modified 5e. If your campaign needs some dungeon-towns, this book may appeal.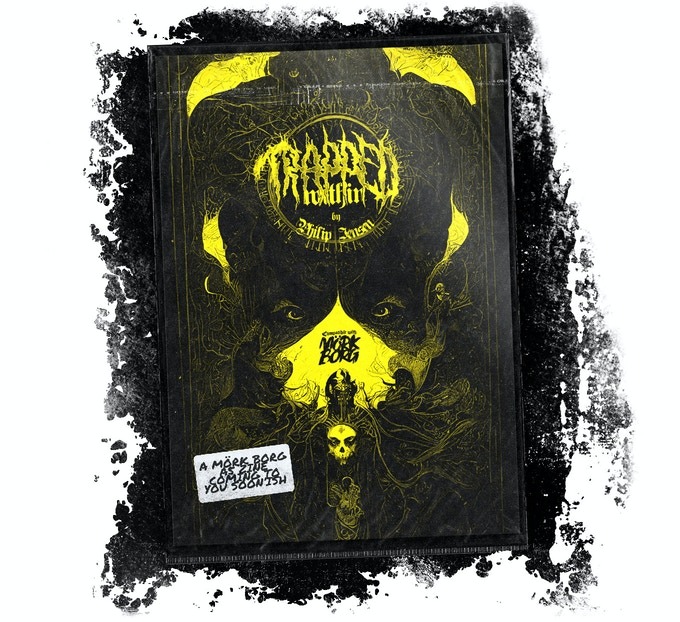 Trapped Within – a Mörk Borg zine
from Philip Jensen
END DATE: Mon, August 8 2022 4:00 PM EDT.
SYSTEM(S): Mörk Borg
PROJECT TYPE: RPG zine
MOST POPULAR PLEDGE: DKK 180 + S/H for the PDF and print zine plus a limited edition map
WHY SPOTLIGHT THIS CAMPAIGN? 40 pages of Mörk Borg dungeon with a twist: this is a prison and it holds the worst magics, those created by a king's nightmares. Prepare your characters for something that they cannot be prepared for: Breaking out of a twenty-room prison full of nightmare horrors, new creatures, and tainted NPCs armed on with the limits of Mörk Borg rules. With random tables, artifacts, and more, you'll get the Mörk Borg vibe while trying to survive a dungeon. This one is for fans of Mörk Borg's style of doom and gloom.
Tainted Gold for the Age of Ambition RPG
from Tab Creations LLC
END DATE: Tue, August 9 2022 8:00 PM EDT.
SYSTEM(S): Age of Ambition RPG
PROJECT TYPE: Adventure module
MOST POPULAR PLEDGE: $5 for the PDF of the book
TRY BEFORE YOU BUY: Age of Ambition: Quick-Start is free at DriveThruRPG
WHY SPOTLIGHT THIS CAMPAIGN? This is a 32-page adventure intended for two to four sessions. You'll heist a consignment of gold, explore an apocalypse wasteland, and deal with secret agendas. The Age of Ambition RPG cites such influences as Joe Abercrombie's First Law series, Terry Pratchett's Discworld, Scott Lynch's Gentleman Bastard series, and Brian McClellan's Powder Mage trilogies. If this sounds interesting, check out the campaign page for a free quickstart to test the system out.
Castles & Crusades Character Manager
from
Troll Lord Games
END DATE: Fri, August 5 2022
SYSTEM(S): Castle & Crusades
PROJECT TYPE: App
MOST POPULAR PLEDGE: $13 for the app
WHY SPOTLIGHT THIS CAMPAIGN? Do you play Castles & Crusades? If so, this app from Troll Lord Games allows you to create and store your characters on your computer or phone. You can have a mobile experience, one where you always have your character available, ready for play. If you are looking for a fun way to create C&C characters or store them, this app may be right for you.
I'm headed to
Gen Con
2022
. If you see me there, don't hesitate to talk RPGs with me. Feel free to ask me for a physical copy of HUMAN… ALMOST. If I have any left, it's yours (or grab the free PDF version at
DriveThruRPG
and
Itch.io
).

Egg Embry participates in the OneBookShelf Affiliate Program, Noble Knight Games' Affiliate Program, and is an Amazon Associate. These programs provide advertising fees by linking to DriveThruRPG, Noble Knight Games, and Amazon.
Last edited by a moderator: