This week has so many winners. Chaosium, Arc Dream Publishing, Modiphius, Goodman Games, Legendary Game, and Troll Lord Games all have new releases for sci-fi, fantasy, and horror.
Dune
is back, this time by Modiphius. Modern spies and monsters and treasures are out for
D&D
.
Pathfinder 2E
gets an adventure and
Dungeon Crawl Classics RPG
gets a complete dice set that glows in the dark along with a new spell.
Call of Cthulhu
gets a solo adventure and
Delta Green
gets a hardcore R-rated adventure. Finally,
Rangers of Shadow Deep
monster cards are available.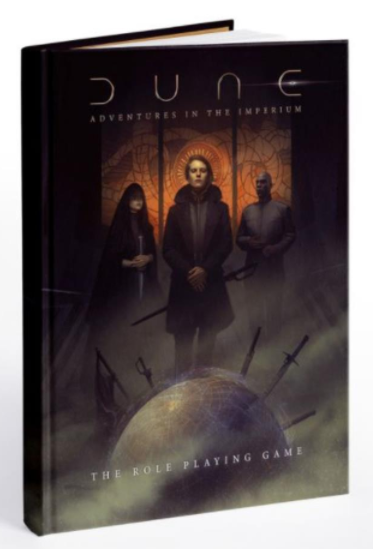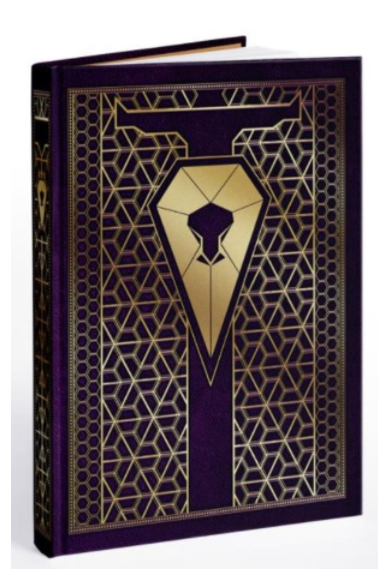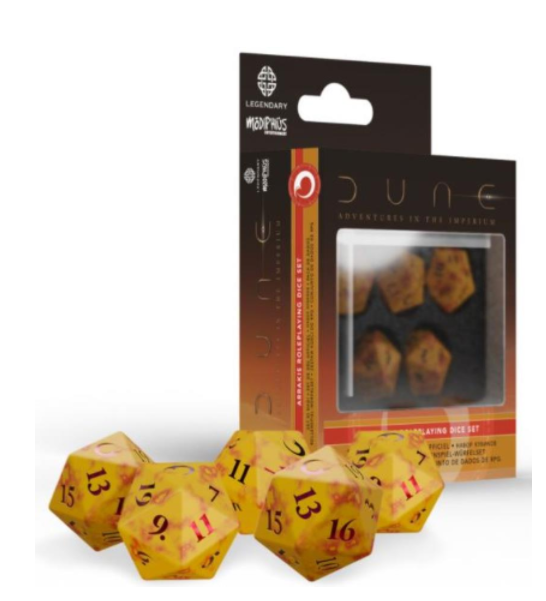 Note:
RPG Print News
covers new RPG releases and some classics and sales available from online retailers. It does not cover products that are only available to customers through kickstarter, directly from a publisher website, or as print on demand.
Dune - Adventures in the Imperium
| Dune - Adventures in the Imperium (Corrino Collector's Edition) | Arrakis Dice Set (5) - Dune RPG by Modiphius Entertainment
Dune - Adventures in the Imperium Core Rulebook (Corrino Collectors Edition) - Dune RPG from Modiphius Entertainment
SYSTEM: 2d20 System
PRODUCT TYPE: hardcover core rules/collector's edition core rules/dice set
RETAIL PRICE: $59.99/$109.99/$19.99
DESCRIPTION: In the Dune RPG, PCs embark on a journey through the storied worlds of Frank Herbert's sci-fi masterpiece, Dune, and inhabit elite agents working for noble Houses. Mentats, Swordmasters, Spies, Bene Gesserit Sisters, Devious Advisors, and desert Fremen join together to follow the PCs' banner. Those that control the spice control the universe. The Imperium is a place of deadly duels, feudal politics, and mysterious abilities. Noble Houses constantly vie for power, influence, and vengeance in a universe where a blade can change the fortunes of millions. PCs build their House and carve their place in the universe or rebuild an ancient lineage and fight for the Imperial throne. The Arrakis Dice Set contains five twenty-sided sand-colored dice with wormsign. Colored in sand yellow with brown rock marbling and cinnamon numbering with a symbol of Shai-Hulud on one face.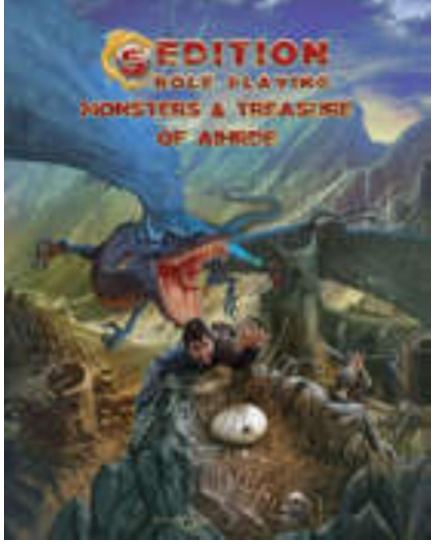 Monsters & Treasure of Aihrde for D&D
by Troll Lord Games
SYSTEM: Dungeons & Dragons Fifth Edition
PRODUCT TYPE: hardcover sourcebook
RETAIL PRICE: $49.99
DESCRIPTION: Over 170 monsters including the lesser dragons, demons, devils, and special magic items. Each entry comes fully detailed with descriptions, habits, treasure, combat, special abilities, details on culture where needed, as well as a special section on each monster's place in Aihrde.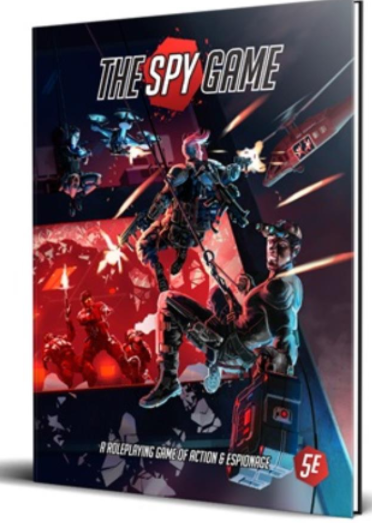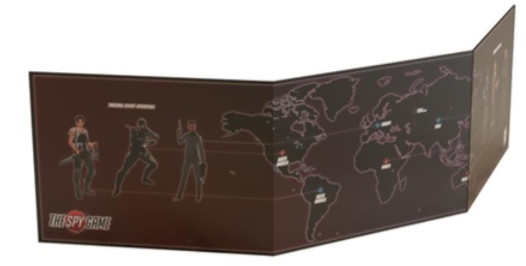 The Spy Game
| The Spy Game - GM Screen & Booklet by Modiphuis Entertainment
Spy Game, The - GM Screen & Booklet - RPG from Modiphius Entertainment
SYSTEM: Dungeons & Dragons Fifth Edition
PRODUCT TYPE: hardcover supplement/GM screen and booklet
RETAIL PRICE: $42/$34
DESCRIPTION: The Spy Game is an action and espionage roleplaying game built on the D&D rules set in a world of international espionage and action in a modern setting. The PCs are a crew of con-artists, specialists, infiltrators and hackers that influence, subvert, and overcome any challenge. The Spy Game GM Screen provides front facing covert-world artwork and GM facing pages of useful tables and quick notes. Also includes a booklet containing spy tropes and motifs rules for customizing a game to make them more like either action movies or closer to nail-biting thrillers.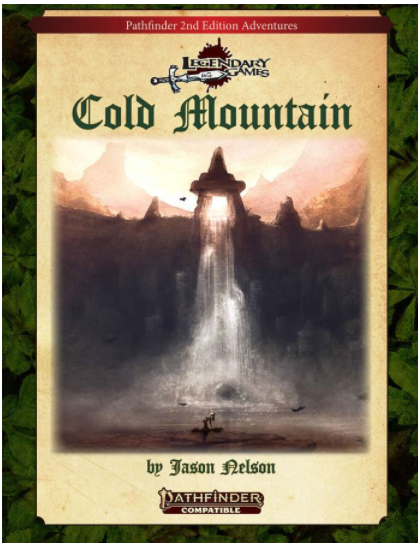 Cold Mountain - Pathfinder 2E
by Legendary Games
SYSTEM: Pathfinder 2E
PRODUCT TYPE: module
RETAIL PRICE: $15.99
DESCRIPTION: An adventure for 4th-level characters that takes the heroes past the reach of civilization, coming face to face with strange and primitive folk and faerie powers. A goddess is angry, and her wrath heralds doom in the unforgiving lands of a savage frontier. The PCs must ascend Cold Mountain find a way to make peace with the warlike clans of the lonely hills and quell the frightening powers of nature. They will need cunning, guile, and a silver tongue to succeed where their magic and their sword arms may not prevail. Also complements the upcoming official "maker of kings" anniversary adventure path.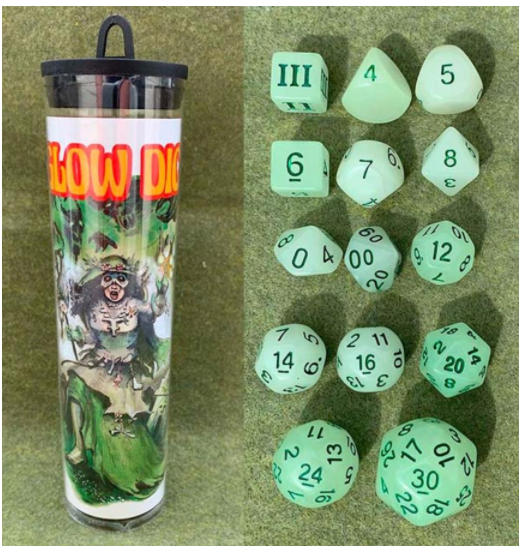 Glow Dice - Chaotic Wizard (14)
by Goodman Games
SYSTEM: Dungeon Crawl Classics RPG
PRODUCT TYPE: 14 glows in the dark dice set
RETAIL PRICE: $34.99
DESCRIPTION: The dice are light green in daylight and glow with a bright green light in the dark. Includes all the dice required for DCC RPG: d3, d4, d5, d6, d7, d8, d10, percentile die, d12, d14, d16, d20, d24, and d30. On the back of the printed dice tube is a new DCC RPG spell by Harley Stroh. Features a cover illustration by Doug Kovacs.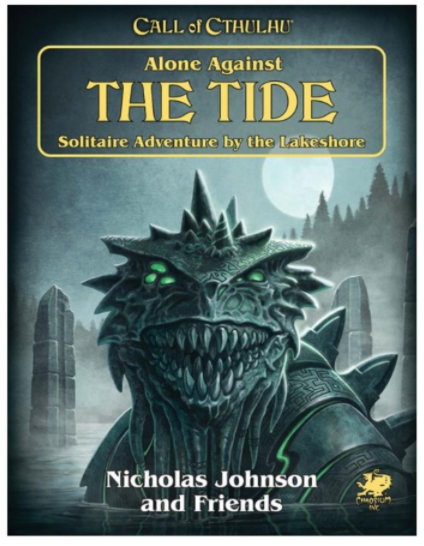 Alone Against the Tide
by Chaosium
SYSTEM: Call of Cthulhu
PRODUCT TYPE: softcover solo adventure
RETAIL PRICE: $14.99
DESCRIPTION: You are an investigator traveling to the affluent, scenic, and remote lakeside town of Esbury, Massachusetts. You either create your own investigator or use the ready-to-play investigator, Dr. E Woods, a professor of archaeology from Miskatonic University. There are a variety of reasons for visiting Esbury, but almost all are tied in some way to Esbury resident, professor William Harris. His research may be connected to the green fog enveloping the town. When you got off the ferry so did dangerous looking dark-suited men. And a Buddhist monk is visiting Esbury, a town more used to entertaining New England's wealthy elite. Secrets need to be uncovered in Esbury.
Lover in the Ice
by Arc Dream Publishing
SYSTEM: Delta Green
PRODUCT TYPE: softcover adventure
RETAIL PRICE: $14.99
DESCRIPTION: An apocalyptic ice storm cripples Lafontaine, Missouri. The Agents brave the elements to locate a missing friendly asset and secure a forgotten storage facility packed with terrible artifacts of past operations. They confront an appalling monster that invades and mutilates its victims in hideous and intimate ways. This adventure contains hard core body horror with a monster that attacks both body and mind in gruesome fashion and, like in the Alien movie, has disturbing sexual undercurrents but much closer to the surface. Amazing and horrible all at once. I've run it twice now and both times were icky, awful, and great fun. Not something I would run for gamers I just met but perfect for a group I've known for years and know (sort of) what they are getting into.
Rangers of Shadow Deep - Creature Card Deck
by Modiphuis Entertainment
SYSTEM: Rangers of Shadow Deep
PRODUCT TYPE: deck of cards
RETAIL PRICE: $21
DESCRIPTION: 76 poker size playing cards with 59 creature reference cards, featuring all of the creatures from the Rulebook, Temple of Madness, Blood Moon, Incinerator, Ghost Stone, Across the Waste and Menagerie releases. Each card includes details of the creature's Move, Fight, Shoot, Armour, Will, Health, XP and notes. Also included are 17 blank cards to add homebrewed enemies or to fill in monsters from future releases.
Last edited: