Vaesen
gets a new adventure book and the
Blade Runner RPG
gets dice and a screen.
Old-School Essentials
gets underwater adventure and campaign building support.
Avatar Legends
is available as an RPG with a lot of supporting material.
Star Trek Adventures
and
Transformers RPG
get support with a ship supplement and GM screen and adventure respectively while
Fallout - The Roleplaying Game
gets perk cards. There is also a new sci-fi RPG. There are also lots of dice options, including four Elder Dice options.
Note:
RPG Print News
covers new RPG releases and some classics, reprints, and sales available from retailers. It does not cover products that are only available directly to customers through kickstarter or as print on demand.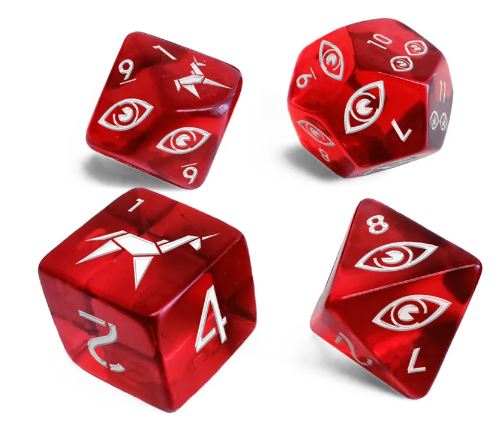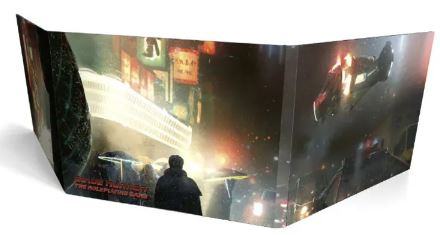 Vaesen Seasons of Mystery
|
Blade Runner RPG - Dice Set (4)
|
Blade Runner RPG Game Runner Screen
by Free League Publishing
SYSTEM: Year Zero Engine: Vaesen and the Blade Runner RPG
PRODUCT TYPE: hardcover of adventures/dice set/GM screen
RETAIL PRICE: $39.99/$19.99/$24.99
OTHER NEWS COVERAGE: Vaesen and Mythic Britain & Ireland and Blade Runner (geeknative.com)
DESCRIPTION: Seasons of Mystery for Vaesen – Nordic Horror Roleplaying includes four new adventures. PCs travel to the green vales of Dalarna in the springtime to investigate strange events in a remote village. During the summer heatwave of the century, the PCs journey south to the ironworks of Häryd and confront a fearsome adversary. On the autumnal moors of Denmark, the PCs find themselves in a struggle between the old ways and the modern world. Crossing the Baltic Sea and braving the wintry forests of Ingria, the PCs track an unknown being that stalks the night. The Blade Runner RPG Dice Set includes of four Base Dice: a d6, a d8, a d10, and a d12 specially engraved to support the game mechanics but can be used as normal dice as well. The Game Runner's Screen is in landscape format.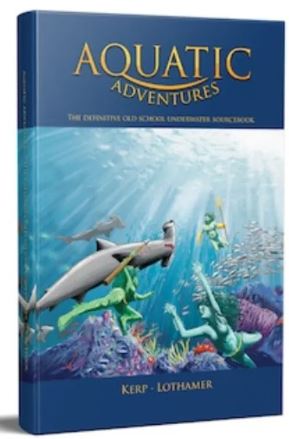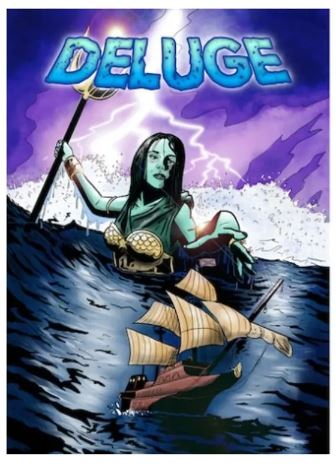 Aquatic Adventures
|
Deluge
by Knight Owl Games
SYSTEM: Old-School Essentials
PRODUCT TYPE: digest hardcover supplement/softcover zine
RETAIL PRICE: $39.95/$9.95
DESCRIPTION: In Aquatic Adventures, the deeper the sea gets, the stranger it becomes. Includes: 63 magic items, 11 spells, eight aquatic classes like the aquatic elf and the eel witch, 64 underwater monsters, rules for adventuring beneath the water, a magic system called Lingomancy (first language evoked using ancient onomatopoeia that aren't words but guttural articulation that rip from vocal cords, new armor and weapons, and gods of the deep sea, and Dug Too Deep: an adventure set in a haunted land beneath the waves. Deluge is a zine of many OSR authors covering underwater topics pertaining to monsters, settings, tables, adventures, artwork and more.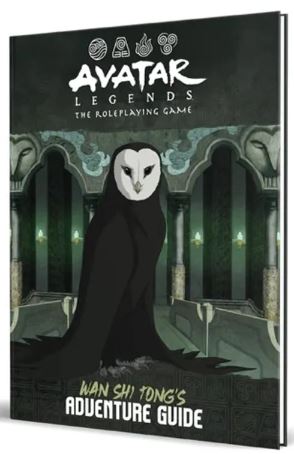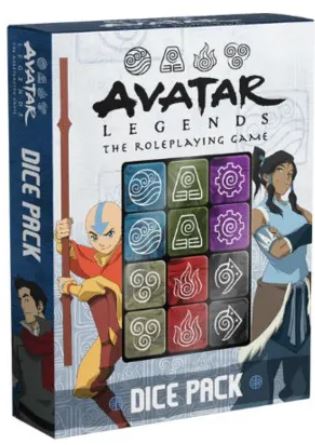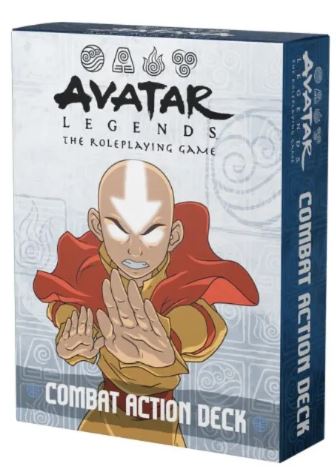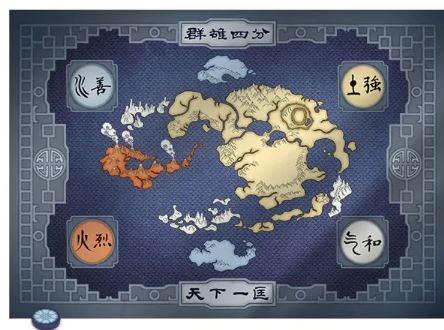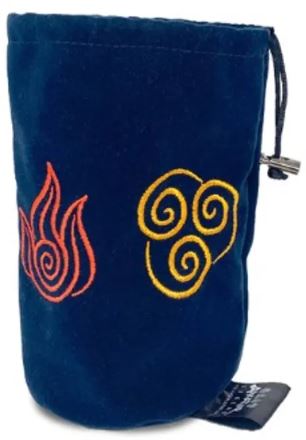 Avatar Legends Standard Bundle
|
Avatar Legends Core Rulebook
|
Wan Shi Tong's Adventure Guide
|
Dice Pack (12)
|
Combat Action Deck
|
Journal Pack
|
Cloth Map & Pai Sho Tile
|
Dice Bag
by Magpie Games
SYSTEM: Apocalypse World Engine
PRODUCT TYPE: all these items bundled/hardcover core rulebook/adventure book/12 dice/55-card deck/five journals/ 23 x 16 in. cloth map and marker/dice bag
RETAIL PRICE: $179.95/$49.99/$39.99/$24.99/$19.99/$9.99/$19.99/$14.99
DESCRIPTION: The Avatar Legends standard physical bundle contains all the following items which are also available separately. The Avatar Legends Core Book includes information on playing in one of five different eras, examples for quick and easy play, and ten playbook archetypes. The Wan Shi Tong's Adventure Guide compiles new adventure material and play options. Also includes expanded content featuring Wan Shi Tong himself. The Dice Pack includes six pairs of customized six-sided dice. The Combat Action Deck is designed to make combat exchanges smooth and easy to track. Five saddle-stitched 6"x9" booklets with approximately 30 blank pages for campaign and player notes is included in the Journal Pack. The Cloth Map depicts the Avatar world includes a White Lotus pai sho tile map marker. The Dice Bag is a drawstring bag embroidered with the four symbols of the elements.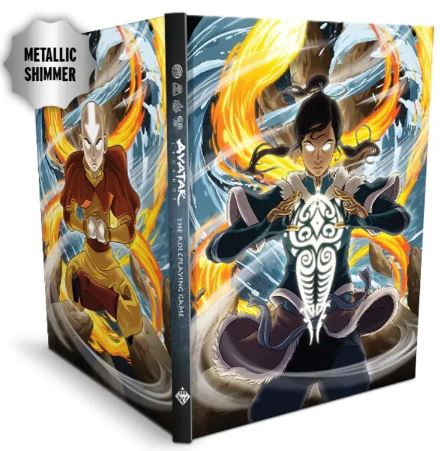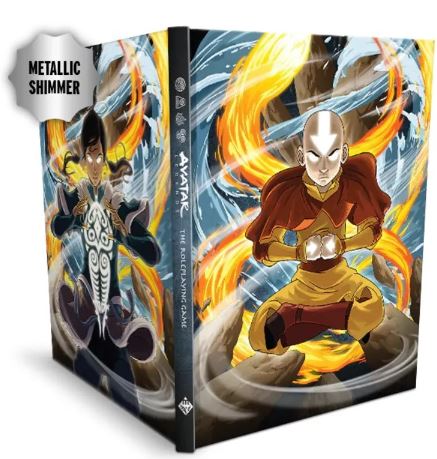 Avatar Legends Core Rulebook (Special Cover - Korra)
|
Avatar Legends Core Rulebook (Special Cover - Aang)
by Magpie Games
RETAIL PRICE: $99.95 each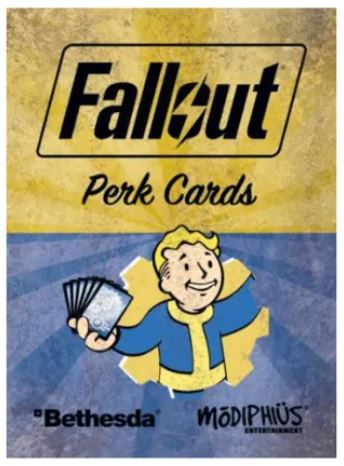 Utopia Planitia Starfleet Sourcebook
|
Fallout Perk Cards
by Modiphius Entertainment
SYSTEM: 2d20: Star Trek Adventures/Fallout - The Roleplaying Game
PRODUCT TYPE: hardcover supplement/148 cards
RETAIL PRICE: $55/$22
DESCRIPTION: Utopia Planitia Starfleet Sourcebook includes information centered around Starfleet operations and a complete guide to constructing Federation starships, space stations, and small craft, either using existing spaceframes or creating one from scratch. Covers ships from the 21st century to the 25th with detailed information on operations aboard a Federation starship, including daily life, locations, shipboard systems, procedures, and more. Includes updated game statistics and graphics for more than 70 Federation and Starfleet starship classes, space stations, and small craft along with gamemaster advice and optional rules. Fallout's Perk Cards helps PCs whether they want to be a dexterous charmer, a hardy bruiser, or anything in-between.! With this card pack, the choices are easily tracked and referenced.
Transformers RPG GM Screen and A Beacon of Hope Adventure
by Renegade Games Studios
SYSTEM: Transformers RPG
PRODUCT TYPE: GM screen and booklet adventure
RETAIL PRICE: $30
DESCRIPTION: Along with a GM screen is an adventure scenario, "A Beacon of Hope" ready for low level PCs that have finished the introductory adventure included in the core rulebook.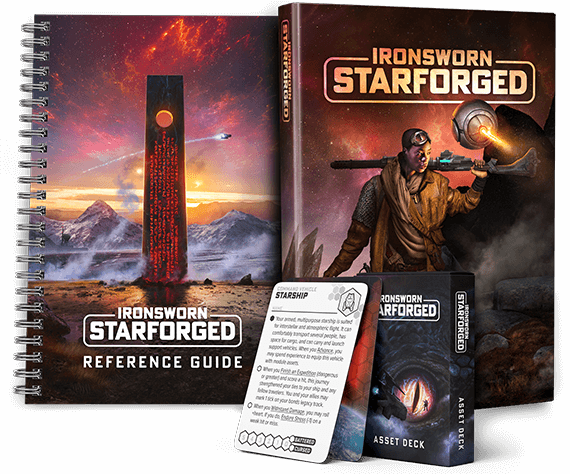 Starforged (Deluxe Bundle)
by Shawn Tomkin
SYSTEM: unique solo or small group RPG
PRODUCT TYPE: box set core rules
RETAIL PRICE: $64.95
DESCRIPTION: PCs or a solo PC explore uncharted space, unravel the secrets of a mysterious galaxy, and build bonds with humans they meet on their travels. Most importantly, they swear iron vows and see them fulfilled no matter the cost. This bundle includes: Starforged Core Rules: Deluxe Edition Hardcover, Starforged Assets: Printed Deck, and Starforged Wirebound Reference Guide.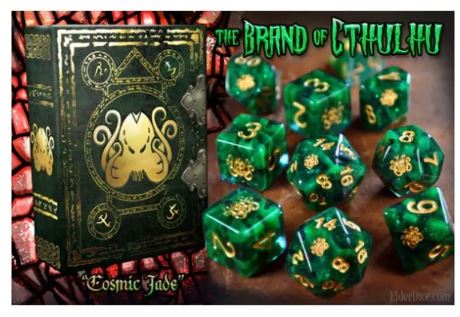 Elder Dice Set - The Seal of Yog-Sothoth, Mythic Cobalt Transcendence
|
Elder Dice Set - The Brand of Cthulhu, Mythic Cosmic Jade
|
Elder Dice Set - Sigil of the Dreamlands, Mythic Prismatic Infinity
|
Elder Dice Set – The Yellow Sign, Mythic Black Amber
by Infinite Black
PRODUCT TYPE: ten dice in a grimoire box with gold foil print
RETAIL PRICE: $34.99 each
DESCRIPTION: Each set includes a 4-sided die, three 6-sided dice, an 8-sided die, a 10-sided die, a 10-sided percentile die, a 12-sided die, two 20-sided dice, and a lore card. The dice combine multiple hues of solid and translucent resins with iridescent glitter.
Last edited: