Various versions of
D&D
like
Castles & Crusades
,
Old-School Essentials
, and
Swords & Wizardry
get a revamped world, new adventures, planar expansions, clockwork beetle jousting, floating death sheep, and more. In other words, the usual awesomeness.
Avatar Legends Starter Set
is an outstanding entry into the various RPG starter sets. Finally, the
G.I. JOE RPG
and
Power Rangers RPG
get support with a book on factions and a time traveling adventure respectively.
Note:
RPG Print News
covers recent RPG releases and some classics, reprints, and sales available from retailers. It does not cover products that are only available directly to customers only through Kickstarter or as print on demand.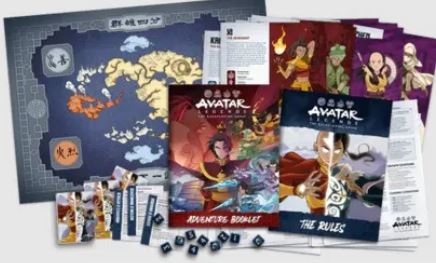 Avatar Legends Starter Set
by Magpie Games
SYSTEM: Powered by the Apocalypse
PRODUCT TYPE: box starter set
RETAIL PRICE: $24.99
DESCRIPTION: PCs might face off with the Triple Threat Triad in Republic City, travel through a spirit portal to rescue a missing child, or negotiate peace between Earth Kingdom outlaws and the sages' council. Features: a 32-page booklet of condensed rules, a 40-page introductory adventure booklet featuring The Pirates of Crimson Sails set in the era of Avatar Aang and The Burning Fuse set in the era of Avatar Korra, 10 engraved dice featuring Tui and La, 21 combat action cards, 10 illustrated pre-generated character sheets, six rules reference sheets, a large full-color map of the Four Nations, a unique code to unlock a PDF of the set and a 50% discount code for the Avatar Legends Nexus Core Book on demiplane.com.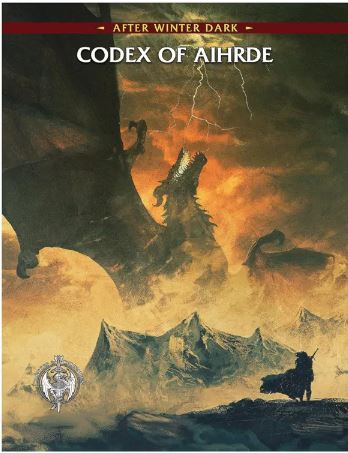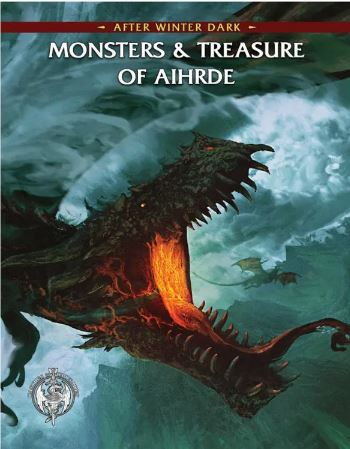 After Winter Dark - Codex of Aihrde
|
After Winter Dark - A Trail Guide to Aihrde
|
After Winter Dark - Monsters & Treasure of Aihrde
|
Warren of Mattagot
by Troll Lord Games
SYSTEM: Castles & Crusades
PRODUCT TYPE: hardcover/softcover/hardcover/softcover
RETAIL PRICE: $49.99/$9.99/$39.99/$9.99
DESCRIPTION: In Codex of Aihrde heroes plunder the buried wealth of the ages while dragons dwell atop piles of heaped treasure. The Almanac covers over 50 gods, the people (including dwarves, elves, goblins, and more), and over 30 countries. The Andanuth covers history starting from the creation of the gods and the world up to the present day. It is sprinkled with tales of myth and magic. Several appendices cover a detailed time line, calendar, weather patterns, languages, and flora. A Trail Guide to Aihrde is a first-hand account of a journey by Lord Vincent through Aihrde and serves as an introduction to the world. It recounts his many adventures, persons he met along the way, and the many realms he encountered. Monsters & Treasure of Aihrde includes a host of legendary monsters, many created by the machinations of the gods, from the small fey such as the Bogtilt to greater dragons like the Blackcoat. Each entry includes descriptions, habits, climate, biome, sanity, treasure, combat, special abilities, and each monster's place in Aihrde. The Warren of Mattagot is a dungeon adventure designed for three to five first level adventurers. Work on the old, abandoned manse recently purchased by the merchant Flanders Beauchamp has stopped. Workers tell harrowing tales of an underground tunnel, explosive runes, and magic dust. They refuse to work anymore until the tunnel is cleared. Flanders calls for the PCs.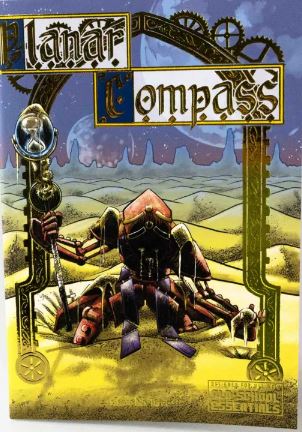 Planar Compass - Issue #3 (Gold Foil Cover)
|
Planar Compass - Issue #3
by Planar Compass
PRODUCT TYPE: softcover supplement
RETAIL PRICE: $24.99/$18
DESCRIPTION: The third issue in an interplanar odyssey welcomes PCs to Ordo, the plane of Law and Time and introduces the Time Priests of ORDO. Includes: the classes the Time Priest and the Chanicoid (theocratic imperialists), Divine Law and Time spells, monsters, dungeons, clockwork beetle jousting, and more.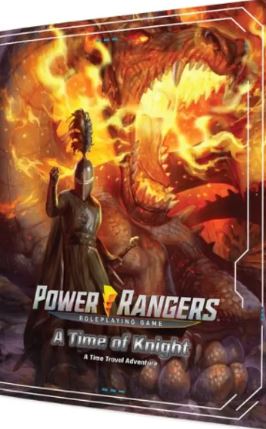 ​
Ferocious Fighters - Factions in Action Vol. 1
|
A Time of Knight Adventure
by Renegade Game Studio
PRODUCT TYPE: hardcover supplement/softcover adventure
RETAIL PRICE: $35/$15
DESCRIPTION: Ferocious Fighters - Factions in Action Vol. 1 introduces seven new factions: G.I. Joe's Tiger Force, Anti-Venom Task Force, Dino Hunters, and Mega Marines teams along with Cobra's Python Patrol, Cobra-La, and Mega-Monsters. Each faction comes with new mechanics, advice for GMs, and faction equipment. Also contains: 27 new threats, 10 new Vehicles, seven new influences, a new Origin, and two new Role Focus Options (Ranger: Peacekeeper and Infantry: Force Recon). A Time of Knight Adventure is an adventure for four to six fifth level Power Rangers. When the PC Power Rangers learn about the Black Knight's scheme to rule the future, they must overcome the knight's sinister allies, recover magic artifacts, and prevail against a timeless evil.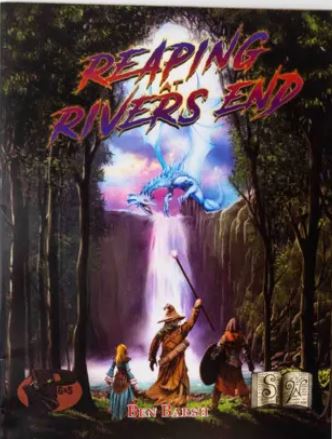 Tome of Quests
|
Reaping at River's End
by Pacesetter Games and Simulations
SYSTEM: Basic D&D (Old-School Essentials)/Swords & Wizardry
PRODUCT TYPE: hardcover supplement/softcover adventure
RETAIL PRICE: $34.95/$15
DESCRIPTION: Tome of Quests includes five adventures that can be run separately or linked together. Each adventure also features new magic items and monsters. Each adventure featured comes from the very first year for Pacesetter as a publishing company. Each one is updated and upgraded. Reaping at River's End is an adventure for eight level characters and will take PCs to tenth level. The town of River's End suffers from wither rot which withers the body down to a corpse in a short period of time. With the help of magical healing properties provided by the mage named Mortimer, a fruit called Dragonberry has been created that stops this ailment from running its course. However, Mortimer has fled the town leaving nothing but an ominous note of revenge. Without the wizard, the people will once again suffer the full consequences of wither rot. The PCs are asked to help.
Underland (S&W)
|
Underland (DCC)
by Skeeter Green Publishing
PRODUCT TYPE: softcover supplement
RETAIL PRICE: $12
DESCRIPTION: A series of 'zine-sized adventures in an underground area called Underland. Placed under any ongoing campaign setting, Underland becomes a unifying substrate linking adventure locations together.
Rancid Canyons of the Floating Death Sheep
by MonkeyBlood Design
SYSTEM: Swords & Wizardry The Midderlands
PRODUCT TYPE: softcover supplement
RETAIL PRICE: $32.99
DESCRIPTION: A low level adventure in which the PCs travel to the village of Yarrowbone, known for its delicious cured and smoked meats. Something is ravaging the livestock populations out in the badlands leaving dismembered and disemboweled sheep. An angry mob of locals tried to hunt whatever is devastating their livestock, but they too ended up as carcasses for the vultures. Enter the PCs.
Charlie Dunwoody participates in the OneBookShelf Affiliate Program and the Noble Knight Games' Affiliate Program. These programs provide advertising fees by linking to DriveThruRPG and Noble Knight Games respectively.