Monsters on cards and stand ups in fairly expensive faux leather binders for
D&D
. There is also support for both
Iron Kingdoms
and
Ptolus
, some of which works with both 5E and 3E as well as other rule sets.
Traveller - Core Rulebook Update 2022
gets an update that brings ship building back to the core rules and you can finally play Gelflings in
The Dark Crystal
.
Root
gets dice and GM support.
The Troubleshooters
sounds like Saturday morning cartoon fun (this one in particular really tempts me). And last but not least is
Tiny Cthulhu
for when big Cthulhu just freaks you out a bit too much. I do like the noir option for this one.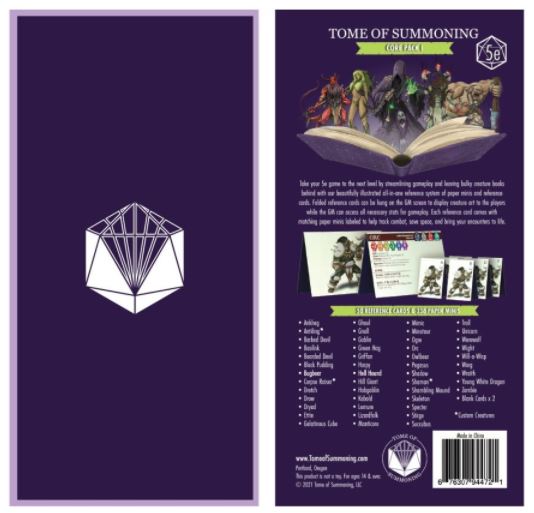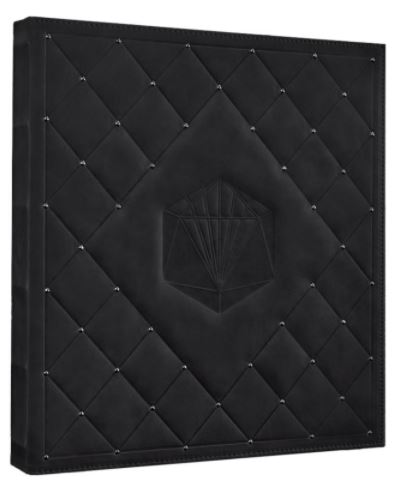 Note:
RPG Print News
covers new RPG releases and some classics, reprints, and sales available from retailers. It does not cover products that are only available to customers through kickstarter or as print on demand.
Core Pack I
|
Core Pack II
|
Core Pack III
|
NPCs & Familiars
|
Core Pack I - Cards Only
|
Core Pack II - Cards Only
|
Core Pack III - Cards Only
|
NPCs & Familiars - Cards Only
|
Tome – Ebony color
|
Tome - Royal color
by | Tome of Summoning
SYSTEM: Dungeons & Dragons 5th Edition
PRODUCT TYPE: cards and paper monster tokens
RETAIL PRICE: $45 each/$25 each for just the cards/$65 for a binder
DESCRIPTION: Core Pack I includes 50 illustrated reference cards and 238 paper minis of commonly used lower-level creatures. Core Pack II of 50 reference cards and 160 paper covers the most commonly used mid-level creatures. High-level creatures are included in Core Pack III which has 50 reference cards and over 101 big paper miniatures. NPCs & Familiars has 50 reference cards and 225 paper miniatures of NPCs and familiars. The handmade studded leather Tome is a 1 inch three-ring binder of artificial polyurethane leather that includes 25 horizontal pocket pages (8 pockets per page) with cards not included.
Traveller - Core Rulebook Update 2022
by Mongoose Publishing
SYSTEM: 2d6 system
PRODUCT TYPE: hardcover core rulebook
RETAIL PRICE: $59.99
DESCRIPTION: PCs are Travellers, exploring space via jump drive. Each hex on the map represents one parsec and jump drives move a ship a number of parsecs equal to the drive. While not instant, courier ships deliver system-to-system communications. Contact has been made with several alien species and some are willing to work alongside humans although conflicts flare up as well. Campaigns can be based on trade, military, exploration, or a little bit of everything. An entire chapter covers small scale trading, planet-to-planet. Ship design is also back in this updated version.
Jim Henson's The Dark Crystal Adventure Game
by River Horse
SYSTEM: unique
PRODUCT TYPE: hardcover core rulebook
RETAIL PRICE: $45
DESCRIPTION: PCs play Gelfling characters and venture into the unique world of Thra. Includes three ribbons to mark important section, a 200-page adventure, and transparent overlay pages with hidden information.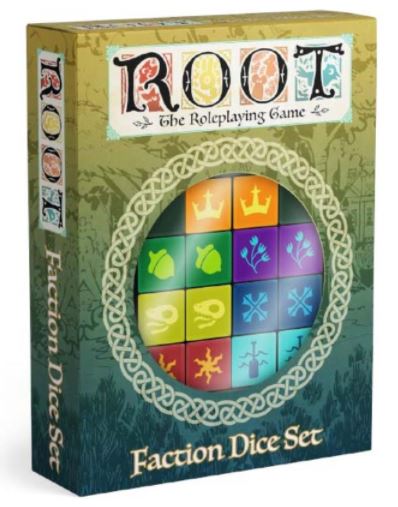 Faction Dice Set (14) - Root - The Roleplaying Game
|
GM Screen & Campaign Notebooks
|
GM Screen only
by Magpie Games
SYSTEM: Root - The Roleplaying Game (Powered by the Apocalypse)
PRODUCT TYPE: 14 dice/screen and notebooks/screen only
RETAIL PRICE: $24.99/$24.99/$14
DESCRIPTION: Root: The Roleplaying Game is based on Root: A Game of Woodland Might and Right board game by Leder Games. PCs are vagabonds, individual outlaws fighting for money, justice, and freedom. The Faction Dice Set contains one pair of engraved six-sided dice for each of the seven different factions of the Woodland (cannot be used with Root: A Game of Woodland Might & Right). The GM Screen is trifold with each fold roughly 8x8 inches for a total length of 24 inches. The Woodland & Clearing Notepads are two distinct 8x8 inches notepads with pull-off sheets for campaign tracking. The clearing pad comes with 50 individual double-sided sheets while the Woodland pad comes with 30 double-sided sheets.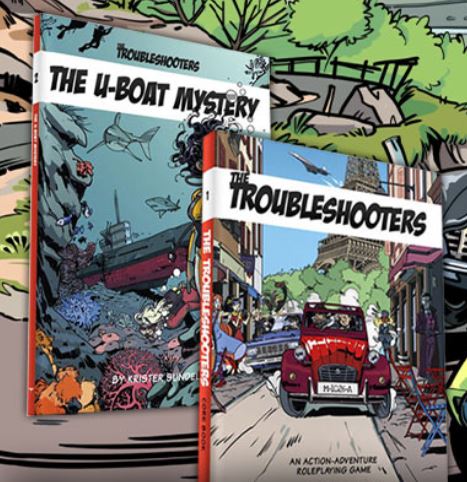 The Troubleshooters RPG: Core Rulebook
|
The Troubleshooters RPG: The U-Boat Mystery
by Modiphius
SYSTEM: Basic Roleplaying
PRODUCT TYPE: hardcover core rules and adventure
RETAIL PRICE: $48/$29
DESCRIPTION: The PDF version can be retrieved by a unique code included inside each book. The Troubleshooters is an action-adventure roleplaying game of international mystery. This RPG is based on European fiction but it reminds me of the Johnny Quest cartoon. I'm really tempted to get this one; it sounds amazing and is backed by BRP. Set in the mid-1960s in a world with mysterious temples hidden in the jungles, valleys that time forgot, mad scientists, space stations, spies with super gadgets and villainous organizations scheming for world control, the PCs live adventurous lives all over the world. No matter if it is a hunt for lost treasure, helping someone to get their inheritance, stopping spies from stealing military secrets, or foiling The Octopus' evil plans for world domination, PCs go on adventures. Requires six-sided dice and percentile dice to play. The U-Boat Mystery is an adventure for 3-5 players. The kidnapping of journalist Pierre Martin in Paris seems to be connected to a marine expedition to the island kingdom Sitomeyang on the other side of the globe. Clues point to the mysterious organization The Octopus, whose tentacles reaches everywhere. Only a band of intrepid troubleshooters can find out how all of the trouble is connected and solve the U-Boat mystery.
Tiny Cthulhu RPG: Rulebook
by Gallant Knight Games
SYSTEM: TinyD6
PRODUCT TYPE: softcover core rules
RETAIL PRICE: $24.99
DESCRIPTION: PCs are investigators, doomed heroes, and classic cosmic horror characters of all types, from scientists and librarians, to WWI veterans, to mysterious guardians defending the world from the dark powers of chthonic entities. The game delves into the unknowable and horrible mysteries of classic Mythos stories inspired by the works of Chambers, Lovecraft and more. Features a myriad of settings throughout the world and history, ranging from prehistory to the Bronze Age, Age of Sail, World War 1, modern day, as well as fantasy and the science fiction future. Rules include: minimalist Corruption rules focused on aiding storytelling, enemies, Environment Traits to aid the otherworldly storytelling, rules for magic and tomes, support for Pulp-style storytelling, support for Noir-style storytelling, and gadgets, steampunk themes and more. Noir-style sounds really interesting to me.


Legend of the Witchfire Gridded Battle Tiles
|
Legend of the Witchfire NPC & Monster Cards
by Privateer Press
PRODUCT TYPE: tile set for use with miniatures
RETAIL PRICE: $19.95/$9.95
DESCRIPTION: Over 20 years ago the Iron Kingdoms debuted for D&D 3E introducing full metal fantasy via steam jacks and pistols. It has now been updated for D&D 5E although the tile set works with any RPG. The cards include 5E stats. Both support the adventure Legend of the Witchfire.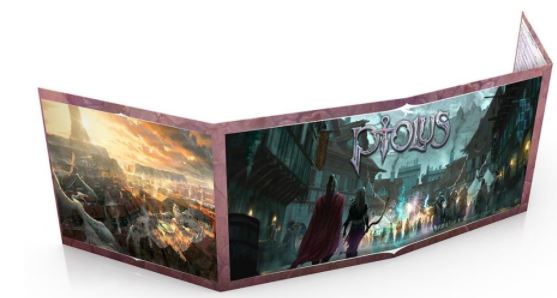 Ptolus GM Screen
by Monte Cook Games
SYSTEM: system-neutral Ptolus
PRODUCT TYPE: GM screen
RETAIL PRICE: $17.99
DESCRIPTION: Includes notable groups and characters, encounters, details of Delver's Square, travel and provisioning options, and other info. The reverse side features Ptolus artwork. The four-panel Ptolus GM Screen is printed in landscape format on heavy game board. The information is system-neutral, making it equally useful to GMs of 5E, the Cypher System, and GMs using D&D 3E).