SOME spoilers for ghosts of saltmarsh
Yeah, exactly that. I have a sizeable group of 7 players in my ghosts of saltmarsh campaign. After an almost-TPK to giant weasels during first encounter and burning the "haunted" house, and framing a random scoundrel for that, they got right into one of Gellan's extravagant feasts for everyone because he's just that chill. And maybe also because he bought a cargo worth of goods from pirates that raided an exotic merchant tradeship.
Among all the exotic fruits and snacks stockpiled on the tables along the street for townsfolk to stuff themselves, was every shape and size you could guess. Giant watermelon-like blueberry? check. Spiky watery contraption with stock inside? check. A bush that in itself is a fruit with some umami flavour? CHECK. Obviously, OBVIOUSLY my clever players conducted a ritual of detect magic in one of the now-empty alleyways, and started to SEARCH something MAGICAL in the FRUITS and CHIPS. Well, I do not have a heart of stone and I did throw them a bone. Well, maybe a banana. A banana with runes that seemingly grew on it. And they found out that it radiates transmutation magic field. So, they took it from the pile, like adventurers do and continued with their adventurous lives.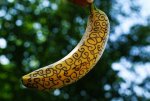 That is not the point, though and would not invoke a whole post on itself. You know what I expected with the aforementioned banana? Maybe a one-time gig. A fun moment when they make a citizen eat it, or maybe stuff it in someone's mouth. Or at bare minimum one of them would feel stupid enough to eat it then and there. What I didn't expext was that next day they decided to take a bite out of curiosity. 5 OF THEM DID. SIMULTANEOUSLY. EACH OF THEM TOOK A PIECE AND WENT TO SLEEP.
WITHOUT A SECOND THOUGHT.
Well, you see, I have all-male player group here. All but one of them had male characters. And the banana... Well, it was supposed to change sex of a person who ate it. So, at dawn, our orc-fisherman-communist-barbarian (a proud founder of United Saltmarsh Seafaring Rodmen), who refused to partake in conspicuous consumption of unknown fruits, woke up on a boat full of girls of various shapes and classes.
god, what a chaos it caused. I even had to instill a homerule that players get 1d6-1 chest size so they would stop bombarding me with irrelevant AND embarassing questions. I tried to stir the adventure to at least a partial conclusion, but almost to no avail.
The question is, dear colleagues and comrades: What do I do in the situation?
It seems ok at first, but some of the players are not entirely fine with their sudden "curse", others are ok, but the conversation almost always drifts toward gender studies now. That being said, I strictly dont want to make the effects just go away. Noone and i mean NO_ONE eats unknown magical fruit together with almost everyone in the party on their own volition and escapes without consequences.