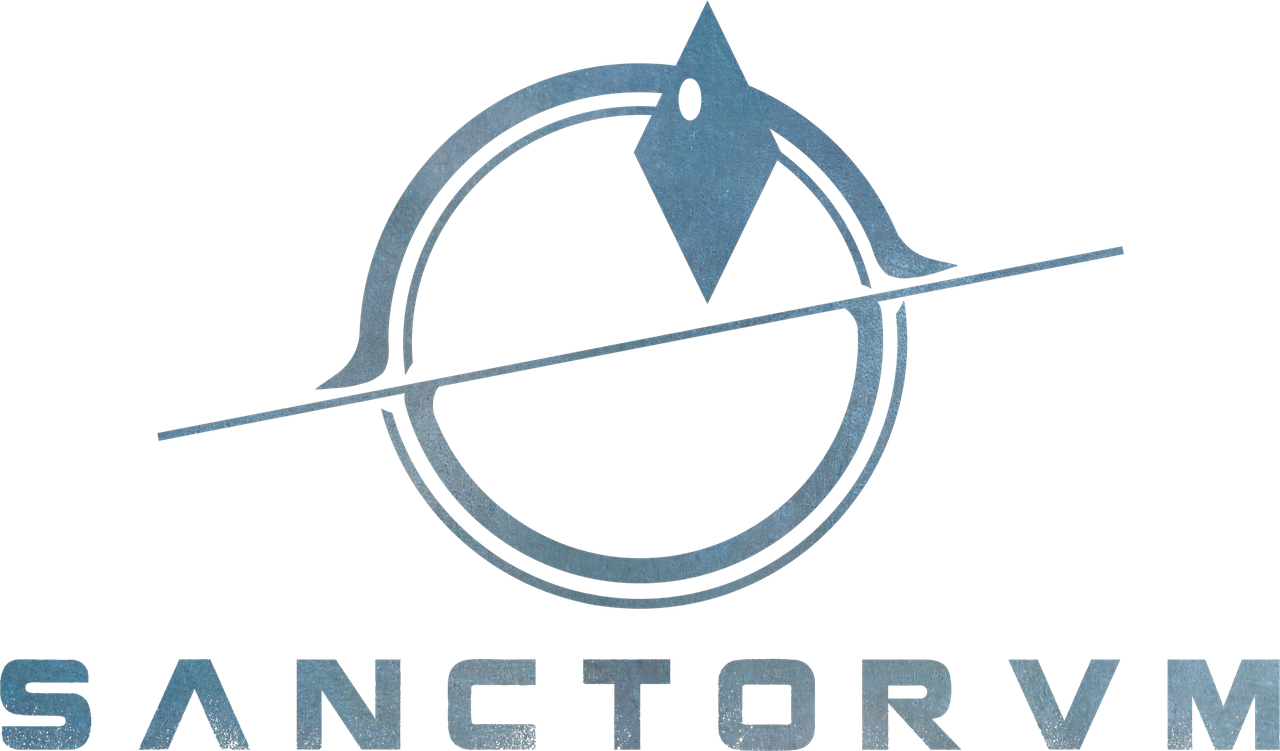 Hello everyone! We are pleased to announce that last year Sanctorvm - The Board Game was successfully funded on Kickstarter tripling the funds needed for its production. Throughout 2020 and 2021 the game and all its components have improved in every aspect, and all thanks to the support of Backers, both on Kickstarter and Backerkit. Currently the game is already in production and it is estimated that it will be in the houses by August this year. We wanted to try to give it a final push on the crowfunding platform Indiegogo in order to cover the costs of all the miniature molds we didn't get during the Kickstarter funding, and give another chance to all those who didn't make it in time for the Late Pledge. Sanctorvm - The Board Game will be available again on Indiegogo on May 4th!
​
Start date:
Tue, 04 May 2021 21:00 Spanish time.
End date:
Wed, 02 June 2021 09:00 Spanish time.
Money needed to finance:
66.666€.
Delivery date:
August 2021.
Game language:
Spanish and English.
LINKS
● Indiegogo ENG :
SANCTORVM ON MAY 4!
● Indiegogo ESP :
ES_INDIEGOGO | Gravita Games
● Website:
HOME | Gravita Games
● Facebook:
Log into Facebook
● Instagram:
Login • Instagram
CORE BOX UNBOXING (WIP)
Here you have the unboxing we did in the studio. We remind you that it is in its WIP version. This box is still missing the reversible book with the rulebook and the introductory adventure Loud Lough (157 pages), and the reversible book with the two main adventures, Red Radiance and Mad March (160 pages).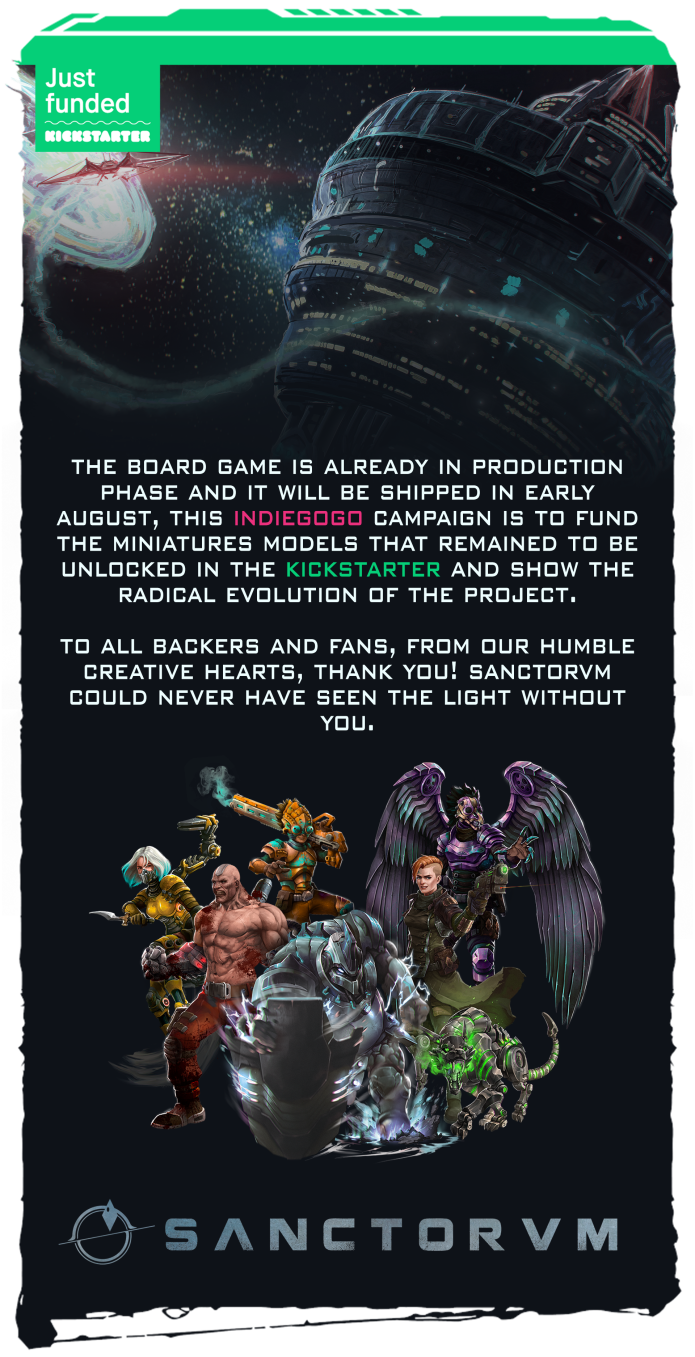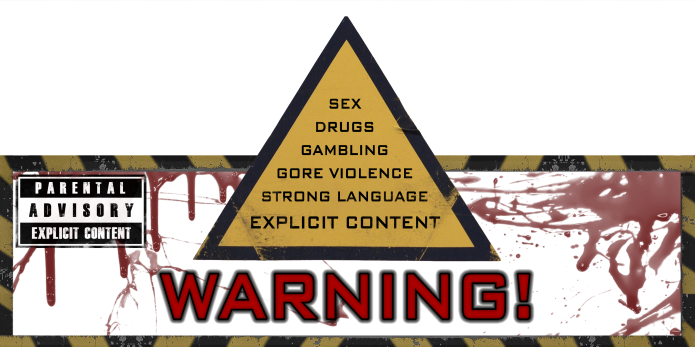 Sanctorvm is an adult game. Its narrative (Adventure Mode) uses free and explicit violence to drive the players through the atmosphere, and surround them with all the concepts that trigger disturbance and immorality in human beings. Players will be forced to take part in different events which may cause discomfort to those playing or viewing it. Our objective is NOT to promote this way of thinking. We created this unique universe to show the worst side of human beings. For those who just want a quick, fun, goreless game session, we also offer the
Arcade Mode
which includes missions for 1 to 6 players and doesn't follow the narrative or need an Overlord.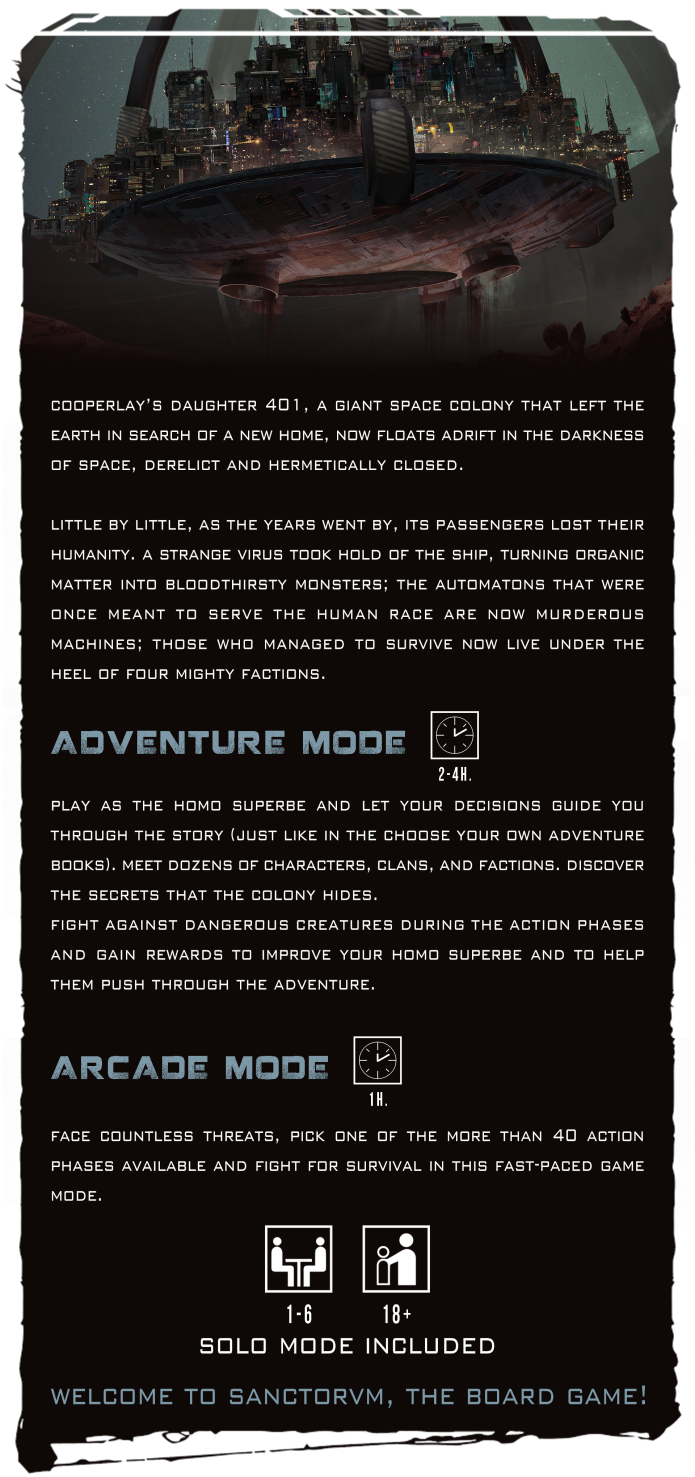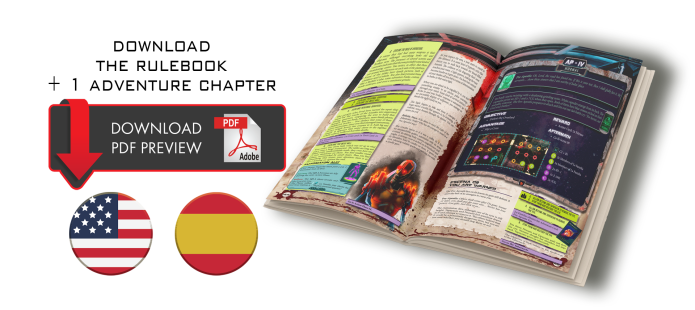 Rulebook + 1 Chapter in Spanish and English
Sanctorvm - Alpha Manual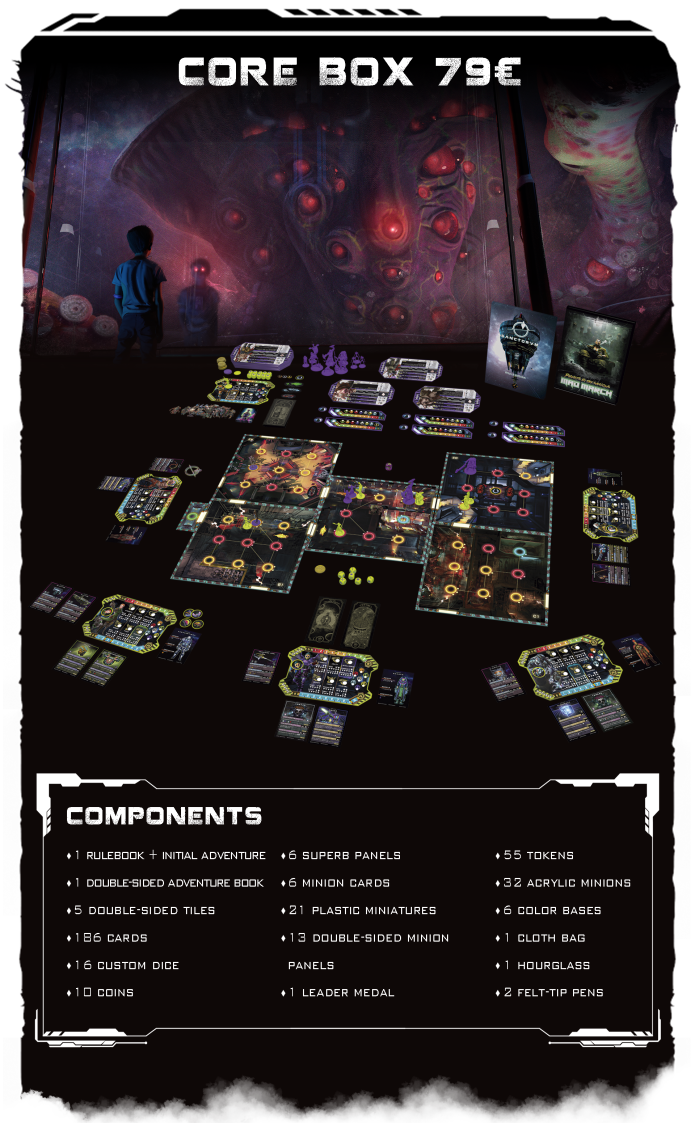 Being a narrative adventure, our long-term goal is to bring Sanctorvm to the digital world. Using pixel art style, we will create an application that will act as a narrator in itself, facilitating the work of the Overlord. This app won't be necessary for the game, but it will help!
We knew there had to be more than just a board game to define the SANCTORVM project, and in this case, we chose to create an album that could evoke the necessary atmosphere. Thanks to the 12 artists from around the world who joined our project, we now have 12 tracks to enhance the atmosphere of our gaming sessions. It has a unique retro-wave style, mixing 80s/90s sounds with dark atmospheres, and the end result sounds amazing. The album itself (THE DEPTH) represents a journey into the colony, getting to know the galaxy in which it was lost, down to its guts and inner demons. The space colony daughter of cooperlay 401 may be hell now, but the music is great! An atmospheric album is also being produced at the moment, with new themes to set the mood for different situations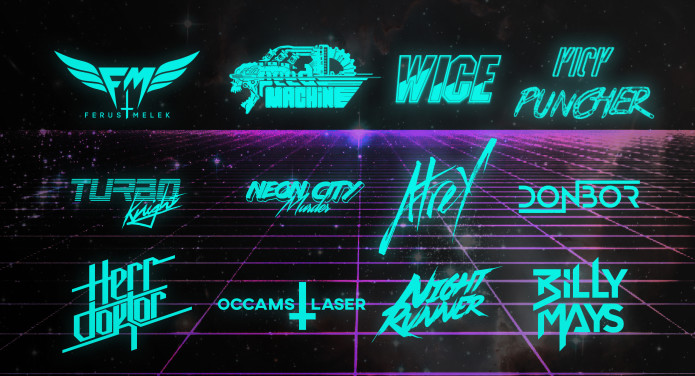 LINKS
● Indiegogo ENG:
SANCTORVM ON MAY 4!
● Indiegogo ESP:
ES_INDIEGOGO | Gravita Games
● Website:
HOME | Gravita Games
● Facebook:
Log into Facebook
● Instagram:
Login • Instagram
Last edited: