Handiwork Games, the new company funded by ex-Cubicle 7 creative director Jon Hodgson, is teaming up with Onyx Path to create D&D 5th Edition
Creature Collection
for the
Scarred Lands
campaign setting.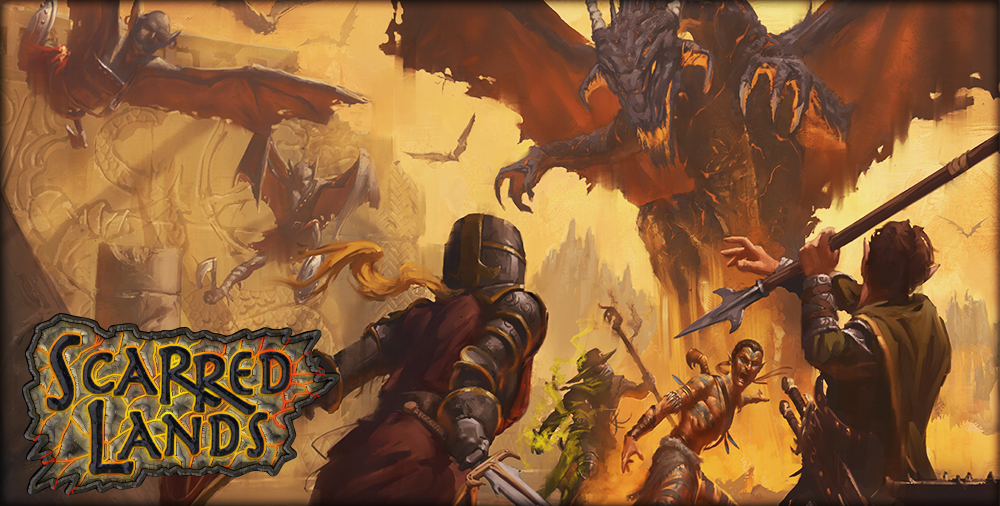 Handiwork Games was launched only recently, and announced the Greek-themed
Hellenistika
and the mythic
Beowulf
for D&D
earlier this month
.
Scarred Lands
has been around for about 20 years, launched by Sword & Sorcery Studios back in 2000 as a d20 setting. In fact, the original
Creature Collection
beat the D&D 3E
Monster Manual
to print!
"A world known to its inhabitants as Scarn, the Scarred Lands is a place of dynamic heroism, supreme villainy, and incalculable magic. Torn and twisted by battles between the titans and their children, the young gods —fought largely by monstrous titanspawn pitted against humans, elves, dwarves, and other "divine races" — Scarn is a world still wounded deeply by the Divine War that took place less than two centuries ago."
They interviewed themselves here:
"Rich Thomas of Onyx Path Publishing has announced the Scarred Lands Creature Collection for 5e will be made in collaboration with Handiwork Games!

Rich Thomas: "Last year, when we were planning just how to take the efforts that Stewart Wieck had started and run with them, we knew that a new version of the legendary Creature Collection was how we wanted to lead into Onyx Path's new exciting era of Scarred Lands.

Running parallel to that, one of my favorite creators in tabletop RPGs, Jon Hodgson, artist and creative director, was putting together his own game studio after his long years at Cubicle 7. Jon did just about everything over there, and as we talked, I realized that he had the experience and awesome artistic taste to take a project from concept all the way through to printing - including running a Kickstarter for it.

A project, like, say... our Creature Collection!

The Scarred Lands Creature Collection for 5e will be written, art-directed, and laid out by Jon Hodgson's company: Handiwork Games!"

Jon had this to say about working with OPP on Scarred Lands:

"I'm really excited to get the chance to work with Rich and Onyx Path. We met as Guests of Honor at GenCon a couple of years running, and realised we had a lot in common, and a shared drive to make great games.

Scarred Lands is an extremely cool setting, and I'm delighted to get the chance to work on the latest version of what was such a historic book – the first 3e monster book! I'm pulling together a great team of 5e experts and artists, and we'll do our very best to delight you with the Scarred Lands Creature Collection for 5e!"

Rich Thomas: "We at Onyx Path are also thrilled to be working with Jon and Handiwork Games. He's assembled an extremely talented crew for both the writing and the art, and I think this is going to be the most useful and most beautiful version of Creature Collection ever. While Jon will be working with Onyx Path, and have access to our writers and artists, he will also bringing another new group of creators into the Scarred Lands, which is going to be great for creators and fans alike!"