The new deluxe
D&D 5th Edition Dungeon Master's Screen
released today in preferred retail outlets (it releases on Jan 20th everywhere else). Games Plus in Illinois is one of those outlets, and the store owner
thalmin
reports on the contents of the screen.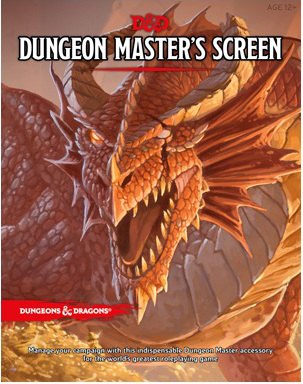 First Panel
NPC Characteristics (d20)
NPC Ideals (d20)
NPC Bonds (d10)
NPC Flaws (d12)
Name Generator (d20) Beginning Middle End syllables
Second Panel
and almost half of
third panel
is Conditions with Exhaustion
Third Panel
Setting a DC
Cover
Obscured Areas
Light (Candle, Torch etc. area and duration)
Skills and Associated Abilities
Fourth Panel
Travel Pace
Encounter Distance by Terrain, Audible Distance, and Visibility Outdoors
Damage By Level and Severity
Something Happens! (d20)
Quick Finds (d12)
For more
D&D 5E release schedules click here
. For
photos of the DM screen, click here
. Let us know
what you think of the screen by rating it
.
Last edited by a moderator: