As playtesting for GEAS is progressing, the ways spells work has changed. Rather than D&D-like, where when you cast a spell it does X all the time, we're really liking spells that have varying levels of success. Kinda like Earthdawn.
For example: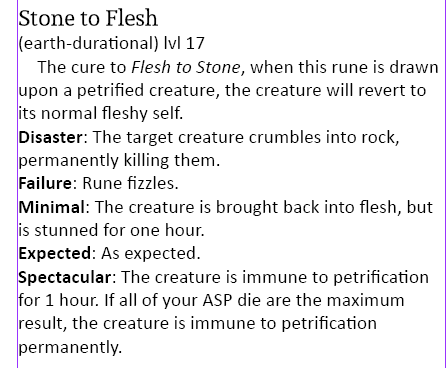 Whenever you cast a spell, there is a difficulty target number. Against creatures, that would typically be the highest result of their attempt to resist/defend against it. For spells that don't have a target, the target # is based on spell level. Depending on how well you roll against that number, you have either cast a disaster, failure, minimal effect, expected result, or a spectacular casting. The above example illustrates what happens based on that.
Note: This is a dice pool system, where both sides roll their pool and compare the highest die. Whoever gets highest wins.
Thoughts? I have to admit I'm liking it.
Dice pools system overview:
The # and dice type in your pool are based on how skilled/powerful you are. For example, a lower skilled power might be 2d6 in your pool, while highly skilled might be 3d12. If the highest die in your pool beats the highest die in the defender (or the target static #), it's a success. If all of your dice result in 1s, it's a disaster.
Example: You're casting a spell at a target and your arcane skill pool (ASP) is 3d8. The target's defense is 2d8. You roll a 7, 6, and 2. The defender rolls a 4 and 3. Two of your highest dice beats the highest dice of the defender (4), so you have a spectacular result.
Last edited: