D&D has some actual competition on Amazon.
Technically the PHB is still hanging at #1, but Starfinder is putting numbers far ahead of any past Paizo product, or non WotC game book.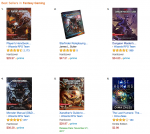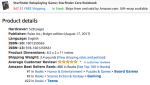 I will have to dig around to find the links, but I think PF peaked at around 400-600, though it stayed in that range for a long time (and outsold many 4E books). EDIT: See below!
Paizo also does its own internal rankings. For months on presales it hung around in the middle of the pack, outsold by whatever the latest thing was for PF. As of last night it was reported as number 1. It would kind of have to be.
Now the question is will it have legs? I am going to be heading to my FLGS, and may have an opinion after that.
Last edited: