Sunken Isles
is the latest
5e
RPG option from
Eldermancy
and
Ghostfire Gaming
, each a
million dollar
Kickstarter
publisher
. Set in a fantasy Pacific island culture, this project offers an original campaign adventure set against a timer. To learn more about the project, I spoke to Ben Byrne, the Media Content Manager at
Ghostfire Gaming
and my editor on the
Ghostfire Gaming
blog
.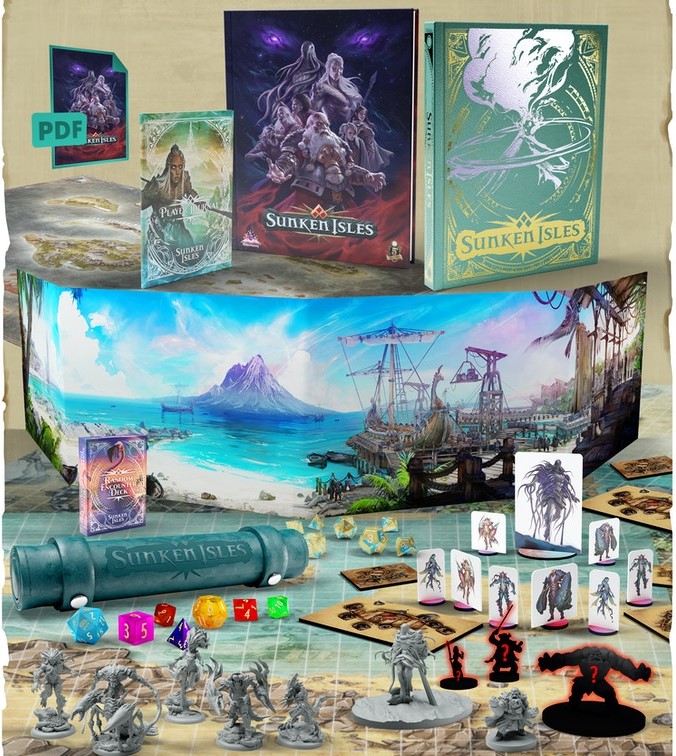 EGG EMBRY (EGG): Thanks for talking with me about this project. What can you tell us about the
Sunken Isles
?
BEN BYRNE (BEN)
: Thanks for talking with us too Egg! So
Sunken Isles
is our third project with Logan Reese a.k.a Runesmith, and it's the first adventure type book we've done with him.
Sunken Isles
is a
5th edition
adventure that begins with the introduction of a volcanic spirit, an undead dwarven king, a bloated Pirate Captain, an ancient being and the roaming creator of the Isles. Each of the forces immediately sets out with their own plans and it's up to individual parties to forge new alliances to fight back against their armies! It gives players 20 weeks to essentially sink or save the isles, we have new playable races, hidden cultures, godlike half-immortal beings, new backgrounds and more! It's also modular so can be dropped into any campaign.
EGG: Is this book a 5e setting or a campaign or both?
BEN
: It's honestly all in one! We're giving a brand-new setting called the Isles of Manaki, which hosts a full adventure that takes you through to explore each of the isles.
EGG: What's the triggering event for the campaign-length adventure?
BEN
: While the Isles of Manaki have been prosperous for some time, despite past turmoil, trade with the outside world has attracted profiteers and pirates. The ancient and powerful spirits that inhabit this magical paradise have been angered by their waters being polluted with raided ships and their peoples being poisoned by outsider motives. When the adventure begins, the spirits have commenced cleansing the islands of this corruption.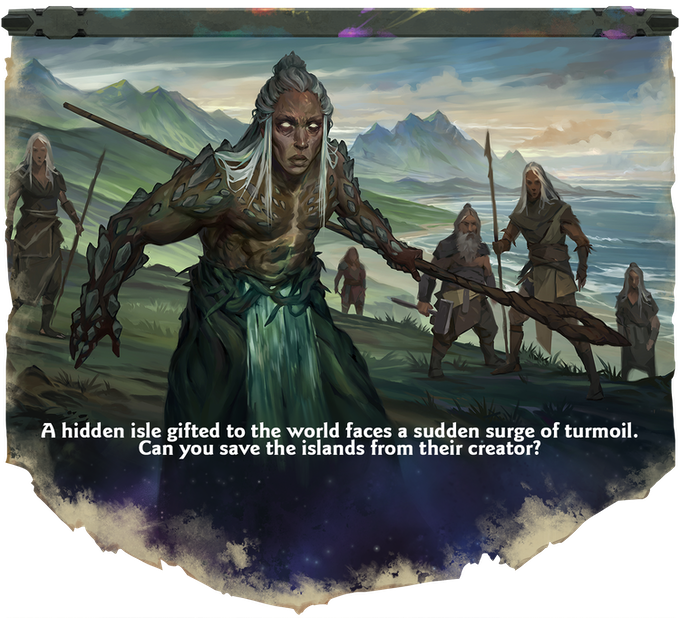 EGG: This campaign plays out over how many levels and what timeframe?
BEN
:
Sunken Isles
plays out 20 levels in 20 'in game' weeks! Of course individual parties can stretch this out for longer, depending on which direction they'd like their campaign to travel in.
EGG: This setting adds some new ancestries, what can you tell us about them?
BEN
: Yeah it does! So we've got three really cool new player-races that are being introduced. We've got the
Decapodians
, a player-race of crustaceans that features both lobster-like and mantis shrimp humanoids. The
Kia'i
who are essentially aquatic defenders of the ocean and who have sworn to protect it from the activities in the overworld. And finally, we've got the
Mirescales!
These are a group of small dinosaur humanoids that were created from a twist of fate and magic. Each of these new player-races are fully fleshed out with their own cultures and history.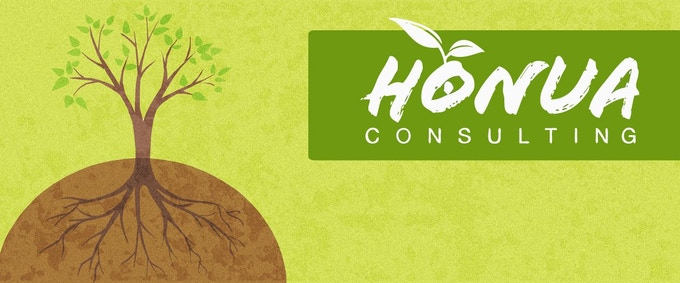 EGG: This setting is inspired by the culture and ecology of the Pacific islands. To that end you have native creators and a cultural consultant. What inspired Eldermancy to go the extra distance on this project?
BEN
: Yeah that's correct! So we've partnered with a number of native creators on this project including
Honua Consulting, Purple Mai'a,
and
Solomon Enos
who is a renowned Hawaiian artist. Ensuring we are being culturally respectful, factual, and representative in
Sunken Isles
was an absolute must for us when delving into this project. This culture is one that we think is truly remarkable and one that we wanted to ensure we do justice when representing it in this
5e
TTRPG setting. Partnering with these groups and individuals has helped us learn so much about Hawaiian culture and has given us confidence going ahead with this project that the world we're building and the characters we're creating are respecting the cultures that we're representing.
EGG: I appreciate the extra care you took with this. So you're working with a not-for profit organization yes?
BEN
: Correct! We just mentioned one of the groups we've partnered with are
Purple Mai'a
; a not-for-profit organization who supports Hawaiian values in contemporary tech culture, educating and innovating indigenous technologists.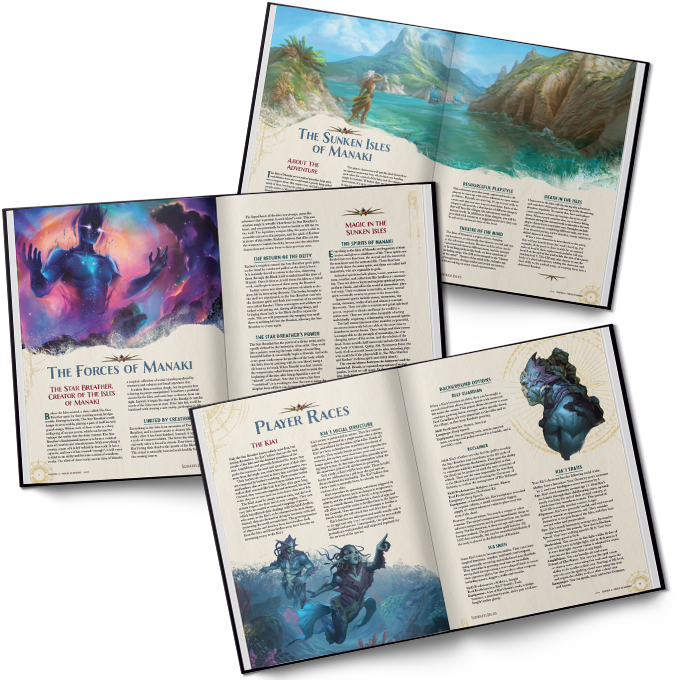 EGG: What items are you offering through this Kickstarter?
BEN
: So many! As part of the
Sunken Isles
Kickstarter
, we're offering…
Sunken Isles Digital PDF
Sunken Isles Hardcover Book
Island Dice Set
Player Journal
Siege Combat Set
The Isles of Manaki Map Set
Tactical Maps Pack
GM Screen
Island Folk Miniature Set
Boss Miniature Set
Random Encounter Deck
Atoll Special Edition Dice Set
Sunken Isles Special Edition Book
We also have some pretty cool stretch goals in the works so that
may
offer a few other product goodies. Our
Stibbles Codex of Companions
and
The Seeker's Guide to Twisted Taverns
products are also being sold on this
Kickstarter
for a discounted rate so that can be picked up as a bonus for backers!
EGG: Beyond Sunken Isles, what else is Eldermancy working on? What is Ghostfire Gaming working on?
BEN
: At this stage
Sunken Isles
is our main priority for
Eldermancy
. Given this is our third project in less than three years it's been a busy time for
Eldermancy
! So we will be putting all of our focus into making this project the best it can be and then we'll look into potential future projects.
Ghostfire Gaming
is getting ready for another big year of
Kickstarters
, with a brand new IP releasing in May… I can't give too much more away about that one yet but would tell everyone to keep an eye out for our socials for more info on that soon. We also have some really exciting growth coming up for the company and we're looking to make some exciting announcements in the coming months regarding that. So 2022 will be another big year for us and we can't wait to share it all with the community!
EGG: Thanks for talking with me. Where can fans learn more about this project?
BEN
: It's been an absolute pleasure! Fans can head to our
Kickstarter
via the link below. Thanks for talking with us Egg!
Sunken Isles
from
Eldermancy and Ghostfire Gaming
END DATE: Fri, March 18 2022 10:00 PM EDT.
"A 5th Edition magical adventure setting for GMs & Players, filled with new locations, playable races and more."
​
Egg Embry participates in the OneBookShelf Affiliate Program, Noble Knight Games' Affiliate Program, and is an Amazon Associate. These programs provide advertising fees by linking to DriveThruRPG, Noble Knight Games, and Amazon.
Last edited by a moderator: