[h=3]EN World News[/h]
[h=3]Pathfinder RPG News[/h]
[h=3]Dungeons & Dragons News[/h]
[h=3]Roleplaying Games News[/h]
[h=3]Community News[/h]
[h=3]Boardgaming News[/h]
[h=3]RPGs Are No Longer Evil[/h]
A couple of days
ago I reported on a Brazilian newspaper which claimed that RPGs led to satanism and murder. I'm pleased to report that the newspaper in question has retracted its position, clearly acknowledged that "RPGs have no relation with satanism" and published a short article to focus on the positive side of gaming.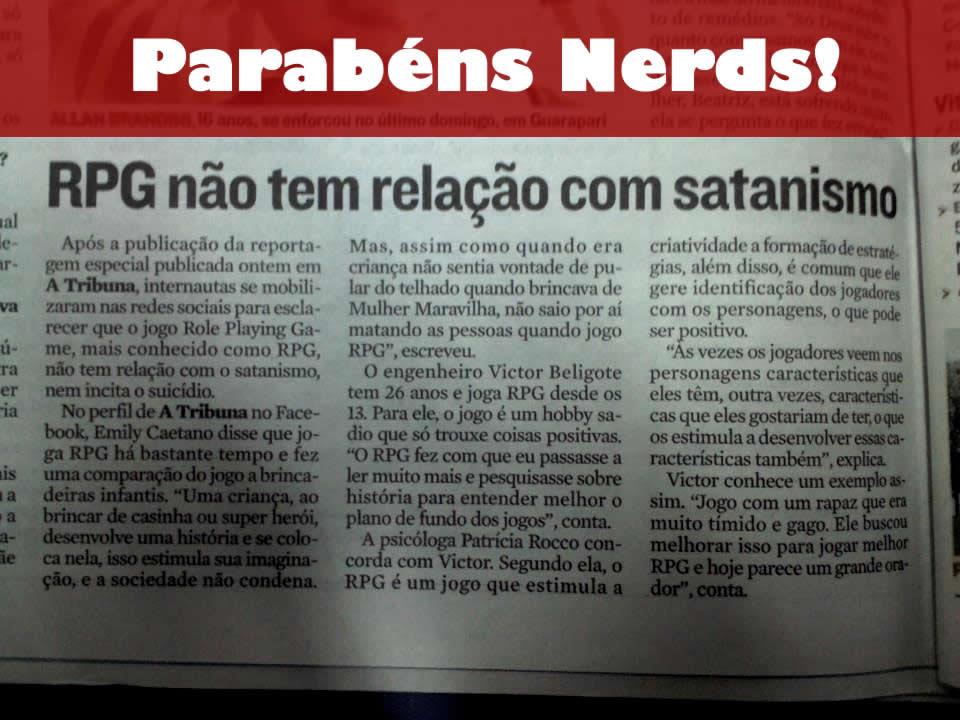 Thanks again to Claudio Pozas for the translation:
RPG has no relation to satanism
After a special report ran in yesterday's A Tribuna, internet users rallied in social networks to clarify that Role Playing Games, better known as RPGs, have is unrelated to satanism, nor does it encourage suicides.

In A Tribuna's Facebook page, Emily Caetano said she has been playing RPGs for a long time, and likened it to children's games. "A child playing house or pretending to be a superhero, develops a story and places herself in it, which stimulates her imagination, without society condemning her. Much like I didn't throw myself off the roof when pretending to be Wonder Woman, I don't go around killing people when I play an RPG", Emily wrote.
Victor Beligote is a 26-year-old engineer, and has been playing RPGs since age 13. According to Victor, the game is a hobby that has brought him only positive things. "RPG encouraged me to read much more and research History in order to better understand the backdropg of our games", he said.
Psicologist Patrícia Rocco agrees with Victor. According to her, RPGs encourages creativity and strategic thinking, in addition to fostering an identification between the player and his character, with positive effects. "Sometimes players see in the characters traits they have, and sometimes they see traits they wish they had, which stimulates them to also develop these traits", Patricia explains.
Victor knows one such gamer. "I play with a young man who was very shy and stuttered a lot. He worked on those issues in order to play RPGs better, and now is a great orator", he relates.
​