As we do every year, I'm taking nominees for the big public poll. A game will only be in the big poll if it is nominated here. What's your most anticipated RPG of 2018? Rules - as always - it must be a
standalone RPG
. NOT a supplement, adventure, sourcebook, expansion, or accessory. It must be scheduled for release in 2018. If they were coming out in 2018,
Dungeons & Dragons
would count;
Xanathar's Guide
would not. Taking nominations for one week. Post your nomination as a reply below.
Please don't nominate your own game or one you're affiliated with.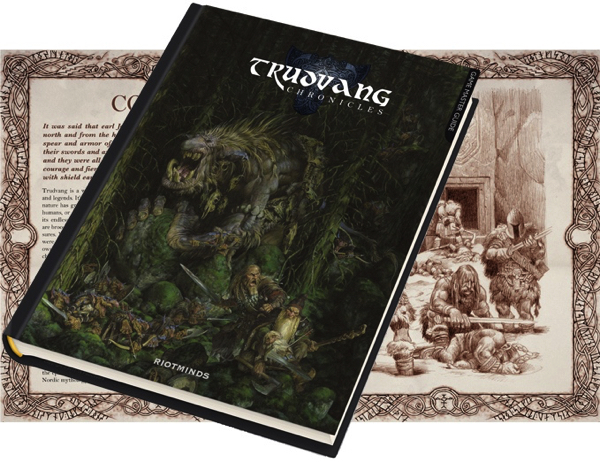 Last year's winner was
Trudvang Chronicles
from RiotMinds (pictured above). You can
see last year's top 10 here
. The previous year it was
Rifts for Savage Worlds
. And yes,
Conan
appeared three years running.
| | | | | |
| --- | --- | --- | --- | --- |
| # | 2013 | 2015 | 2016 | 2017 |
| 1 | 13th Age | Star Wars Force & Destiny | Rifts for Savage Worlds | Trudvang Chronicles |
| 2 | Numenera | Deluxe Exalted 3rd Edition | Mutant Crawl Classics | Tales from the Loop |
| 3 | Star Wars Edge of the Empire | Unified Rolemaster | 7th Sea 2nd Edition | Kult: Divinity Lost |
| 4 | Shadowrun 5th Edition | Conan Adventures In An Age Undreamed Of | Conan Adventures In An Age Undreamed Of | Star Trek Adventures |
| 5 | Call of Cthulhu 7th Edition | Deluxe Tunnels & Trolls | DCC Lankhmar | Conan: Adventures in an Age Undreamed Of |
| 6 | Firefly | Barbarians of Lemuria: Mythic Edition | RuneQuest 4 | Starfinder |
| 7 | Fate Core | Feng Shui 2 | Torg: Eternity | Witcher |
| 8 | Hillfolk | Fantasy AGE | Blue Rose AGE | Coriolis |
| 9 | Torchbearer | Paranoia | Paranoia | Delta Green Roleplaying Game |
| 10 | - | Shadows of the Demon Lord | Delta Green | Astonishing Swordsmen & Sorcerers of Hyperborea 2E |
[FONT=&quot]SaveSave[/FONT]​