Although Oz-inspired American Fantasy isn't nearly as popular with tabletop role-playing games as traditional fantasy, there are elements that we can identify that can provide the foundation for a tabletop game that draws primarily from those roots.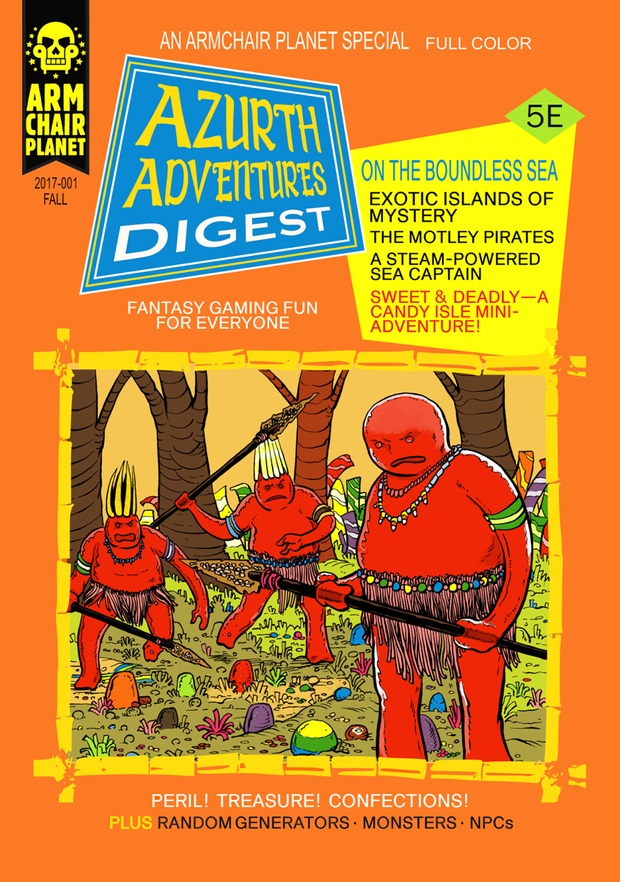 The Setting
We know the basic tenets of American Fantasy
established by L. Frank Baum's Wizard of Oz
. American Fantasy
tends to be pastoral
, with plenty of farm land and large territory. The adventurers are wild and variegated, with beings from all walks of life. Technology is on the cusp and its potential is accepted but not feared, if not entirely understood. In light of this encroaching technology, those who are more magically oriented are vulnerable to the tricksters of the modern era, where sleight of hand can be confused with magic.
The Players
There are also archetypes we can draw upon that might serve as classes or tropes for players. Christopher Brown at Tor
identifies the following
:
Pioneer: A woman who can hold her own in a fight (e.g., Glinda or Annie Oakley).
Peddler: The trickster who uses technology to fool others. In Oz this archetype is known as a humbug (e.g. the Wizard).
Wild Man: The master of the backwoods who embodies the wilderness (e.g. the Shaggy Man or Davy Crockett).
Puritan: A principled character who brooks no compromise (e.g., Solomon Kane or the Tin Man)
Time Traveler: A character out of time or place (e.g., Dorothy or Rip Van Winkle).
Trickster: Separate but related to the peddler, the trickster is more elemental and less sophisticated (e.g., Huck Finn).
Strongman: Embodying overcoming any obstacle (e.g., the Cowardly Lion or Paul Bunyan).
It's worth noting that many of these archetypes are inspired by real people who went on to have a legendary career that was larger than life. Some of these archetypes only make sense in an American Fantasy setting. While puritans have modern equivalents in Batman, pioneers, time travelers, and peddlers are all part of the American fabric of adventure. Speaking of adventure, there are foes for them to overcome...
The Creatures
American mythology is rife with creatures that have since been forgotten. Collectively, they are known as
Fearsome Critters
. In what is typical of American Fantasy, the ridiculousness of the creatures is played straight with a veneer of scientific authenticity, which is why each creature is exhaustively cataloged and given binomial nomenclature. This habit of giving fictional monsters binomial names may have influenced co-creator of D&D Gary Gygax to give dragons Latin-sounding names in the
Advanced Dungeons & Dragons Monster Manual
(no other monsters get this treatment). They are all of the Draco family:
Black Dragon (Draco Causticus Sputem)
Blue Dragon (Draco Electricus)
Brass Dragon (Draco Impudentus Gallus)
Bronze Dragon (Draco Gerus Bronzo)
Copper Dragon (Draco Comes Stabuli)
Gold Dragon (Draco Orientalus Sino Dux)
Green Dragon (Draco Chlorinous Nauseous Respiratorus)
Red Dragon (Draco Conflagratio Horriblis)
Silver Dragon (Draco Nobilis Argentum)
White Dragon (Draco Rigidus Frigidus)
Gygax uses much of the
same naming techniques
applied to fearsome critters, from the curiously specific Green Dragon to the rhyming White Dragon binomials.
American Fantasy RPGs
We discussed previously games that take elements of Oz and translate them into tabletop play, but there are considerably fewer games that use American Fantasy as a base. One example is Azurth,
a 5E setting by Trey Causey
, who authors the From the Sorcerer's Skull blog. In an interview,
he explained what makes Azurth American Fantasy
:
Having different regions inspired by somewhat disparate sources and probably the sources themselves. There is a degree of "whimsy" in our current campaign, and probably intrinsic to a lot of the setting, that might be somewhat nonstandard. I don't hesitate to employ some atrocious pun names (the sort Baum or Masters of the Universe, maybe, are fond of) that I would never do in a more serious setting. There is no "METAL!" here–or at least very little, and it's hidden.
We
asserted previously
that earlier versions of
Gamma World
had the most in common with Ozian American Fantasy, but there's another, more mainstream D&D setting that features sentient robots, humanoid animals, and a dash of modern technology:
Eberron
.
Last edited: