Etran's Folly (Plaguestone)/Feedmill
Summer/Day 4/0910
Weather: Normal for the season (hot), no wind, no rain
Round 2.2
Pakutan continued to bleed out as he lay in the dirt.
Hiromi dragged the unconscious Mortimer back a bit from the fight and attempted to stop the lawyer from bleeding out.
Silvi prayed to her god, healing Pakutan, leaving him wounded, but conscious on the ground.
OOC: Not rolling the round just yet.
Mortimer
, Hiromi gave you an extra flat check for the bleeding, so go ahead and make another roll. Hopefully you can stop it!
Pakistan,
since your initiative count is after Silvi's, yes, you can still act this round. You are
prone
and
Wounded 1
next to one of the bushes.
See Combat Map below.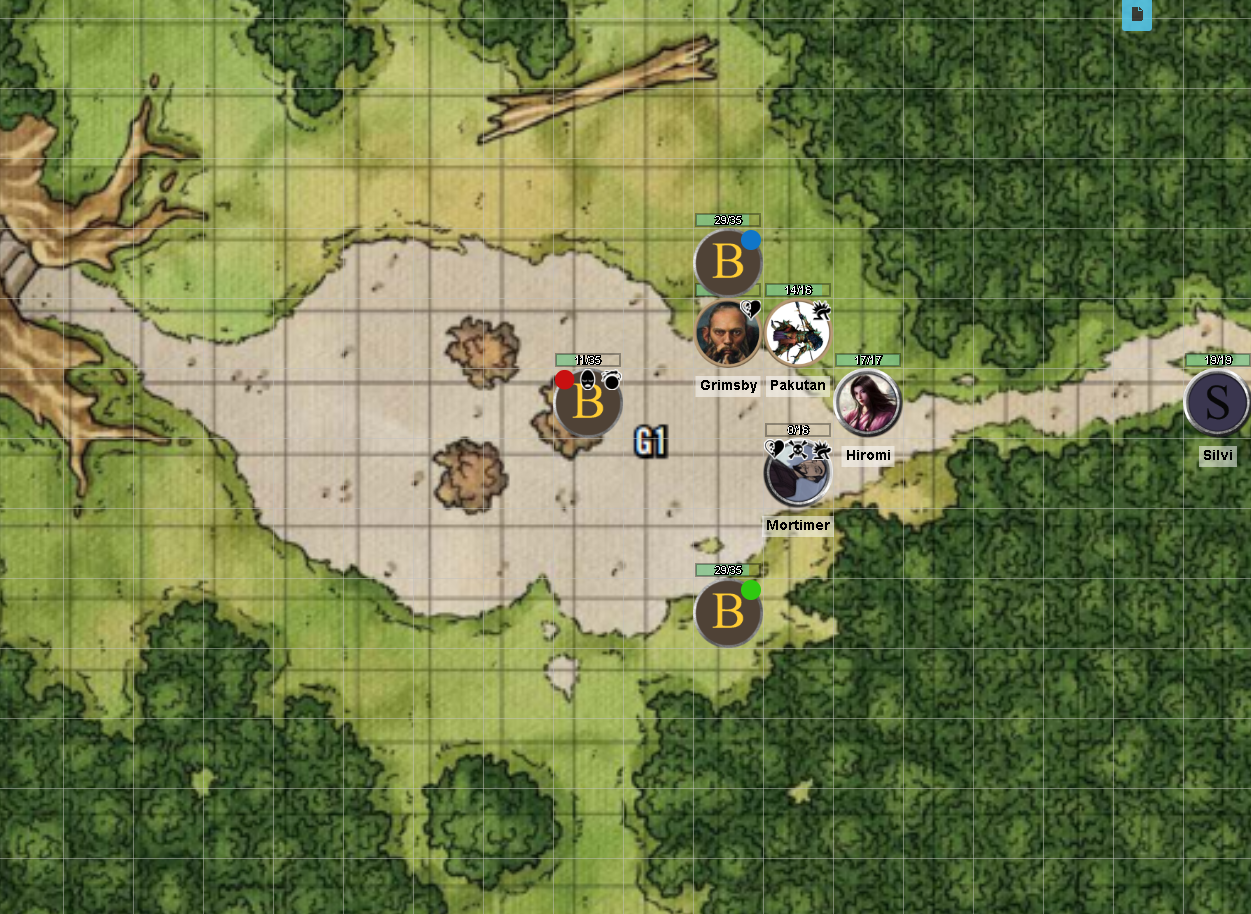 @Leatherhead
@VLAD the Destroyer
@FitzTheRuke
@Kaodi
@JustinCase
Party 18.6
Hiromi 25
Mortimer 24
Silvi 18
Grimsby 15
Pakuten 11

Enemies 15
Bloodlash Blue 18
Bloodlash Red 15
Bloodlash Green 12
Silvi (+7) AC 13 DC 17 HP 19/19 shield
Hiromi (+6) AC 17 HP 17/17
Pakuten (+3) AC 18(16) HP 14/16 Wounded 1
Grimsby (+7) AC 17/16(clumsy) HP 16/25 1 persistent bleed damage
Mortimer (+8) AC 17 HP 0/16 3 persistent bleed damage, dying 1

Bloodlash Red (+6) AC 16 HP 11/35 6 persistent fire damage
Bloodlash Blue (+6) AC 16 HP 29/35
Bloodlash Green (+6) AC 16 HP 29/35
Silvi: 21 gp, 37 sp, receipts, map
Unclaimed: Silver rapier
Help Sir Lawrence quiet Talmore's ghost.
Who is V?
Help Noala investigate the blight.