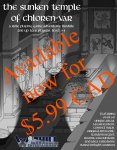 Here at Wolfhill Entertainment we understand that life gets busy, and running an epic adventure requires a lot of time and planning. Accepting that reality, we are focused on creating pre-written Role Playing Game adventure modules which "Busy Game Masters" can unleash on their friends or victims, with less than 20 minutes of pre-planning.
Our inaugural release, "The Sunken Temple of Chloren-Var" attempts to meet somewhere in the grey zone of an overall structured story, with the ability to explore 60 unique areas inside the Sunken Temple. In an attempt to make the adventure module more re-playable, the locations of secret rooms and specific treasures have been randomised, and a challenge based fear system determines how the main antagonist evolves throughout the game. Additionally, limited time and light resources pressure the players into making decisive decisions that affect the outcome of how they interact with the Temple. Finally, timekeeping and light resource worksheets, a detailed dungeon map, and themed artwork, will create a more interactive adventure for players and the Game Master.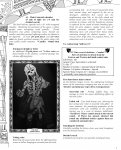 This multi-system compatible, structured 95 page printable PDF adventure module allows the Game Master to focus on administering the game rather than attempting to anticipate and react to every possible option the players imagine. Let's be honest, at the end of an adventure, players rarely think about what things they weren't able to do and instead remember the good times, laughs, and fun they had playing with friends. So Game Masters of the realm, let Wolfhill Entertainment do the heavy lifting for you, while you take the precious time you'd spend planning your next adventure, to go have your own.
Come visit us and like us on Facebook at "
WolfhillEntertainment
" to see what we have to offer and what new exciting products are coming in the near future.
​
Last edited: