Hey everybody. I wanted to play a fun and balanced rogue subclass that embodied the archetype of the burly goon rather than the agile thief... so I made one!
What do you think, does it work?
[sblock=Design Goals]
Do:
Invoke an alternative roguish flavour to what is already offered.
Encourage strength over dexterity.
Make it fun to play.
Make it balanced. Err towards average effectiveness, rather than Mary Sue homebrew OP domination.
Make a rogue that can Sneak Attack with a blunt object. I miss my blackjack! This idea is actually what starting the whole thing.
Don't:
Overshadow or conflict with existing features from feats, subclasses, etc.
Make it feel like you're playing a fighter/swashbuckler/etc.
Make it broken.
[/sblock]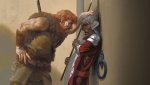 Thug
Bandits, gangsters, enforcers, and other criminals typically follow this archetype, but so do bodyguards, bounty hunters, secret police, and spies.
Bonus Proficiency
When you choose this archetype at 3rd level, you gain proficiency with medium armor.
Dirty Work
Starting at 3rd level, you have advantage on Strength (Athletics) checks made to grapple or shove creatures that are surprised.
In addition, you can use any weapon that doesn't have the two-handed or heavy property with your attack roll to use your Sneak Attack. All the other rules for the Sneak Attack class feature still apply to you.
Coercive Presence
At 9th level, you can use your menacing demeanor to browbeat others into submission. As an action, you can make a Charisma (Intimidation) check contested by an adjacent creature's Wisdom (Insight) check. The creature must be able to hear you, and the two of you must share a language. If you succeed on the check, the creature becomes frightened for 1 minute. This effect ends if you take damage, if you become incapacitated, frightened, or restrained, or if you and the target are more than 30 feet apart. While frightened, your allies have advantage on any ability check to interact socially with the creature. If the creature's Wisdom (Insight) check is successful or if the effect ends for it, the creature is immune to this feature for the next 24 hours.
Manhandler

By 13th level, you have become adept at leveraging your strength against your enemies. When you successfully grapple a creature using two free hands, you can drag or carry the grappled creature at full speed rather than half, and the grappled creature can't speak and can't cast spells that include a verbal component.
In addition, when you successfully shove a creature, you can knock the target prone and push it up to 10 feet away from you.
Cheap Shot
When you reach 17th level, you've honed your ability to strike when the opportunity presents itself. When you use your action to grapple or shove a creature, you can use your bonus action to make a weapon attack against that creature.
[sblock=3rd lvl Feature Notes] The medium armor is to make up for the lower AC that comes from a Strength build. I almost made it shields (thought they'd be easier to "learn", but thought better of it. Chain shirt fits the concept.)
With Dirty Work, I tried to set the Thug's theme, akin to how Assassinate, Master of Tactics, and Fancy Footwork/Rakish Audacity really dictate the playstyle and flavour of their respective subclasses. Thugs can manhandle you and club you upside the head. Pretty simple.
I started with "Bonus Action to shove/grapple" (comparable to Master of Tactics and the help action), but didn't want to overshadow Shield Master/Grappler/Tavern Brawler, and worried that might be too powerful. Then I went with "When you have adv. on your melee attack roll, you can choose to make a shove/grapple check with adv. instead", which I still kinda like. You can't normally get adv. on grapples or shoves, and I thought the option to trade Sneak Attack for control would be an interesting tactical choice, but I went with the simpler surprise round limitation. I wasn't sure how to word it properly or balance it with 2-weapon fighting or extra attack from multiclassing.
For the weapons, at most it gives you +1 to your average damage over a rapier, if you versatile a longsword, so I think it's fine. FYI, versatile quarterstaff = baseball bat.[/sblock]
[sblock=9th lvl Feature Notes] This is a obviously a shameless bizarro version of the Swashbuckler's Panache, but it seemed like the best way to work in a buff to Intimidate for a party friendly racketeering feel. The effect might be a bit better than Panache, but it breaks more easily.[/sblock]
[sblock=13th lvl Feature Notes] Regular grapple requires one free hand. Makes sense that a super grapple would need two hands. [/sblock]
[sblock=17th lvl Feature Notes] Simple, easy to use improvement on action economy, and reinforces Dirty Work and Manhandler. Competes with Cunning Action, so choice between grapple+damage and grapple+battlefield control (grapple, then dash or disengage to move the enemy). [/sblock]
[sblock=Trash Bin]
Exfiltration Expert
By 13th level, you have become adept in the art of abduction at leveraging your strength against your enemies. When you successfully grapple a creature, you can impose one of the following effects on that creature. The effect lasts until the grapple ends or until you impose a different effect, using your action to do so.
Snatch & Grab: When you move, you can drag or carry the grappled creature at full speed rather than half.
Gag:The grappled creature can't speak and can't cast spells that include a verbal component.
Blindfold: The grappled creature is blinded.

Fighting Style
When you reach 17th level, your unorthodox fighting skills rival those with more formal training. Choose a fighting style from the list of optional features. You can't take the same Fighting Style option more than once, even if you get to choose again.
Close Quarters Shooter: You are trained in making ranged attacks at close quarters. When making a ranged attack while you are within 5 feet of a hostile creature, you do not have disadvantage on the attack roll. Your ranged attacks ignore half cover and three-quarters cover against targets within 30 feet of you. Finally, you have a +1 bonus to attack rolls on ranged attacks.
Defense: While you are wearing armor, you gain a +1 bonus to AC.
Dueling: When you are wielding a melee weapon in one hand and no other Weapons, you gain a +2 bonus to Damage Rolls with that weapon.
Two-Weapon Fighting: When you engage in two-weapon fighting, you can add your ability modifier to the damage of the second Attack.
[/sblock]
So, any thoughts? Does it look good, dumb, redundant, boring? Is there a better way of wording anything? Would you ever play as a Thug?
Any and all feedback would be much appreciated.
Last edited: