After altering its Covid guidelines last week to
not require tests, vaccinations, or masks
,
UK Games Expo
(which is at the end of this month) has posted
a new update on its Covid policy
, now requiring lateral flow tests and face masks.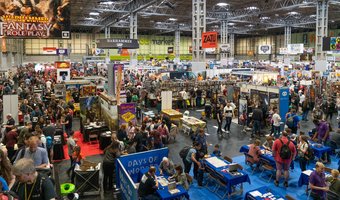 Covid Status Evidence​
(Including Lateral Flow tests/ Vaccine Status etc)​
We request that all visitors 12 years and above take a home lateral flow test before coming to the venue.

Everyone aged 16 and up should present either an NHS Covid Pass or equivalent evidence on the first day of attending the event.

Children aged 12 to 15 cannot use the NHS Covid Pass and so should bring email or printed evidence of a negative Covid test.

No evidence is required for children under the age of 12.

The NHS Covid Pass is available to those with a negative Lateral Flow test or negative PCR test within the previous 48 hours, evidence of full vaccination or evidence of positive PCR test within the past 6 months providing this is after you've finished self-isolating and up to 180 days after taking the test. All of these are recognised by the NHS app as the evidence required for a NHS Covid Pass which is recommended by PHE for access to large events this summer. For those without the app installed, email or printed equivalent evidence will also be accepted.

You must show your NHS Covid Pass or equivalent evidence in electronic or paper form to gain access to the show. More details


Symptoms​
Please do not attend if you have symptoms of Covid and if you develop these during the event please leave immediately and seek medical advice.


Face Masks​
PHE guidelines are to wear masks in crowded indoor spaces as well as when meeting with people you do not know and we support this.
You must bring a face mask to the UK Games Expo unless you have medical exemptions.
You must wear a face mask inside the UK Games Expo indoor spaces unless you have medical exemptions.
In accordance with guidelines you may remove face masks when sat down at a table having a meal or a drink.
Masks are not required for children under 12 years old.