No beers at home this week. Went out and had a previously reviewed Skull lager but found something different.
From Mexico 4.7%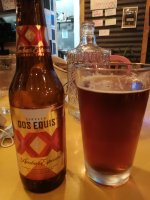 A malted whatever this is nice amber colour. Probably a Mexican macro beer. If it is NZ, Aussie and USA are doing something wrong.
Delicious gonna give it an 8/10. Wasn't great just really solid and easy to drink. Not as sweet as my 8.6vgold but some sort of malt taste.
72 on BA I liked it a bit more.
Dos Equis Ambar Especial is a Vienna Lager style beer brewed by Cervecería Cuauhtémoc Moctezuma, S.A. de C.V. in Monterrey (Nuevo León), Mexico. Score: 72 with 3,158 ratings and reviews. Last update: 06-10-2023.

www.beeradvocate.com
Thought it was an ale derp.