DB Export Gold 4% abv, 7.2 BA

DB Export Gold is a European Pale Lager style beer brewed by DB Breweries in Otahuhu, New Zealand. Score: 66 with 25 ratings and reviews. Last update: 10-31-2023.

www.beeradvocate.com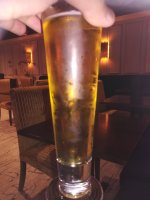 Bit of a backstory. NZ has 2 macro breweries that traditionally control the market. This has changed in recent years with microbrewery becoming popular.
They have both bought up small breweries that make better beer. Lion Nathan for example owns Emerson's and Mac's that I've posted here. They're not bad for what they are and Emerson's was an early craft beer brewery.
And then there's Dominion Breweries (DB). Note we haven't been a dominion for decades. And the smaller breweries they have bought aren't very good. They're owned by Heineken. Lion Nathan is owned by Kirin a Japanese company.
I haven't drunk NZ lagers from macrobreweries for decades. Unpleasant memories of binge drinking 90's and I didn't like them then.
Between the two companies there's been a long tradition of crap beer sometimes just relabeled for different regions or the same beer just fermented for a week less.
DB Export has kept up that tradition. It was very very average marginally better than Victorian Bitter (VB) from Aussie. Slightly watery with meh to unpleasant aftertaste. Knocked it back faster to leave the restaurant and 4% is so so personally. I prefer a higher % beer drink less of it.
5/10 being generous better than that Ukrainian beer but three way tie between this, VB and that Norwegian beer for meh. At least those ones are closer to 5%.
At least I didn't buy a dozen. Pointless beer since it's in the same price range as all the other macro beers and loses hard vs the various Russian beers, Krombacher, Asashi, Tsingdao, Kingfisher, Heineken, Budweiser etc etc etc.
Outclassed by the wondrous glory of Siberskaya Korona as well.
Carlsberg Pilsner and Krombacher are also cheaper to boot. Extra point if it's free, hot day and you're stuck in Beirut.
Last edited: