So, for those of you familiar with the adaptation of U3 -
The Final Enemy
in the Ghosts of Saltmarsh book, you know that the "Maw of Sekolah," a summoned aspect of the Sahuagin god is a two-headed shark. I found this boring and wanted to create my own weird version of a mutant undersea creature - so my version of the Maw of Sekolah is sharktopus. It only has four tentacles (otherwise it'd be an octoshark!), and I made one from a toy shark and some modelling clay.
Here is the mini I made: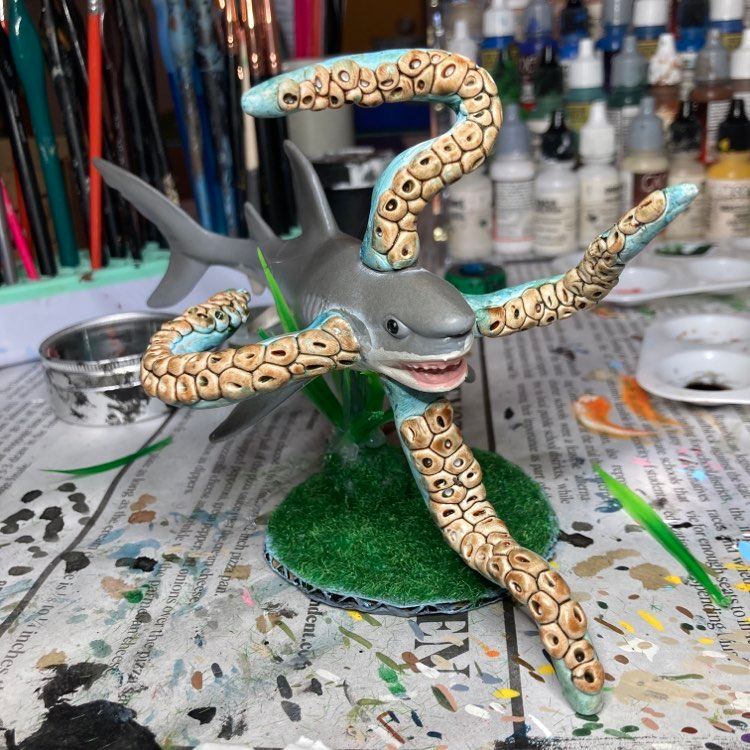 Here are the stats I made for it. I made this version CR9 for the purposes of figuring out its proficiency bonus - but what do you think?
The party is currently made up of four 7th level PCs, an NPC ally who is the equivalent of a 5th level character, and two CR 2 lizardfolk. The monster will spend the first two rounds of the encounter attacking two sahuagin priestesses it it unhappy with for stopping the ritual when the PCs interrupt, but these priestesses will not attack the aspect of their god. (I will probably have them automatically get chomped up to demonstrate the monster's power.
I gave it max hit points. Please excuse any typos in the stat block - I had to make it very quickly while my infant daughter was asleep.
Anyway, what CR would you say it is?