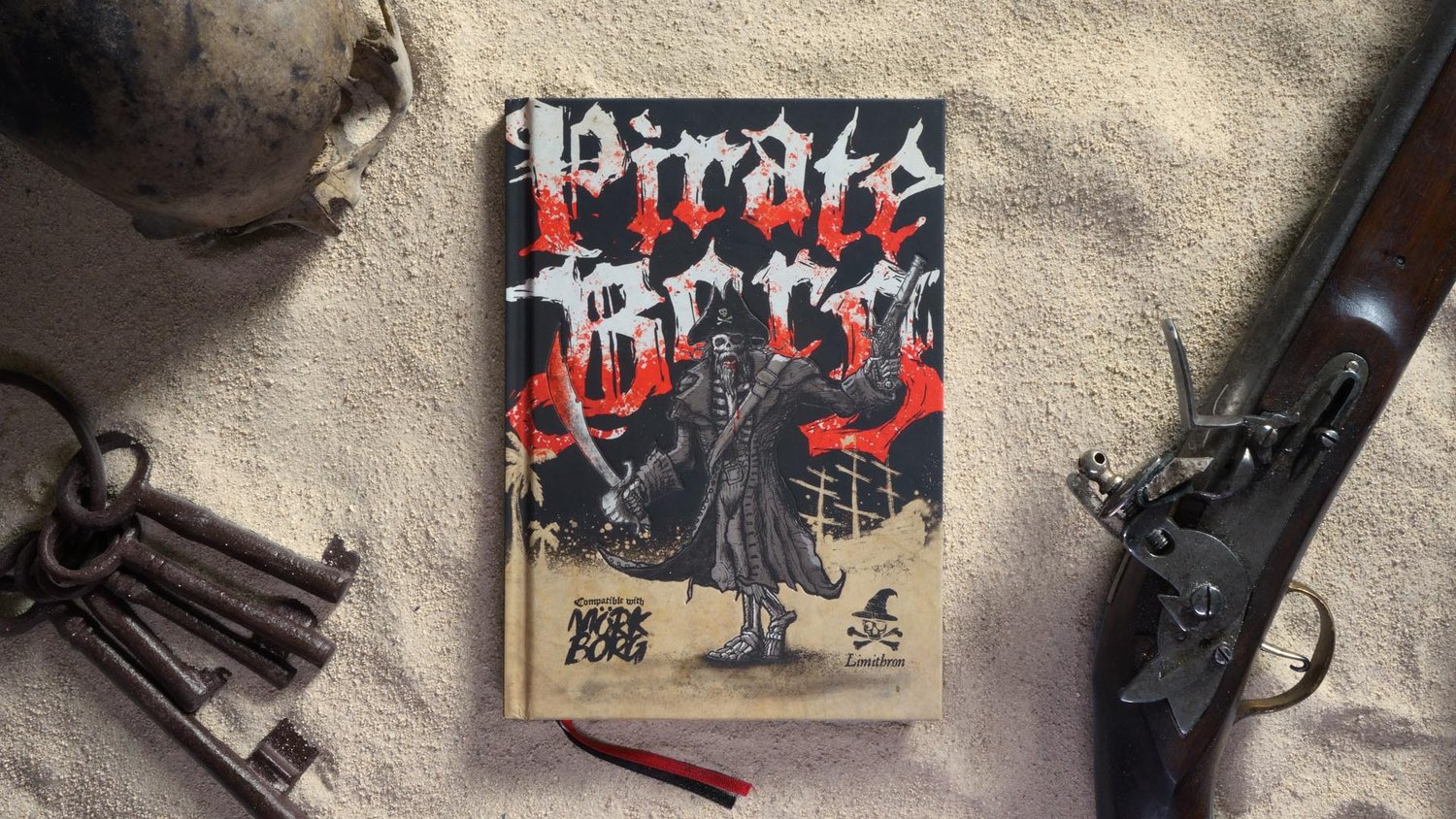 Few games have had the impact of
Mork Borg
in the short amount of time since its release in 2020. In those three years there have been dozens of paint streaked and skull strewn books that have hit the marketplace thanks to the game's permissive license structure and distinct look. It's unsurprising that the rules light stylings and striking layout have begun to cross genres into high concept games like "
Mork Borg
in Space" and "
Mork Borg
but Ducktales".
Pirate Borg
, from designer Limithron, brings the Borg aesthetic to swashbuckling tales of the sea. Free League Publishing sent along a review copy after they decided to publish it under the Free League Workshop banner. Does the game sink or swim? Let's play to find out.
Pirate Borg
incorporates elements of real world history through it quickly dives into an alternate take reminiscent of games like
Deadlands
. Something happened that caused the seas of the Caribbean to darker and the dead to rise. You would think the colonial powers might take that as a sign to close up shop but then they discovered the hallucinogenic and medicinal properties of Ash. Turns out smoking the remains of the walking dead gets you nice and high, so much of the economy has shifted to providing that product to the rich folks back home. There are about a half dozen plots going on in the book from the Ash trade to a Cthulhu cult to fleets of bone galleons laying siege to the remaining settlements in the area.
Though the game retains the rules light options of other
Borg
games, there are a lot of options to choose for the poor sea salt at the table. Landlubbers reflect the classless option that gets better rolls on their base stats. The other classes correspond to the types of things one might expect in a pirate fantasy: swashbucklers, musketeers, brutes, sorcerors and so on. On top of that, players can choose to play a dead thing such as a zombie or a skeleton. They can also choose to be something from legend, for folks that want to play mermaids or half-crab/half-pirates. The one thing I would have liked to have seen was some sort of advancement path for landlubbers who basically trade better stats early for no cool abilities later on. I'll probably add my own path forward so that a fancy Dan who survives their first vampire boarding action can toughen up into a deadeye with a rifle.
The rules include things like sail combat and a small sandbox setting that push this into an actual campaign rather than the nihilistic one shots that
Borg
games tend to work better as. There's horror and darkness here, to be sure, but it's not the same level as the original game where players are fighting for scraps of food in a howling maelstrom as they slowly rot from their soul outward. I'm fine with that, A lot of
Borg
products work better as artbooks or inspiration pieces rather than actual adventures or rules. Playing in this setting sounds like fun, like if Pirates of the Caribbean was R-rated and directed by Beetlejuice-era Tim Burton. It's a solid mix of scary moments but also spooky unsettling stuff.
It's also one of the weaker
Borg
products as far as art goes. That isn't to say the art is bad, but few pieces have the gnarly staying power of the reflective upside down cross from the original or the retrofuturistic icy feel of
Death In Space
. That's the trade-off for having a lot more game material in this book. They need that space for rules and can't just drop two pages for a brutal album cover layout.
Pirate Borg
is the first
Mork Borg
product that I feel like I could play for a short campaign. It's a nice light system for horror laced pirate adventure that will appeal during the spooky season and beyond.
Last edited by a moderator: