So. Besides the Basic Rules, we'll have the Starter Set with its Lost Mine of Phandelver adventure, the PHB, MM, and DMG. There's the two Tyranny of Dragons adventures and their DM's Screen, contracted out by WotC to Kobold Press. There's another Dee-Lux DM's screen, and various bits and bobbles (tokens, spell cards, miniatures). And then a fourth adventure: Princes of the Apocalypse, along with an associated Adventurers Handbook elemental-themed splatbook.
I'm not going to buy any of this...until I see with my own eyes whether and how Open this rules system is come springtime.
Even if the 5E SRD were to be totally Open, there is much of this I still wouldn't buy. If 5E were really Open, it is likely I'd pick up the core rules. I don't want any more adventures from WotC. Or maybe like one a year. I don't really want any more DRAGON magazine articles either, or a deluge of digital content.
Though I like the streamlined Basic Rules, I'm tired of each iteration re-inventing the wheel, as if I were an amnesiac. That's why I stopped patronizing D&D once 3.5 came.
What I want is for the entire content of the preceding corpus of D&D to be re-presented in a coherent, even scholarly way, in the spirit of the 2e-era
Spell Compendiums
and 3e
Magic Item Compendium.
The preceding corpus includes OD&D, B/X D&D, BECMI D&D, BB/RC/WotI D&D (Black Box/Rules Cyclopedia/Wrath of the Immortals), 1E, 2E, SAGA, 3E, and 4E. The magazines: DRAGON, DUNGEON, POLYHEDRON, IMAGINE. The computer games and MMORPGs, to the extent that they feature new content. Even the comic books (I remember some spell statblock in the back of a 2e-era AD&D comic book.) Though I skipped over the profusion of 4E digital offerings, integrate all the 4E stuff into 5E too.
Here's exactly what I want:
Rules Cyclopedia. Strip out all of the variant rules and sidebars. Strip out most of the explanatory text, and all of the fluff (such as quotes from Bruenor), and all of the artwork. Assume the reader knows how to play D&D. Combine the PHB and DMG, and maybe also the MM (just the stats) into a single book. Reduce the font size and margins, and pack in the text. This would be a bare-bones "get down to business" rulebook.
Manual of the Planes. Include every single plane, demi-plane, and pocket dimension ever mentioned in the D&D corpus, including from the BECMI Multiverse. There might need to be more than one volume. Recognize that each DM's or gaming group's D&D Multiverse is a separate Multiverse. Recognize that each rules iteration is a separate Reality and that each DM's house rules-set is a separate Reality. (Though forgotten, this Reality concept is canonical: see "Up, Away, and Beyond" by D&D brand manager Bruce Heard, and the further elaboration here.)
Campaign Setting series. One worldbook for each of the D&D worlds mentioned in the 5E Basic Rules: The D&D World of Forgotten Realms Campaign Setting (FRCS), The D&D World of Greyhawk Campaign Setting (GHCS), The D&D World of Eberron Campaign Setting (EBCS), The D&D World of Dragonlance Campaign Setting (DLCS), The D&D World of Dark Sun Campaign Setting (DSCS), The D&D World of Mystara Campaign Setting (MYCS), and then The D&D World of Nerath Campaign Setting (NRCS). Don't even put setting logos on them. Just a tiny logo on the back similar to the "era logos" on the back of Star Wars books. Something like the world icons from the 2E Spell Compendiums:
​
Expect, or at least facilitate, world-hopping by including a brief description of inter-world gates which connect each world (the BECMI Gazetteer series often had an appendix telling how Mystara can be reached from Greyhawk and Forgotten Realms). As I've
said before
: these worldbooks would sell better, and stay in print longer, if all of their previous materials were freely available, instead of charging several dollars for each D&D Classics PDF. There are hundreds of PDFs for each world. I'm not going to buy some 5E worldbook when I know I won't have the means to become totally fluent in the setting. Only after all the main classic worlds have be re-presented in 5E, then begin to publish new settings (say, one a year).​
Deities & Demigods. Every deity of every setting ever published, including the many Immortals of Mystara; (though keeping in mind the Mystara Campaign Setting would probably have its own world-specific Immortal ascension rules). There might need to be multiple volumes.
The Spell Compendium multi-volume series. Every arcane and divine spell ever published, in every iteration of D&D, including BECMI. All updated for 5E. The 2e version was 7 volumes (4 Wizard, 3 Priest). If a spell simply will not work in the 5E milieu, then at least mention it as a "lost spell" which only exists in other Realities.
The Complete Class Handbook multi-volume series. Every class and prestige class and 4e build, paragon path, and epic destiny, from every edition (including BECMI/RC classes), and every setting, is re-presented as a 5E class or subclass or build. And make sure every 2E kit is covered by either a class, subclass, or background. If some names are synonymous, then say so, but make sure all their class abilities are really covered. Even turn the eccentric 1E DRAGON magazine classes into 5E versions, such as the Paramander and the other "plethora of paladins." They don't have to be perfectly balanced. Just take all their class abilities and more or less pack them into the 5e class framework. Despite the 2e-style name, the Complete Class Handbook series wouldn't be just one class at a time; it would pack them in alphabetical order, from Ardent to Zhentarim Skymage. The vast number of classes is glimpsed in this wiki list of Forgotten Realms-relevant classes.
Races of the D&D Multiverse multi-volume series. Every PC race, from every iteration of D&D, from every setting, including the monster PC races from BECMI Creature Crucible series, 2e Complete Book of Humanoids, and 3e Savage Species.
The Monstrous Compendium multi-volume series, containing every monster ever published in D&D. Sign a contract with Echohawk (who's doing the Monster ENCyclopedia research, beginning with Aarakocra, and covering Barghest, Catoblepa, and Drider) to compile the full ENCyclopedia as a web enhancement. Though I like James Wyatt, the ENWorld fellow's research is more interesting than Wyatt's 5E monster web-articles. Include scholarly references to how the monster evolved from edition to edition. Include illustrations showing how each monster was depicted in each edition.
Magic Item Compendium. Every single magic item which has ever appeared in any D&D product or article, including BECMI's Book of Marvellous Magic (which was left out of the 3e MIC).
Atlas of the D&D Multiverse. Like Karen Wynn Fonstad's Atlas of Forgotten Realms and Atlas of Dragonlance. But show world maps for every single setting (Toril, Oerth, Eberron, Krynn, Athas, Mystara and its Hollow World, and Nerath), and also including lesser-known worlds or mini-settings such as Aebrynis, Pelinore, Mahasarpa, Jakandor, and Thunder Rift (the core setting of Black Box D&D). Invent maps for worlds which have been mentioned by not yet mapped, such as Abeir and Uerth (probably a mirror image of Oerth). This would be a good place to introduce the two 2002 Fantasy Setting Search runners up: Rich Burlew's world and P. Nathan Toomey's world. Include maps which show the path the characters took in every novel, every comic book, and every Endless Quest gamebook, and showing where every canonically-placed adventure site is located (and outline the area which is covered by an adventure's overland map). Outline the "play area" of every video game set in that world. Unless it's going to be in Manual of the Planes, include a map showing where the solar systems (crystal spheres) are located in the D&D Material Plane (there's one attempt here), with every single crystal sphere and "loose" (unplaced) world ever mentioned in Spelljammer shown on the "galactic" phlogiston map. Include a solar system map for each of the key D&D Worlds. Even include James Wyatt's homebrew worlds, since various pieces of them appeared in several 3e-era WotC books and magazine articles. (Here's a link to his archived d20 worlds.) I've collected the world maps (including Wyatt's) in my "Atlas of the D&D Multiverse" thread.
Grand History of the D&D Multiverse. Like the Grand History of the Realms, but compile and correlate the timeline entries from all the worlds, with the Planescape and Spelljammer timelines as the connecting tissue.
In Search of Adventure multi-volume series. Inspired by the classic B1-9: In Search of Adventure compilation, this book series would reprint all of the adventures ever published, including all the DUNGEON magazine adventures. Like B1-9, there'd be newly-written narrative segways and flowcharts which give several suggested ways of connecting these into Adventure Paths. For each main D&D world, give localization notes for each adventure: proper names changed to match the local flavor, some monsters don't exist in certain worlds (e.g. replace orcs with goblins in Krynn), and in some cases, draw new little maps showing how the adventure's wilderness map needs to be changed to fit a specific world's canonical geography. Give a canonical placement for every adventure, from every edition, in every D&D world (unless the adventure simply doesn't match the setting, such as the underwater X6: Quagmire! in Dark Sun). Several D&D locales already canonically exist in several worlds; for example the Keep on the Borderlands exists in the Yeomanry of Oerth, in Karameikos of Mystara, and in Nerath. Canonically placing all the adventures doesn't intrude on the DM's placement since in 5E, every DM's Multiverse is recognized to be distinct from the WotC Multiverse. For every adventure, give notes for scaling the challenge level higher or lower, so that the adventures could be played in almost any order.
D&D Modern. Like d20 Modern/Past/Future, but 100% compatible with D&D, so that PCs can hop worlds and multiclass as, say, Wizard/Gunslinger/Starship Pilot. D&D Modern Earth is located in the D&D Multiverse, with the Great Wheel and all. For example, the Olympian, Egyptian, and Norse pantheons live in the Great Wheel. Include all Campaign Models from all previously published d20M products; Gothic Earth of Masque of the Red Death, and make each modern/sci-fi TSR game a separate campaign model (e.g. Boot Hill). Each Campaign Model might be a separate timeline of D&D Earth. Also give future versions of all the main fantasy worlds: Greyhawk 2000, Modern Realms, Eberron Modern, Dragonlance Modern, Mystara Modern, including world maps. The Galactic Federation from the World of Mystara would be a sci-fi campaign model. Figure out whether and how the Milky Way Galaxy (as depicted in the Star*Drive campaign model, and which might as well be the same galaxy as the Star Frontiers campaign model) is related to the Phlogiston of the 2e cosmology, the Astral Sea of the 4e cosmology are related, or not.
Modern Compendium. A 5E version of all the races, classes, equipment, and monsters from all d20 Modern, Past, and Future products, and from all iterations of Gamma World, Boot Hill, Dawn Patrol, Star Frontiers, Gangbusters, the Amazing Engine modern and sci-fi settings, Alternity, Dark.Matter, Star*Drive, and those Polyhedron d20 mini-games which are set in modern or future times (such as Hi-Jinx and Thunderball Rally).
D&D Earth Adventures series. Like Oriental Adventures, but details all of the cultures of D&D Earth. A separate chapter for every major real world culture, with a D&D pantheon, races and classes, equipment, and a "gamer's glossary" giving the name for key words in their language, such as Japanese Adventures fighter = bushi, Chinese Adventures fighter = wushi. For each culture, give a few Campaign Models, such as how they interact with the different timelines of D&D Earth (e.g. Japan in Gothic Earth, Japan in Urban Arcana, Japan in Dark.Matter). Those D&D worlds which feature cultures which are fully or partly based on a real world culture would also be featured as a Campaign Model in the relevant chapter; for example, the Campaign Models for the Japanese Adventures chapter would include Kozakura and Wa in Forgotten Realms, Ryuujin in Greyhawk, Rokushima Taiyoo in Ravenloft, and the Myoshiman Empire of Mystara's invisible moon (Japanese-style catfolk). The various cultural correlations are detailed here.
D&D Supers. Golden Age, Silver Age, Bronze Age, and Modern Age comic book adventures using the 5e rules. 100% compatible (somehow!) with the medieval fantasy rules, so that a PC could hop worlds and multiclass as, say, a Fighter/Brick. These four superhero Campaign Models might be the actual in-world comic books of the Urban Arcana setting.
The Languages of the D&D Multiverse. Hire David Salo (the linguist for the LotR and Hobbit films) and/or Mark Okrand (who invented the Klingon language) to design all of the languages which are listed in the 5E PHB. Compile all of the existing wordlists of D&D languages which have been published in DRAGON magazine and elsewhere; for example the Drow Phrasebook from Drow of the Underdark (which is a mix of Elvish and Undercommon). In B2: Keep on the Borderlands we learn that "bree yark!" is Goblin for "hey rube!" ("rube" is a circus carny word meaning "outsider", "stranger"). Besides the world-specific languages, consider all of the "generic Elvish" (or Dwarvish, or Goblin, or whatever) from the various D&D worlds to be coincidentally the same language. Provide a meaning and etymology for every single personal name and placename ever mentioned in a D&D product. This would be a great resource for naming a D&D character. Figure out what has been "translated" by TSR into English (for example, the village of Threshold appears in Italian TSR products as La Soglia "the threshold", which suggests that the actual name for the place has been "translated" by sense, and isn't really phonetically "th-r-e-sh-h-o-l-d") and what is suppose to actually be "English" (for example, the nation of Bellayne in Mystara is supposed to be a parallel of Elizabethan England (but as catfolk!), and so their language and placenames are actually like Elizabethan English.) Here's a link to my D&D language studies.
Coins of the D&D Multiverse. A boxed set containing metal tokens which look like all of the currencies of the D&D Worlds, such as steel pieces from Ansalon in Krynn. Perhaps they'd all be made of aluminum or brass, but with different colored finishes for copper, silver, electrum, gold, and platinum (with a grayish or blueish sheen to distinguish it from "silver"). For example, see the wiki article on the Forgotten Realms currencies. See "Shire Post" coins, Campaign Coins, and the Freeport Coins for inspiration.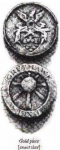 ​
The Free City of Greyhawk coin from the 3e PHB.​
Games of the D&D Multiverse. A boxed set packed full of various games which are played in-character within the D&D Multiverse: Dragonchess from Oerth, Magestones from Krynn, Three-Dragon Ante, and others which have been mentioned in D&D setting books or novels (even if their rules would have to be invented for this boxed set). Does anyone know of games mentioned within D&D sourcebooks, adventures, or novels?
Lastly, make at least all of the crunch in each of these books Open Content, so that these books can stay in print for 10 years or more, by their sales being fueled by an whirlwind of third-party and self-published material.

There's a Third Golden Age of D&D for you.
Last edited: