Coming this April to DriveThruRPG and their sister pages.
Few adventurers are reckless enough to traverse the obscure coastal path known as Reznor trail.Fatefully forced to negotiate the rugged trail, a sinister danger waits hidden amongst the jagged stones of the cliff side for any who dare approach.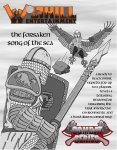 Wolfhill Entertainment
is proud to present its inaugural
Combat Series
title, "
The Forsaken Song of the Sea
". This pre-written printable PDF is ready to read. This 13 page combat vignette features 7 pages of written content, numerous reasons for traversing the coastal trail, interactive environments, and a hand drawn map.
Can you survive the Forsaken song of the Sea?
Available at
www.facebook.com/wolfhillentertainment/ or DriveThruRPG.com